Woman Using Hidden Camera To Find Lost Dog Catches Someone Else Instead
"I was amused to see him."
Devon Thomas Treadwell was on a mission to find Mimi, a lost dog suspected of being in her area. Thomas Treadwell put bowls of water and peanut butter in front of a small motion-activated video camera on a farm in Minnesota, hopeful that she might catch Mimi walking by for a snack.
But when Thomas Treadwell checked her footage, she saw someone else entirely.
It was a local woodchuck, who clearly couldn't believe his luck.
"I was amused to see him," Thomas Treadwell told The Dodo. "We don't get woodchucks on camera very often at our feeding stations."
The mischievous little woodchuck, who clearly didn't understand the stakes of the situation, had lots of fun tipping the camera over, much to Thomas Treadwell's annoyance.
Woodchucks are common around Minnesota. This one, having found what seemed to be a private water bowl, visited a few times.
But Thomas Treadwell, founder and director of The Retrievers volunteer lost dog team, didn't let the cheeky visitor get in the way of finding Mimi.
It turns out, while the woodchuck was enjoying his free drink, Mimi was a mile away, at a different feeding station. Carefully, Thomas Treadwell's team traversed a canal and helped bring Mimi to safety, finally reuniting the pup with her grateful, relieved family.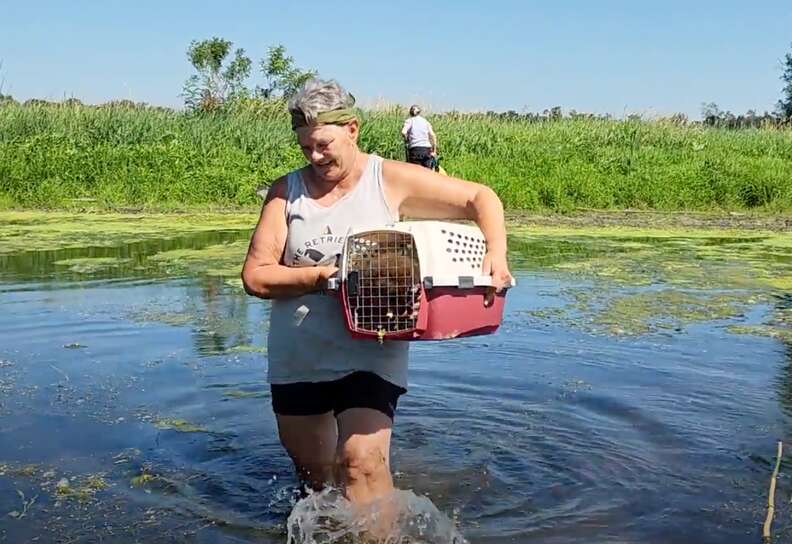 Mimi's family is so glad that she's safe. And somewhere in Minnesota, a very well-hydrated little woodchuck is surely feeling glad, too.
To help locate other lost dogs like Mimi, make a donation to The Retrievers volunteer lost dog team
here
.
8 Ways To Turn Your Yard Into Your Dog's Dream Playground