Woman Sees A Guy Feeding Some Birds — Then Realizes Something's Off
She was pretty shocked when she found out the truth 😂
Stefanie Bergunder was walking towards a hospital in Carmel, Indiana, when she noticed a guy standing at the entrance feeding some birds, and she immediately got excited.
"I wanted to join him in checking out the birds and [feeding] them," Bergunder told The Dodo.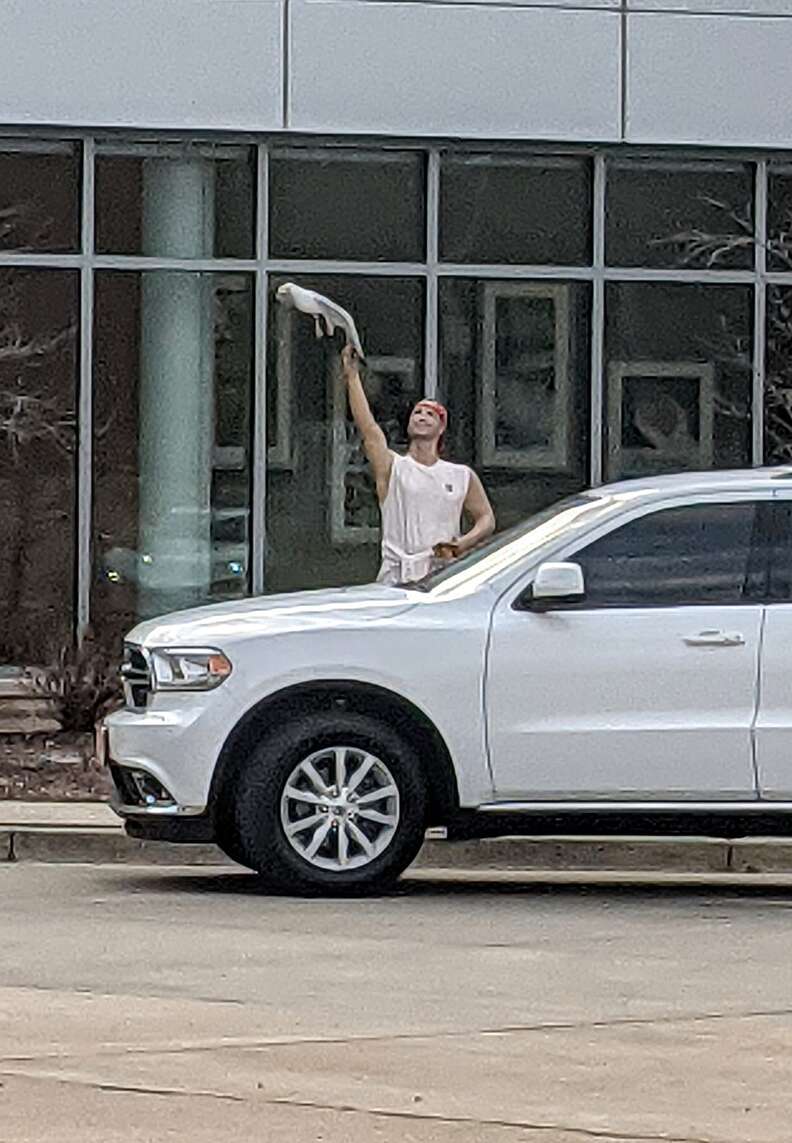 As she got closer, it looked to her as if the guy was actually releasing a rehabilitated bird, and she became concerned when she noticed the bird wasn't moving from his hand. She wasn't sure what was going on — and then it all clicked into place.
"I realized it was a statue after a car moved," Bergunder said. "I was able to see the whole scene, and the 'guy' was standing in snow wearing a tank top and shorts, at which point I saw the other birds around him that didn't fly away either. I was actually pretty bummed it wasn't real because I wanted to feed the birds too and find out the story of how or why he was releasing the bird. Instead, I just acted like I wasn't heading his way and just went [into] the building."
Bergunder was mildly embarrassed and couldn't get over how real the statue looked. She posted the photo online to see if other people agreed with her, and they absolutely did.
"People have truly thought it was a real guy in the pictures, especially because I took pictures from two different angles, so it appears that he was in motion," Bergunder said.
Bergunder looked up the artist, J. Seward Johnson, and discovered that he was responsible for a bunch of incredibly lifelike statues all over. The statue is called "Sharing Hope," and celebrates the life of Joe Schwarz, who passed away in March 2018 from throat cancer. His wife, Shelly Schwarz, donated the sculptures along with $10 million to help the hospital's cancer center in honor of her late husband.
"[He] died pretty recently, on March 10th of 2020," Bergunder said. "A quote of [the artist's] is, 'It's easy sometimes to forget the simple things that give us pleasure. If we open our eyes, life is marvelous.' Something as simple as feeding some birds doesn't seem like much, but when you really think about it, it's really a beautiful moment."
Bergunder was bummed the guy and his birds weren't real, but she didn't mind being fooled. She's just happy she got to witness a beautiful moment frozen in time for everyone to enjoy forever.
Everything You Need To Keep Your Bird Happy
We may earn a commission if you purchase from our links.