Woman Stops To Read A Missing Cat Poster — Then She Looks Down
What a coincidence 😂
The other evening, Camila Castoldi was out for a walk near her home in Buenos Aires, Argentina, when something caught her eye. There, posted on a utility pole, was a sign for a lost pet.
An orange and white cat named Luis had gone missing, and his desperate owners were asking people to keep a lookout for him.
Castoldi, however, needn't look far.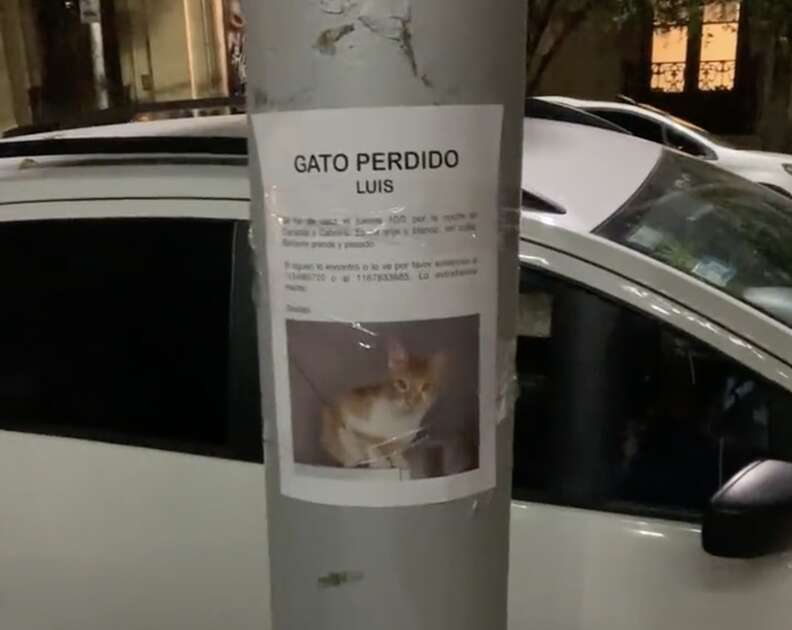 Turns out, directly underneath the poster for the missing cat was someone strikingly familiar.
Here's what happened next:
It was Luis.
"I said, 'Greetings, Luis!'" Castoldi told The Dodo. "Then I called his family. The family came running, thanked me and pampered him."
Luis had been missing for four long days before Castoldi had found him. But, in a way, the cat had actually found himself.
Fortunately, Luis was still in good health after his time spent lost came to an end — and now he's safely back at home where he belongs.
Still, for her part in piecing together the clues that led to the cat's discovery, it's Castoldi who's full of gratitude.
"I feel lucky to have found him," she said.
These Modern Cat Beds Are All Top-Rated
So sleek ✨