Woman Scrolling Instagram Stumbles On Shocking Photo — Then Calls A Cab
"I just felt like it was an actual sign …"
Heather Hamm knew she wanted to foster a dog. At home in New York City on a recent evening, she began searching for foster opportunities online, trying to decide which might be best.
Nothing seemed to click until Hamm opened Instagram. Immediately, she saw a post that stopped her in her tracks. On a profile that typically advertises free things left out on the streets of New York was a picture of an abandoned dog tied to a Subway station pole. The photo tugged at Hamm's heart, and she knew what she had to do.
"I just felt like it was an actual sign that I had to go get her!" Hamm told The Dodo.
"I told myself that if an hour went by and no one got her, that I would go," Hamm said. "A half hour went, and I checked the comments for updates — no one had gotten her yet. So I figured I would just take a chance and get in a cab to at least check it out."
As she neared her destination, Hamm grappled with the weight of the situation. Though she loved dogs, she'd never attempted to rescue one on her own.
"On the ride over, everything that could go wrong really sunk in," Hamm said. "Although I was confident I wanted to rescue her, I was slightly nervous for what I could be walking into."
It turns out, Hamm didn't need to worry. When she finally reached the dog, the friendly pup immediately began happily rolling over and licking Hamm's face.
"Any nerves I had about how I was going to figure this out were gone," Hamm said. "I was just so happy that she took to me so well so soon!"
After speaking with police who'd arrived at the scene, Hamm was given permission to take the dog home. Luckily, she had prepped her apartment before leaving in anticipation of a new furry roommate. Soon, the dog, later named Peaches, was in a car with Hamm, headed toward safety.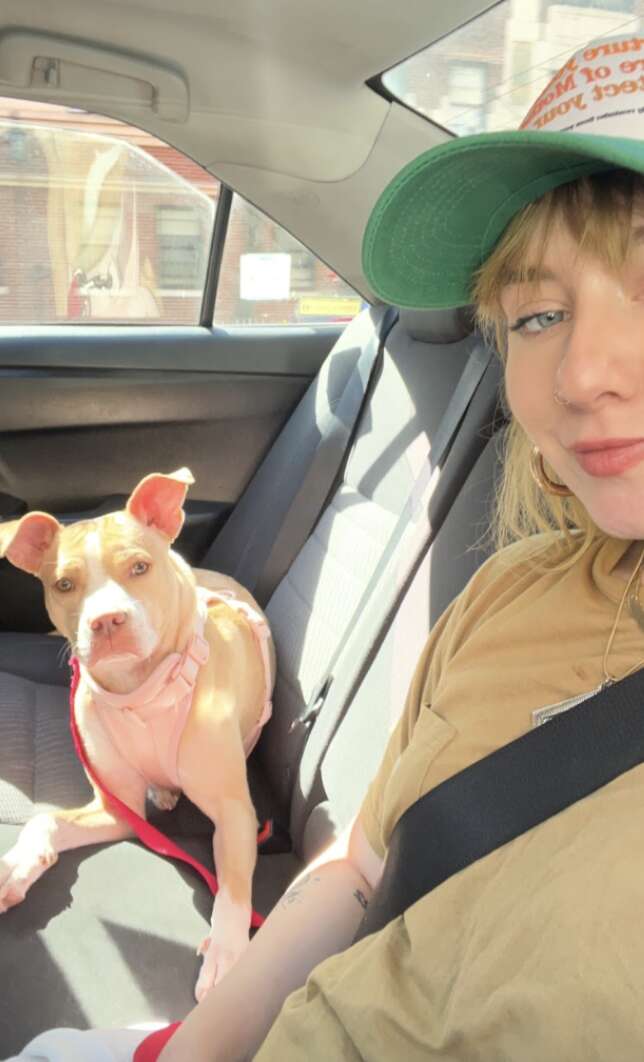 Hamm was delighted to learn that Peaches was just as sweet as her first impression suggested. In no time, the pair were pals.
"She's very friendly," Hamm said. "She already knew a handful of commands, and [she's] very attentive. She really is such a well-mannered dog. She loves to cuddle, play fetch, is obsessed with her monkey stuffed animal and loves going for walks in the park!"
Though she's sad that she won't be able to keep Peaches forever, Hamm knows she did the right thing by calling a cab that night.
Peaches is currently in the process of being adopted by her forever family. For now, she's busy getting all the cuddles and walks she could ever want — happy to have such a committed foster mom looking out for her.
Cozy Dog Hats You'll Obsess Over
We may earn a commission if you purchase from our links.
Cozy Dog Hats You'll Obsess Over
We may earn a commission if you purchase from our links.