Woman Rushes To Rescue Someone Tiny and Cold Stuck At Bottom Of Empty Pool
"He's just a little nugget" 🥺
On a cold day in April, Stephanie Brady got a call from a homeowner about a tiny animal stuck at the bottom of their drained pool. Brady, founder of Wild West Wildlife Rehabilitation Center (WWWRC) in Amarillo, Texas, rushed to the home, where she spotted a baby opossum practically blending in with the pool's plaster floor.
The walls of the pool were too slick for the baby to climb out, and he'd been battered by the elements, all alone, for hours.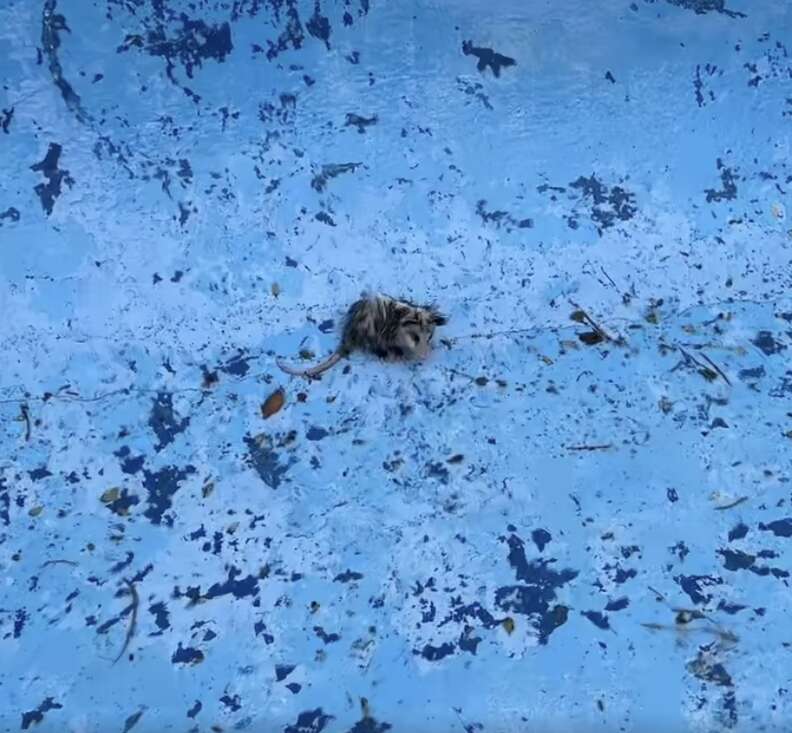 "He was very cold and wet," Brady told The Dodo. The weather in Amarillo was rainy, and temperatures were hovering just below 40 degrees, so the baby opossum needed to get dry and warm as soon as possible. Luckily, Brady has heated seats in her car and a very cozy carrier.
You can watch the rescue here:
After one more opossum rescue that day, Brady brought the baby to Wild West Wildlife, where he was further examined and treated for fleas and dewormed. "His prognosis is fantastic," Brady said. "He's eating like a champ … He's just a little nugget." The little opossum should be ready to be released once he weighs between a pound and a pound and a half.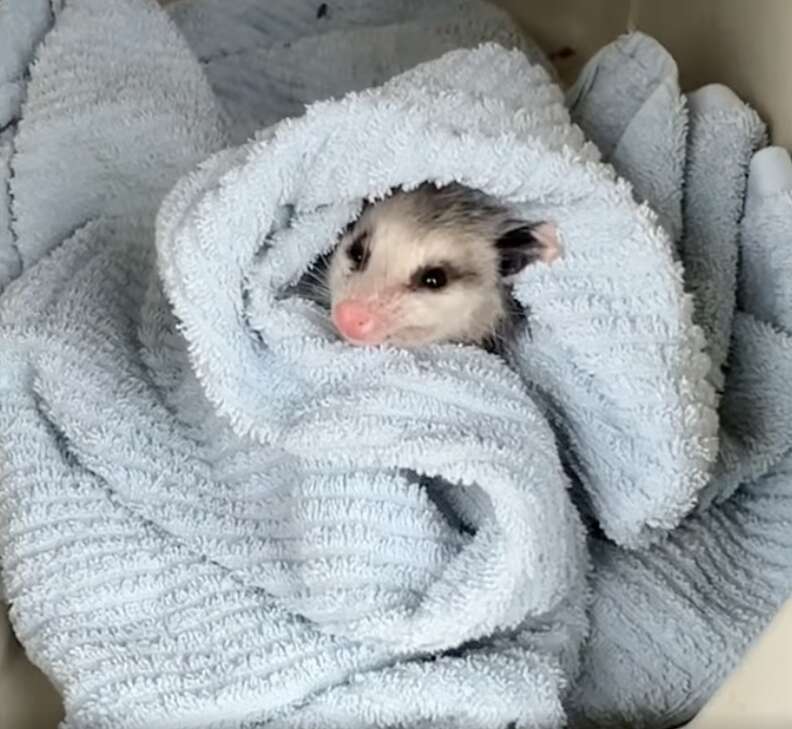 Unlike raccoons, deer and other mammals, "opossum mothers don't usually come back for their babies once they've fallen off," Brady explained. Mother opossums can have up to 13 babies at a time, and with so many babies clinging to her back as she moves from location to location, she likely doesn't notice if one falls off and is left behind.
However, if you happen upon a baby opossum in your yard, don't assume right away he's abandoned. Wait a while to see if the mother returns and contact your local wildlife rehabilitation center to get advice on next steps.
Wild West Wildlife cares for over 500 rescued opossums each year, and they know just how important the marsupials are to the environment. Opossums eat snails, slugs and insects that carry disease and parasites, such as ticks. They also clean up spilled garbage or litter left by other animals.
When it's eventually time to release the rescued baby back into the wild, Brady said she'll make sure to do so on protected land with lots of greenery and fresh water.
If you'd like to help with the rehabilitation process for this baby opossum and other wildlife WWWRC rescues and rehabs during "baby season," you can help the Center reach its $25,000 fundraising goal,
by donating here
or you can check out the Center's
Amazon wishlist
.
Cozy Beds Your Cat Will Love To Lie In
We may earn a commission if you purchase from our links.