Woman Rescues Kitten — Then Realizes She's Stumbled On Someone Extremely Rare
"I double-checked. Then triple-checked."
Alone in a shed in Colorado, a mother cat and her four kittens cowered together, waiting for someone to find them.
A Good Samaritan soon noticed the little family and took them to the Weld County Humane Society, where they were eventually transferred into foster care through NoCo Kitties.
Foster mom Alli Magish was happy to take in the wayward family. Little did she know, as she accepted the cats into her home, that she was in for the surprise of a lifetime.
As she filled out medical paperwork for the cats, Magish checked their gender, something she'd done many times before.
"I've fostered well over 500 cats [and] kittens, so I'm familiar with identifying the sex," Magish told The Dodo.
But when she checked the gender of one little calico kitten, she noticed something strange — he appeared to be male. This was shocking. According to Vetstreet, only one out of every 3,000 calico cats is a male. Female cats are typically calico because they have two X chromosomes, and the calico gene needs two X chromosomes to work. Male cats have an X and a Y chromosome, so they typically can't be calico. However, in very rare cases, a male cat can be born with three sex chromosomes, two X and one Y. Only then will a male cat have calico coloring.
"I double-checked. Then triple-checked," Magish said.
Still in disbelief, Magish texted NoCo Kitties founder Davida duPont and told her the news. Eager to confirm, the pair took the kitten to a local veterinarian, who soon verified what Magish and duPont already suspected — the little calico kitten was, indeed, a boy.
"It was pretty exciting!" Magish said. "We all were a bit giddy and laughing."
Magish began excitedly messaging her friends, telling them the news. Meanwhile, the kitten, later named Charlie, was oblivious to the hubbub, too busy enjoying all the perks of his new foster home — jumping on everyone's lap, playing with people's hair and swatting at bits of ribbon.
"He's a rambunctious kitten!" Magish said. "And he loves to be cuddled."
As news of the unique kitten began to spread, adoption requests poured in. Magish and duPont had a big job on their hands, but they were determined to find Charlie his perfect fit. After scrutinizing lots of applications, they finally found the one. At last, Charlie had a permanent home.
"He's going home to his forever home … and his best friend, Cooper, is going with him," Magish said. "They have a strong bond, and his selected adopter is taking them both."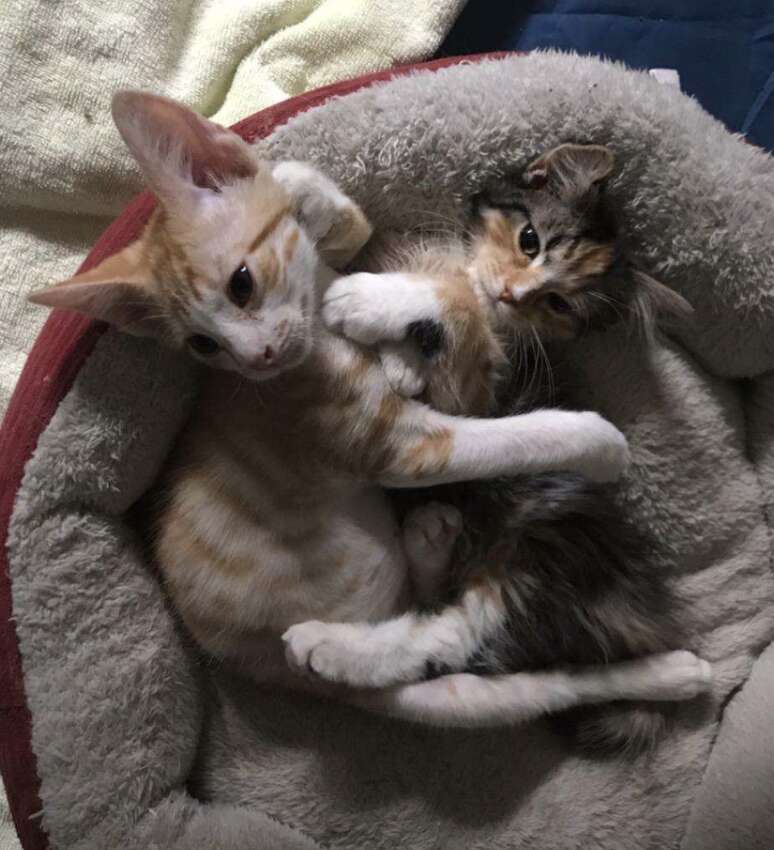 Though Charlie's chromosomes certainly defy the odds, the fluffy calico is surely happy that, from now on, life with his new family will be comfortably predictable and, more importantly, full of love.
Top-Rated Products For The Ultimate Dog Spa Day
We may earn a commission if you purchase from our links.