Woman Finds Random Dog Hanging Out In Her Building's Laundry Room
"I was thrilled to have a friend to make my chores a bit more interesting."
Bianca Nachmani was getting ready to do some laundry and headed down to her building's laundry room. She was hoping she'd be alone so she could have her pick of machines. As she approached the laundry room, she heard some rustling and figured one of her neighbors was already in there. She was right — but the neighbor she found wasn't the one she was expecting.
A huge, fluffy dog named Apollo was hanging out among the machines, checking them out and exploring the room. When he saw Nachmani, he got super excited that he wasn't alone anymore. Nachmani was excited to see him too, but she was also very confused.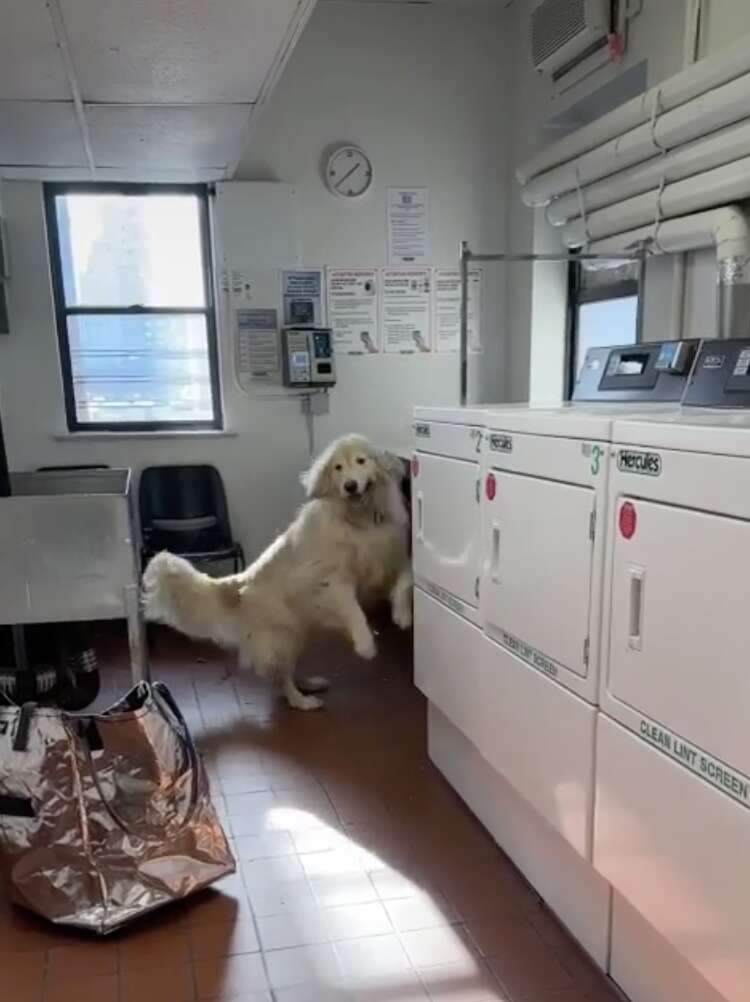 "At first, I didn't know if he had come from an apartment down the hall that wasn't visible but maybe had a door open, or if maybe he had managed to get on the elevator from another floor without his owner," Nachmani told The Dodo.
Apollo didn't leave her guessing for long, though, as he quickly led her to an apartment right by the laundry room that he had very clearly broken out of. Nachmani didn't want to lock him back inside for fear that he would just break out again, and she had no idea if anyone was home or not — so she led Apollo back to the laundry room with her and made him her assistant.
"I'm a dog mom and have always had a huge love for animals of all kinds, so I was thrilled to have a friend to make my chores a bit more interesting — even if he made the process a bit less efficient," Nachmani said.
As Nachmani tried to do her chores, Apollo helped out by jumping up on the machines, crawling under and behind them, spilling the trash can and trying to steal her wallet. Still, Nachmani was very much enjoying Apollo's company and decided she would stay with him all day if she had to. She and her new best friend would wait together until his family realized he'd escaped.
"I was ready to hang out with him as long as I needed to make sure he was safe and situated," Nachmani said.
About 15 minutes after Apollo and his new best friend first met, his mom came out of the shower and realized he was gone. She called his name down the hallway, and he excitedly ran to greet her, not ashamed at all of the trouble he'd caused. She was definitely surprised to find that he'd made a friend, and Nachmani filled in the blanks for her.
"I just told her that Apollo was hysterical and that I had kept an eye on him in the laundry room," Nachmani said. "She laughed and was obviously a bit shocked that so much had transpired while she was in the shower."
Nachmani hadn't expected to have a laundry buddy that day, but she was absolutely thrilled that it turned out to be Apollo.
How To Keep Your Pet From Getting Lost
We may earn a commission if you purchase from our links.