Woman Caught On Camera Sharing A Very Awkward Moment With Her Cat
"It's part of being a kitty mama."
Meet Olly the cat and his owner, Karly Johnson. Together, they make a picture-perfect family, one built on a foundation of mutual love and affection.
But sometimes that perfect picture can still come out a little awkward.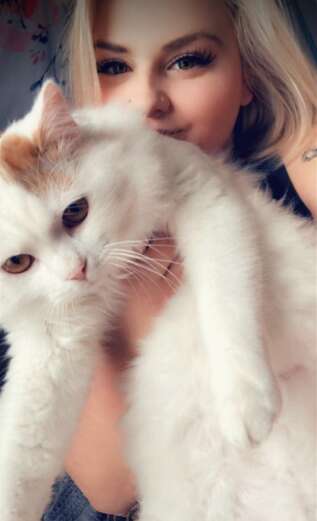 Johnson adopted Olly from a shelter two years ago. Since then, the already-fluffy kitten matured into an even fluffier cat. But all that extra fur has given rise to some unforeseen cleanliness issues — particularly when it comes to Olly's rear end.
In other words, sometimes what Olly intends to leave behind in the litter box ends up sticking with him.
"He's such a floof," Johnson told The Dodo. "I would hate to shave around his fluffy bum like some owners do. It's too cute. So, I help keep him clean."
This is what she means:
Olly needs help "getting clean" often enough that he and Johnson have established a special post-bathroom routine.
When the need arises, Olly rests rear-end-up in Johnson's lap so she can wipe him down.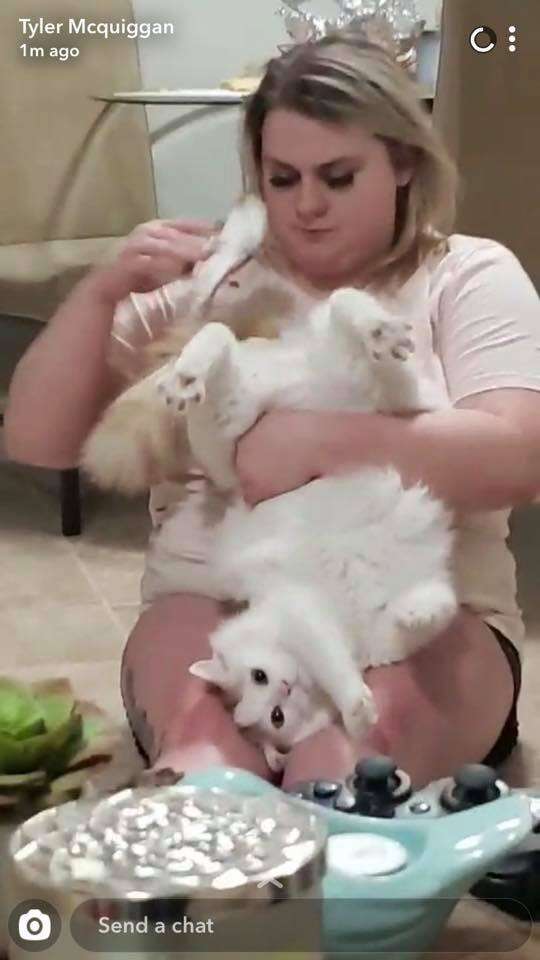 "I use an unscented water wipe ... and talk to him calmly while I wipe," Johnson said. "I clean his bum, love him, snuggle him and do my best."
Olly, for his part, actually seems to enjoy the pampering.
Usually, this little routine is hidden behind closed doors. But recently, Johnson's boyfriend decided to snap a few pics of Olly's wipe-down to share on social media.
Is it an awkward moment to have captured on camera? Sorta, yeah. But Johnson's not ashamed — nor should she be.
"It's real. It's me and Olly," she said. "It's part of being a kitty mama."
In reality, Johnson's dedication to keeping Olly clean and comfortable speaks more of their sweet friendship than perhaps any other moment they share together.
"I don't have any children of my own, but I have my cat, and he's a handful. But I do what I have to do," Johnson said. "Olly is pampered with love and extras. And even pampered with necessary bum cleaning."
Top-Rated Cat Toys That Will Entertain Even The Wildest Cats
Do they ever stop moving? 🤔
Top-Rated Cat Toys That Will Entertain Even The Wildest Cats
Do they ever stop moving? 🤔