Cat Gets Depressed When The Christmas Tree Disappears Every Year
So her mom decided to get her a special present this year 🎁
Every year, when she sees her family getting ready to put up the Christmas tree, Ginger always gets so excited. She loves the Christmas tree more than anything, and spends as much time with it as she can while it's around.
Sara Taylor
"She loves how everything sparkles and lights up," Sara Taylor, Ginger's mom, told The Dodo. "She's very gentle and not destructive at all. She will sit under the tree every single day while it is up. We tell her she's a 'beautiful gift.'"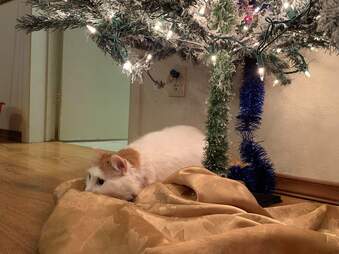 Sara Taylor
Ginger's love for the Christmas tree is extreme, and when her family finally takes it down again at the end of the Christmas season, she sits where it used to stand for days, wondering where it went.
Taylor could see how sad and grumpy Ginger was without her tree. She knew she couldn't keep the tree up all year round, though, so she came up with an alternative idea.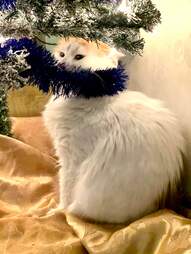 Sara Taylor
"It made me sad when I realized she missed it so much," Taylor said. "So this year I decided I would replace it with something special."
The something special wasn't just a toy or another kind of tree. Instead, it was a space capsule. Go big or go home, right?
Sara Taylor
As soon as the space capsule arrived, Taylor quickly set to work putting it together as Ginger supervised the entire time. Once it was finished, Taylor presented it to Ginger and hoped that it would be a suitable replacement for her beloved Christmas tree — and it absolutely was.
"She was very curious when the space capsule came in," Taylor said. "She very patiently watched me put it together. It didn't take long for her to want to explore it once it was ready and now she sits in it daily. She loves it!"
Sara Taylor
While Ginger still misses her Christmas tree, she's definitely a little less sad and grumpy now that she has her special space capsule. She hangs out in it all the time, and will continue to love it until at least next Christmas, when the tree finally returns.