Trail Camera Catches 15-Year-Old Wolf Enjoying A Special Birthday 'Cake'
He even shared some with his pack ❤️️
Bailey, a longtime fixture at the California Wolf Center (CWC), recently turned 15, a milestone birthday for a wolf to reach. Since he's always been a staff favorite, they came together and found the perfect way to celebrate him.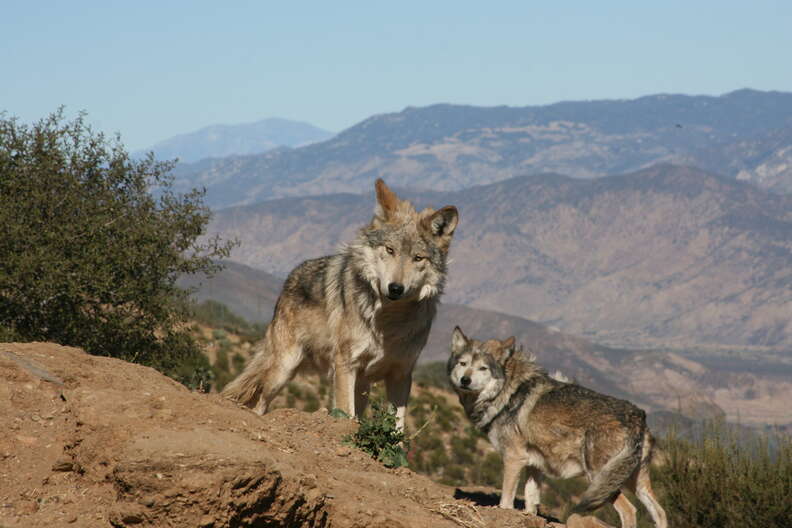 "For all of our special events, the CWC likes to do special themed enrichment," the California Wolf Center staff told The Dodo. "For Bailey's birthday, we wanted to properly celebrate with his very own wolf-safe birthday cake. The cake was made out of ice layers that were dyed with food coloring to look more festive — but with frozen fish inside!"
After the cake was dropped off and there were no humans in sight, Bailey and his pack emerged to investigate. A trail camera caught him discovering the cake — and as soon as he realized what it was, he was absolutely thrilled.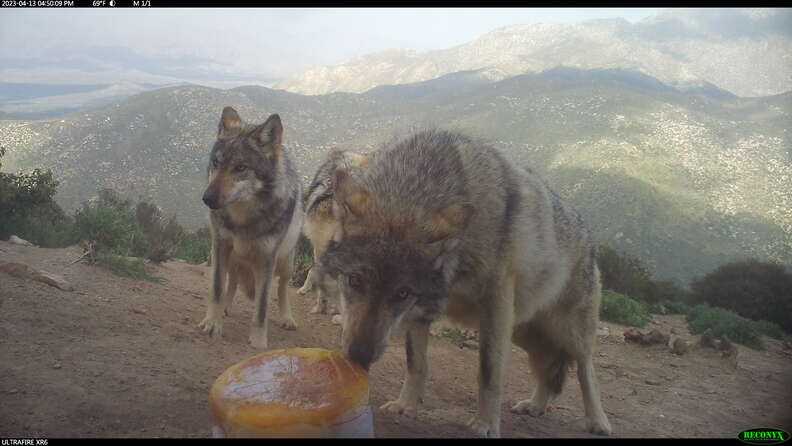 Bailey wasn't super keen on sharing at first, but after he had enjoyed the cake on his own for a bit, he happily let his family come and join the fun.
"Bailey is an amazing dad and actually let his kids share with him," the staff said. "Bailey lives with seven of his puppies who are now 4 years old, but he is still very much in charge. After his investigation and a few licks, he let them come and check everything out and take part in his birthday celebration."
Eventually, the wolves rolled the cake out of view of the camera, but the staff estimates it probably took them about an hour to work through the whole thing, especially once they realized what was frozen inside. It was a wonderful birthday celebration for a wonderful wolf, and Bailey certainly seemed grateful for all the fuss.
Cute Dog Toys Shaped Like Your Favorite Foods
We may earn a commission if you purchase from our links.