Man Discovers Shop Selling Thousands Of Dead Seahorses Taken From Wild
This happens to over 37 million seahorses a year 😢
Kevin Laurie had never seen anything like it. Inside a shop in the Guangzhou district of China, near Hong Kong, there were about 40 or 50 large plastic bags — and inside each bag were thousands upon thousands of dried seahorses.
"This is the most seahorses I've seen in a single shop," Laurie, an independent correspondent, told The Dodo. "In most cases, it's more usual to see seahorses on sale together with other dried marine species. But in this case, the shop was almost dedicated solely to selling seahorses."
Kevin Laurie
Laurie, who used to work as a police officer, snapped several photos of the bags, which he believes held about 2,000 to 4,000 seahorses each, and published them on Facebook. His post ended up going viral.
"Seahorses don't have much of a voice in the conservation world, so my aim in taking the photos was to highlight their plight," Laurie said.
Kevin Laurie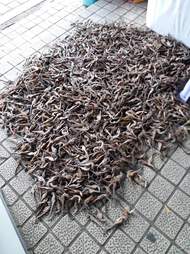 Kevin Laurie
"There are no official global figures on [seahorse] fisheries, but from our fieldwork, we think in just 21 countries that we've been able to assess ... about 37 million a year are being removed from the wild," Vincent told The Dodo in April. "That number may turn out to be conservative."
Kevin Laurie
The main reason seahorses are being caught is for traditional Chinese medicine — it's believed that seahorses cure a range of conditions associated with the aging process. However, seahorses are also sold into the aquarium trade, or sold as food or decorative ornaments.
Kevin Laurie
Kevin Laurie
"They're prohibited, so how come we have sacks and sacks and sack of them just in the shops here [in Hong Kong]?" Stokes told The Dodo in April.
Despite the challenges in protecting seahorses, Vincent remains optimistic about the future.
Kevin Laurie
"Seahorses are in trouble ... and I hope they can be good storytellers for all the small, obscure species that nobody pays much attention to at all," Vincent said. "I think what we all need to do is to feel a responsibility for the ocean and to engage with the ocean and talk about it a lot. It can be difficult because most people think of the ocean as a swimming pool of water, but in fact it's full of the most extraordinary life, and seahorses are part of what's wonderful."