Thirsty Squirrel Is So Happy Someone Stopped To Give Her A Drink
He was there when she needed him the most ❤️️
Jomar Robles was on a landscaping job in Dallas, Texas, when he was approached by a little animal in need of help.
It was a hot day in March when a young squirrel came right up to him. Robles, an animal lover, knew something must be wrong for a wild animal to approach him. "I was walking and the squirrel saw me and went where I [did], so I gave her water," Robles told The Dodo. "She was very thirsty and a very beautiful squirrel."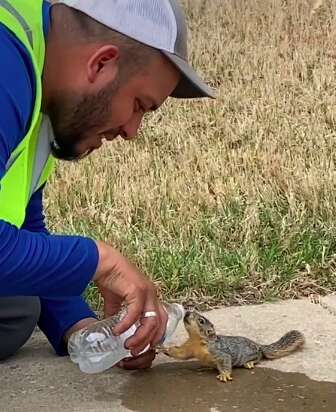 He unscrewed the cap from his water bottle and knelt down to give her some water. The squirrel rested her paw on Robles's hand as she took little sips from the bottle — as if telling him not to stop.
Once she was done, Robles patted her on her back and tipped some more water into his hand. But the squirrel was no longer interested in the water. Instead, she climbed up onto his arm and continued to let him pet her while she rested in the folds of his shirt.
Sensing that the squirrel needed to get out of the sun, Robles took the little animal home. There, he made a comfy place for her to rest and gave her some healthy snacks.
"She slept a lot the day I got her home," Robles said. "[I] told my wife I was going to let the squirrel free so she can have new friends of the same kind."
The next day, the squirrel appeared to be feeling better, so Robles took her back to where they first met and released her.
"I didn't want to let her go — it made me sad — but I knew in my heart she should be where she belongs," Robles said. "She took a last look at me and went to a tree and climbed it."
Robles hasn't seen the squirrel since, but he knows that his simple gesture meant a lot to her.
Drinking Fountains To Keep Your Pet Hydrated
Drinking Fountains To Keep Your Pet Hydrated