Paid Content For

Meet 3 Heroes Who Give Dogs Their Best Day, Every Day
Paid Content For

PHOTO BY MILES HEARNE/COURTESY BRIAN TAYLOR
PHOTO BY MILES HEARNE/COURTESY BRIAN TAYLOR
EDITOR'S NOTE: The Dodo and Resolve both believe that dogs deserve the very best. That's why we've teamed up to host the virtual Best Dog Day Ever on November 13, full of tips for treat-baking and pet-pampering. Together, we're also sharing stories of those who've made helping dogs their life's work.
Sharing stories of kindness feels more important this year than ever before — and that's especially true of those who give back to dogs in need. From a volunteer who's given dozens of shelter dogs a place in her home to a groomer who helps dogs look and feel their best, these special people give dogs their best day, every day.
The 'dog father' of Harlem who helps dogs look their absolute best
For over a decade, Brian Taylor has been making pups look just as good as they feel on the inside. Taylor is the owner of New York City's Harlem Doggie Day Spa and has been busy uplifting pups' spirits during the pandemic. "I think all dogs appreciate grooming," he told The Dodo. "After it's all over, they feel so good about themselves." Because of that, Taylor started collecting donations in March to help dogs feel pampered, even when times are tough for their families. He raised over $10,000, and decided to start the Pup Relief Tour, bringing over 55 Black groomers on a road trip around the country to spread joy to dogs through baths, massages and haircuts while sparking conversations on diversity in the industry. "We came together as pet professionals and dog lovers during a time in America where we are so divided," he said. In December, Brian will kick off part two of the Pup Relief Tour in Louisiana, where Hurricane Laura hit in August. "What I love the most [about grooming] is seeing how the dogs' reactions changed during the grooming process and the way the dog makes the pet parent feel," Taylor said.

Anyone who works around (or lives with!) dogs knows that things are bound to get a little messy from time to time — but it doesn't have to be the end of all the fun. The powerful cleaning agents in Resolve products makes cleaning up pet messes during puppy training or playtime quick and easy. From products that discourage marking to those that lift and remove tough stains in a flash, nothing will get in the way of making your dog's day with these at home.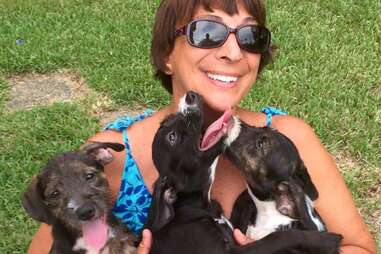 The foster mom who started a prom for senior dogs
Karen Altieri and her husband have found homes for over 175 dogs in the Tampa Bay area in the last seven years — and provided each of them a temporary home before they went to forever families. Every rescue pup she fosters through organizations like Fluff Animal Rescue and Compassion Kind is welcomed with a soft bed, nutritious food, toys, and even plenty of classical or meditation music to calm down. (Of course, they also give the rescues tons of hugs and kisses once they arrive to help them feel at ease.) Altieri often works with pups displaced by natural disasters in places like Puerto Rico and the Bahamas who need extra TLC before they go to their forever homes. She's currently taking care of a mom and her puppies who were rescued from Louisiana after Hurricane Laura (it's not her first time giving a mom all the love she deserves, either.) Some of these pups have never had a good bath or felt grass on their paws before, so Altieri does everything she can to give her fosters the pampering they deserve. She even held a pup prom to help senior dogs in shelters find their forever homes — complete with a red carpet, judges and a king and queen crowning ceremony. "As a foster, we are really proud of our work," she told The Dodo. "If you have a little extra time, fostering saves lives."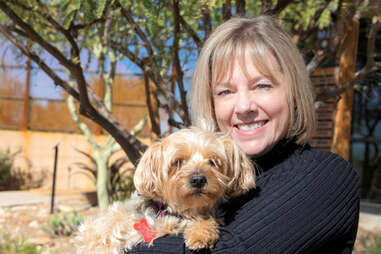 The shelter worker spreading joy one pet sleepover at a time
Life at the shelter can be lonely for pups (and kittens) as they wait to find families. That's why Melissa Gable, director of community engagement at Foothills Animal Rescue in Arizona, began throwing slumber parties for their animals over two years ago — and posting them on YouTube for the rest of us to enjoy. Gable sleeps on an air mattress, and all the pups are allowed to cuddle up right next to her. Giving up a Saturday night to do this is no big deal to her, though — she's been saving animals since 1997 and rescue is her passion. "Some of the dogs thought it was playtime," she told The Dodo. "It takes them a little while, but they settle right in, and most of them will get on the inflatable mattress. Some of them want to be under the covers!" Her streaming shelter sleepovers are part of her efforts to get more people to adopt. "When people are walking through [the shelter], they only have a couple of seconds of attention span until they are onto the next animal," she said. "I wanted to show folks what this cat or dog might be like if you are sitting on the couch, or reading or doing something, to give them a different perspective." Gable has continued her sleepovers during COVID-19 and hopes the YouTube series will show people how rewarding adopting a rescue can be.