Swan Who Was Separated From Her Mate Can't Believe She's Seeing Him Again
"She bounded towards her mate and almost immediately the pair made the shape of a love heart with their long necks" ❤️️
Bonnie and Clyde are a swan couple who live in and around a lake near Crewe, England. Everyone in the area knows Bonnie and Clyde well, and they've become like local celebrities. Everyone knows how much they love each other, and wherever one is, the other is always close by.
Recently, some visitors to the lake noticed that Bonnie had a leg injury, and decided to contact the RSPCA to see if they could help her. The rescue sent out their water rescue team to collect Bonnie — but she definitely wasn't thrilled at the idea of going with them and leaving Clyde behind.
"This was a tricky rescue as the female swan was quite feisty so it took four of our water rescue team to bring her to safety using two rescue rafts," Steve Wickham, an animal welfare officer with the RSPCA, said in a press release.
Bonnie was taken to the RSPCA Stapeley Grange Wildlife Center, where they quickly set about treating her leg so she could be reunited with Clyde as soon as possible. Unfortunately, Bonnie's leg won't ever be fully healed due to an old untreated injury, but her rescuers were able to get her healthy enough to be released back to her lake. Luckily, Bonnie is loved and closely watched by her community, so if an issue ever arises again, someone will definitely notice and make sure she gets the care she needs.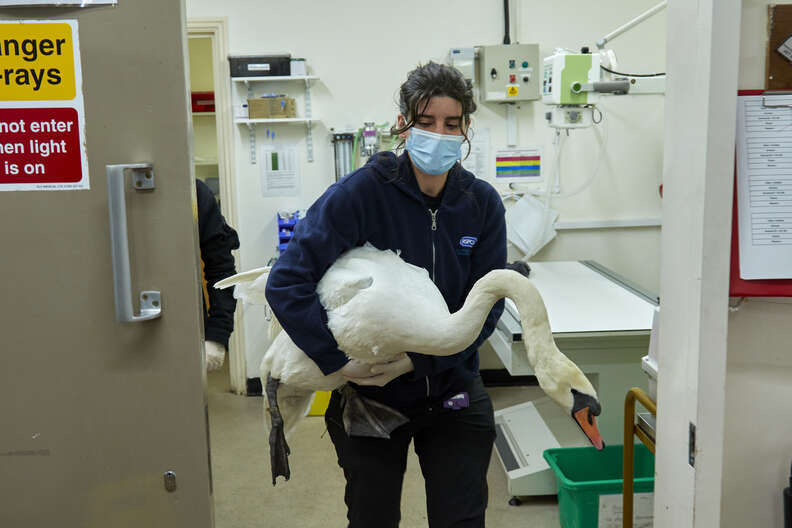 Finally, about a month after she was taken in, Bonnie was finally brought back to her lake, and more importantly, to her love Clyde.
Everyone was very excited to see the sweet swan couple be reunited — and the reunion definitely didn't disappoint.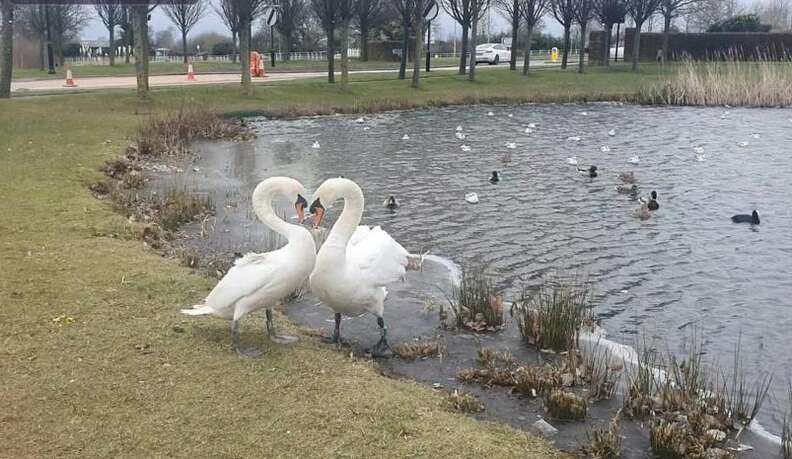 "When she was released, she bounded towards her mate and almost immediately the pair made the shape of a love heart with their long necks," Lee Stewart, then center manager at RSPCA Stapeley Grange, said in a press release. "It was a lovely moment!"
Bonnie and Clyde were so excited to see each other again and couldn't stop nuzzling into each other. The pair's special bond was able to survive their time apart, and hopefully they'll never have to be apart ever again.
If you want to help other animals in need, you can donate to the
RSPCA
.
How To Pamper Your Neighborhood Birds