Bold Squirrel Caught On Camera Stealing Package Off Someone's Porch
"We were amazed by this and couldn't stop laughing" 😂
A few weeks back, Noemi Gutierrez got an alert on her doorbell camera that someone was outside her home in Chicago. When she went to check, she saw that that "someone" was a squirrel — and in his mouth was a stolen tortilla.
Gutierrez didn't think too much of it at the time. But, it turns out, that wouldn't be that fluffy-tailed thief's one and only crime.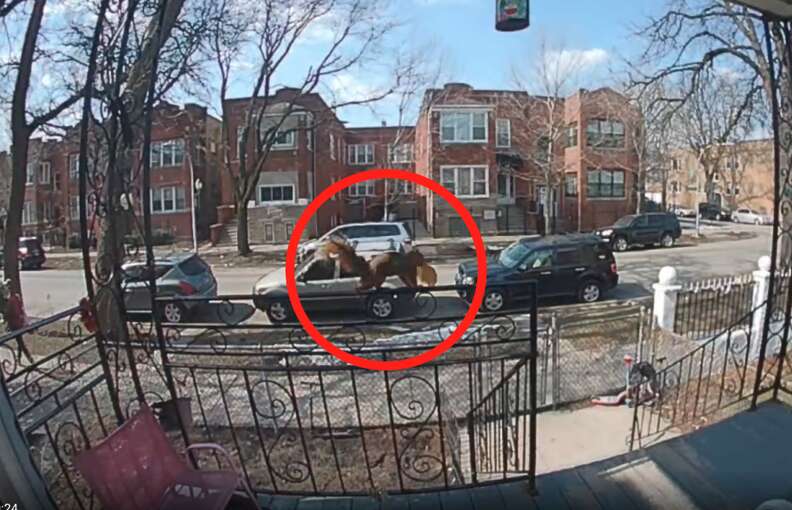 Shortly after the tortilla incident, Gutierrez's neighbor approached her to ask if she could check the camera footage again, this time for clues regarding another theft — a package delivered to her door had mysteriously gone missing.
Unfortunately, that crime wasn't caught on video, but Gutierrez did offer up a possible suspect.
"I told her, 'I think it was the squirrel,'" Gutierrez told The Dodo. "She thought I was joking about it."
Sure, it seemed pretty unlikely at the time. But just the other day, Gutierrez noticed another porch theft in progress — and she managed to get it on video.
It was the squirrel again. Like a seasoned thief, he grabbed a package from the porch and carried it in his mouth on to the building's roof.
Gutierrez was stunned.
"We live right across the street," she said. "We were amazed by this and couldn't stop laughing. It was hilarious!"
Gutierrez and her family haven't been able to reach the person whose package was stolen yet to let them know it was a squirrel, but that will no doubt seem unbelievable at first. So, it's a good thing she has the proof — not only for them, but also for anyone else in the neighborhood who may have had packages go missing.
"How crazy will my neighbor from across the street think I am if I knock on the door and say, 'Your package was stolen by a squirrel,' without showing him the video?" Gutierrez wrote.
The Best Puzzle Games To Keep Your Pup Entertained