Skinny, Old Dog Found On Side Of The Road Turns Out To Be Just A Puppy
"I don't know what would have happened to him if we hadn't found him …"
Injured and covered in porcupine quills, a stray dog was barely hanging on to life when an RV rumbled down a deserted Montana road and its passengers spotted him. The van stopped, and the dog attempted to approach the large vehicle, searching for help.
The dog, later named Quill, didn't know it yet, but he'd found his salvation.
The RV belonged to The ElleVet Project, a mobile veterinary clinic on a cross-country mission to provide routine care, specialized treatment and emergency services to pets in unhoused communities. And there was no way they were going to leave Quill behind.
"He had porcupine quills all over him, he had been attacked by another animal and had multiple wounds," Amanda Howland, the cofounder of The ElleVet Project, told The Dodo. "He was thin and lethargic, and we feared for his life."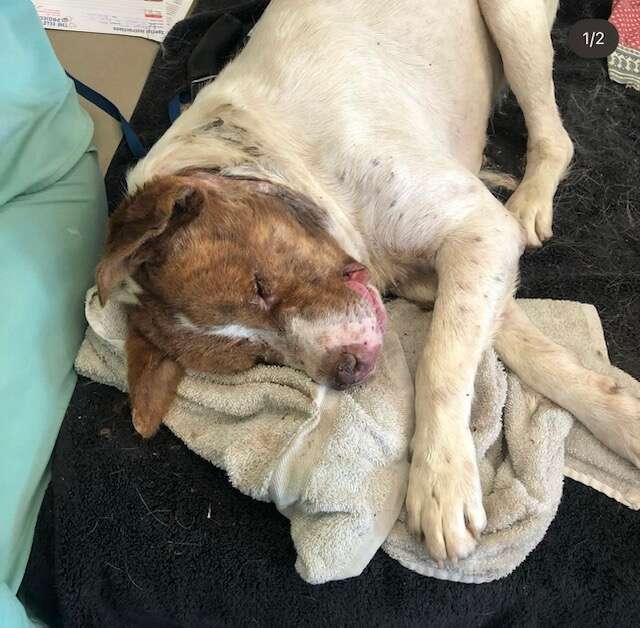 The ElleVet team loaded Quill into the van so they could give him round-the-clock care on their drive from Montana to Maine.
"He was sweet as could be and didn't make a peep as the vet examined him. We quickly got a sedative into him, and our veterinarian was able to remove all of the quills," The ElleVet Project wrote on Instagram. "They were so deep and so painful it made the vet and our staff cry."
Howland founded The ElleVet Project in 2020 with her business partner, Christian Kjaer, after the COVID-19 lockdown caused her to feel like she needed to enact some positive change. Her mind immediately went to unhoused members of the community and their pets.
"I started thinking about all the street pets and the unhoused and wondered how they would survive with shelters closed, no one on the street to give food or money, nowhere to go for veterinary care, with virtually no resources," Howland said.
Within three weeks of the first lockdown, Howland and Kjaer had pulled together a team of vets willing to hit the road and rented the "ElleVan."
"I had no experience in working with the unhoused population, of how to find those in the most need, or even how to drive an RV, but I knew we would figure it all out. We just needed to go, and go as quickly as we were able," Howland, who has a background in public health, said.
The ElleVet Project's first stop was California because, as Howland said, that state has the greatest number of unhoused people with pets. Within the first two months, The ElleVet Project was able to see and treat over 1,200 pets.
"Everywhere we went with ElleVan there were people waiting for us with their pets, waiting in line for hours or even days," Howland said. "We worked long hours and saw as many as 70 pets in a day, and never said no to anyone."
She continued, "Our goal was to treat any pet that needed us, to treat people with respect and kindness, and to go over and above for each and every pet that we saw."
Like Quill, Howland said there are so many pets who have left a lasting impression on her throughout the three years The ElleVet Project has been on the road.
"Even having seen thousands of pets, I can remember each one," Howland said. "But of course, some tug at your heart in a special way, and one that comes to mind is a woman [named Terry] who came to our van with her small dog, Sophie, whom she had rescued from an abusive situation."
Sophie had been kept in a cage and used for breeding for many years until Terry stepped in and saved her.
"Terry had cancer and didn't have a long time left, but her main concern was Sophie and making sure she ended up in a good home," Howland said. "Terry came to us for help finding a new home for Sophie before she went into the hospital, and we went all-out to find the best possible home for Sophie and to help Terry and stay in touch with her so she knew her girl was OK."
Howland, who said she has a soft spot for senior dogs, also recalled the story of a senior pit bull named Hippo who had "the most soulful eyes."
"He had bad hips and was in a lot of pain from past abuse but was so patient and had such a strong and loving bond with his person," she said. "Despite what he had been through, he was gentle and trusting, and we wanted to do everything for him."
The ElleVet Project team was able to help Hippo with his pain and treat a few skin issues. They also kept in touch with Hippo's person so he can continue to receive treatment when the ElleVan is back in their area.
Quill, however, was a unique case. Because he was a stray, The ElleVet Project team knew that, similar to Sophie's situation, they had to find him a home he could call his own after treatment.
"He traveled across the country on the van — a dog who had never even been inside a house before!" Howland said. "He recovered from his injuries, and we placed him in a wonderful home."
Quill had become best friends with Taylor, the ElleVan driver and, luckily, the pair were able to be reunited a few weeks after Quill was adopted by a family in Maine. And Taylor — as well as the rest of The ElleVet Project team — couldn't believe how different Quill looked from when they first picked him up.
"We get updates regularly, and the last time we saw [Quill], he had put on 20 pounds and had learned to love sleeping in a bed!" Howland said. "We thought he was middle-aged by the way he moved and acted, but turns out he was only about a year old, and now he acts like the puppy he is."
"I don't know what would have happened to him if we hadn't found him, but he is a happy and healthy guy with an amazing forever family," she added.
Now that The ElleVet Project is in its third year, Howland can't wait to continue this important work of helping pets and their parents who can't afford veterinary care.
"We hope to keep expanding and adding new states and cities to our routes and to add more vans so we can see as many pets as possible across the country," she said.
One of the main current goals of The ElleVet Project is to team up with veterinary schools so that vet students can get to know their communities better and have an opportunity to practice street medicine, solve problems on the fly and help strays like Quill gain a new lease on life.
"I hope anyone following or supporting us can see that we go where no one goes so we can find the pets that are the most vulnerable and that we give the best care we can with respect and kindness," Howland said. "Treating the pets is treating the people, too. We also try to show that the homeless or unhoused are often the heroes in the story, having many times rescued their dog or cat from an abusive situation."
"The bond between the unhoused and their pets is very strong," she added, "and it is often a beautiful thing to see."
14 Items That Should Be In Your New Dog Starter Kit
We may earn a commission if you purchase from our links.