Shelter Dog Has The Sweetest Reaction To Finding His Long-Lost Sister
His tail says it all ❤️
Meet Vardis — a 3-year-old rescue pup who's bounced between shelters and foster homes for nearly half his life.
Vardis spent most of his years alone, but all that changed recently when he saw someone he'd known since the day he was born — and remembered her face instantly.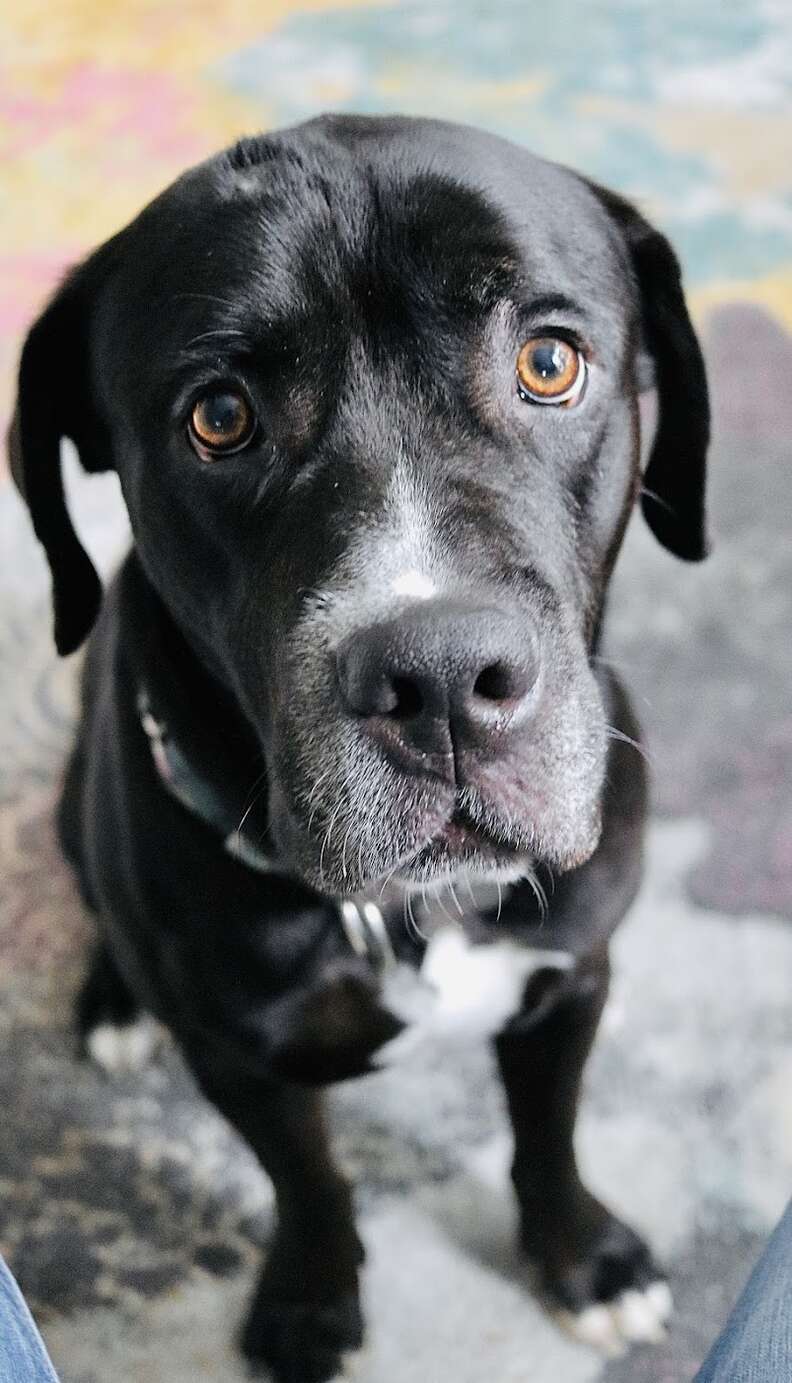 When Vardis arrived at One Tail At A Time (OTAT) in 2021, his rescuers didn't know much about his past. The Chicago-based shelter knew that he was taken in as a puppy by Chicago Animal Care and Control that summer, but they had no idea how he ended up there or if there was anyone with him.
The only thing OTAT knew for sure was that the pup was battling a bad case of pneumonia. The situation was serious, so the team jumped into action to give Vardis the medical care he needed. Eventually, he made a full recovery and captured the hearts of everyone who cared for him.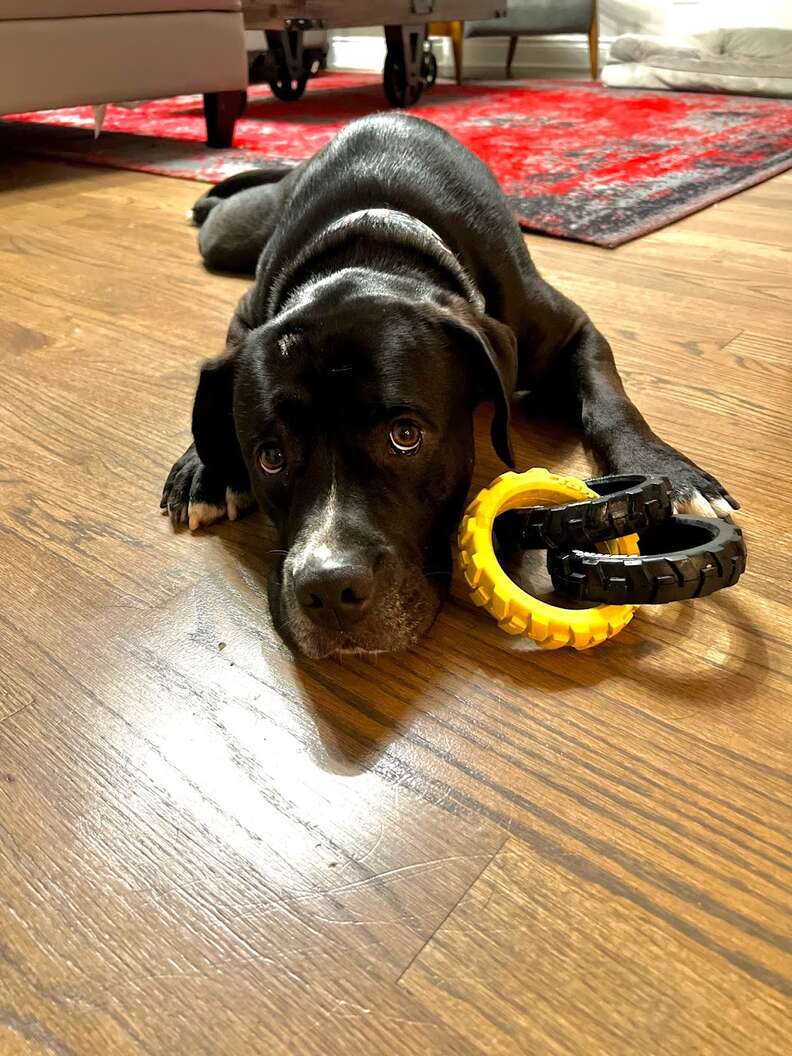 As soon as he was healthy enough to go into foster care, Vardis met his first foster mom, Lynsey. With Lynsey, Vardis learned what it was like to fall asleep in a loving home and get the proper exercise his young, energetic mind needed. Lynsey, in turn, learned more about Vardis' personality and soon became curious about his breed.
Lynsey ran Vardis' DNA through Embark's Breed+ Health kit and was surprised to find that the dog she assumed to be mostly black Lab was, in fact, 50 percent golden retriever and 45 percent American bully. She passed this information along to Vardis' second foster mom, Jessica Jones, who welcomed Vardis into her home later that year.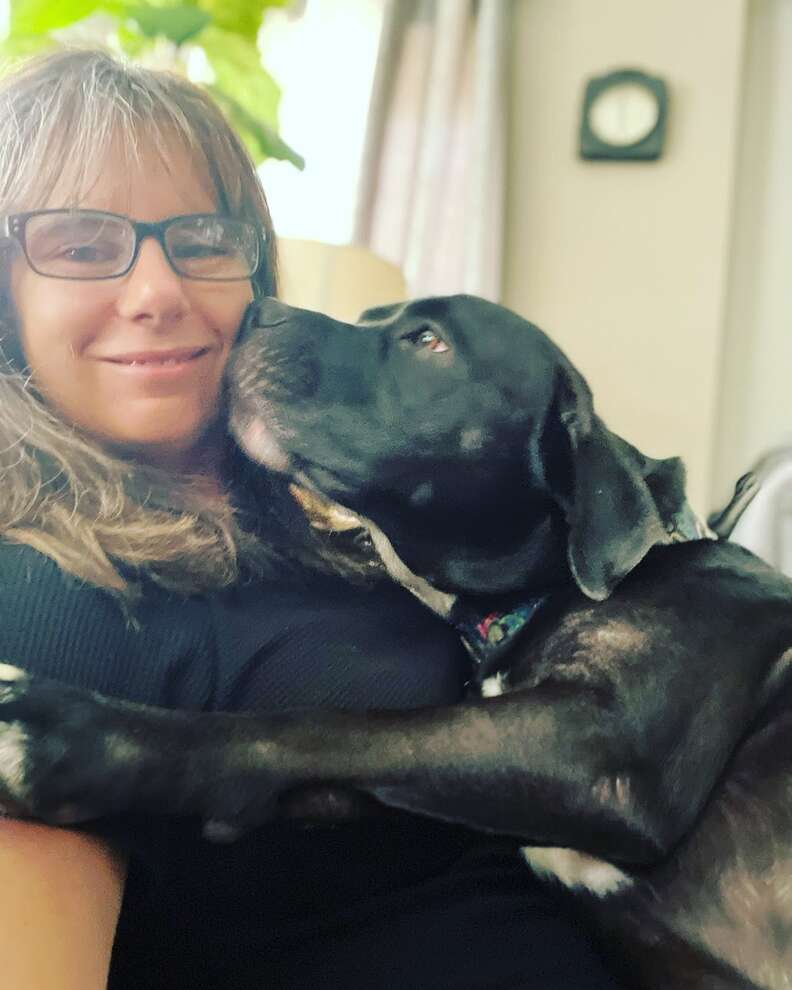 For a while, Vardis' DNA results had no effect on his daily life. Under Jones' care, he continued to explore the world and make new friends just as he did before.
"I like to refer to him as an extrovert who loves to meet neighbors and say hi to his friends," Jones told The Dodo. "Once he meets someone new, that person is a friend for life! When he sees them again, he'll insist on saying hello and getting a few scratches or a belly rub."
Then, one day, Vardis' first foster mom, Lynsey, got an email from someone who'd given their dog the same DNA test. Through Embark's relative finder feature, they found out that their pup, Brunch, was a DNA match for Vardis. The dogs seemed to be the same age, and they'd both come from Chicago Animal Care and Control. Vardis had found his long-lost sister.
Lynsey gave their information to Jones, who immediately scheduled a playdate. At first, Jones didn't know how Vardis would react to seeing his littermate again.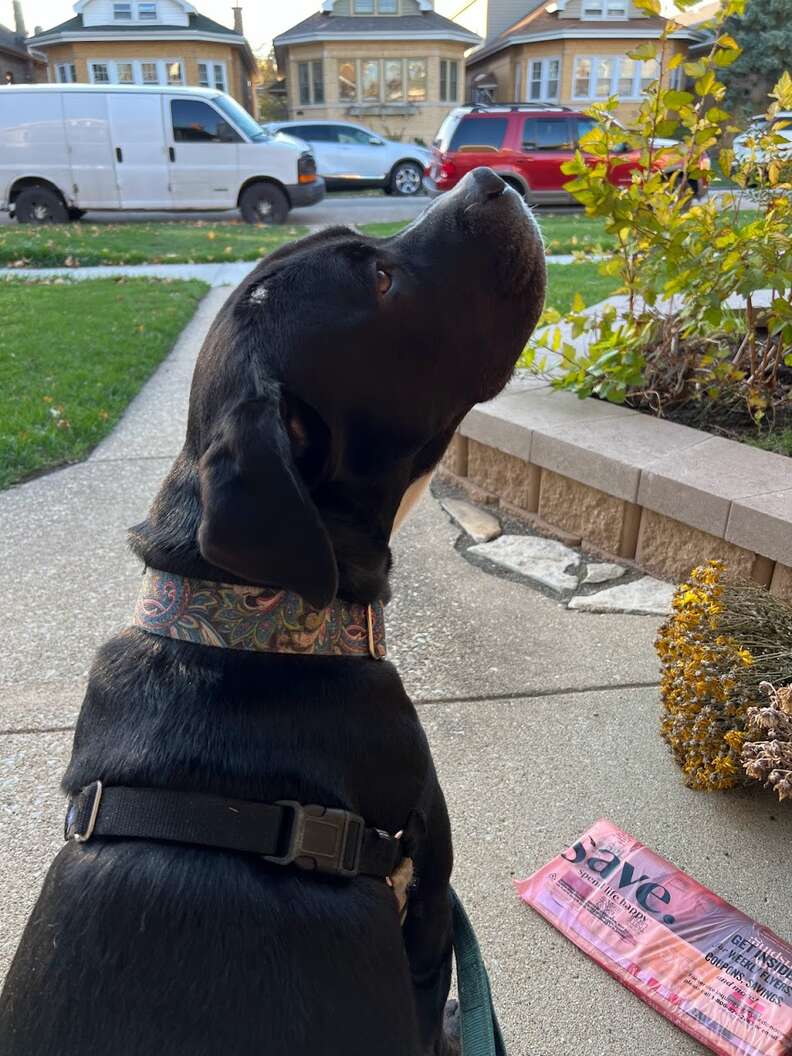 "I was a little nervous leading up to the meeting because Brunch's family had indicated that Brunch can be a little selective when meeting new dogs, and Vardis also has had mixed experiences with meeting other dogs," Jones said. "Vardis usually comes on a little strong, which is not always preferred by other dogs."
But as soon as Brunch and Vardis locked eyes, she knew she didn't have to worry.
"It was so fun to watch Vardis and Brunch reunite," Jones said. "They were both very comfortable with each other from the start!"
The two hit it off right away and seemed to pick up right where they left off. They started their playdate in the front yard with sniffs and tail wags, then quickly moved to the back, where they could really get their zoomies out.
"The two have very similar play styles," Jones said. "Both like to bump their playmate with their butt to kind of herd them to where they want to be!"
The sibling duo ended their playdate by sharing their favorite snack — a cheese stick — then kissed each other goodbye. They haven't had another playdate yet, but Jones and Brunch's parents are looking forward to getting them together again soon.
While Vardis waits for his next playdate with Brunch, he's still on the hunt for the perfect forever home. Because Vardis would do best as an only child, neither Jones nor Brunch's family are the right fit for him.
"Vardis loves other dogs, but is probably best suited as a single dog with lots of dog friends to visit," Jones said. "A loving home with people to cuddle and play with is what Vardis is looking for."
Vardis can't wait for the perfect forever family to find him. Until then, he'll continue cuddling up next to his foster family and soaking up all the love he's got.
"He's the sweetest, cuddliest 70-pound lap dog you can find," Jones said. "He really is the best boy!"
What To Buy If You Just Adopted A Dog
We may earn a commission if you purchase from our links.