'Sassy' Goose Abandoned By Flock Charms Entire Community
But why was she all alone? 🤔
For days, a Canada goose wandered a soccer field in Middleton, Wisconsin. The goose's flock was long gone, and winter was fast approaching. Middleton residents soon noticed the lonely bird pacing the grass and worried the goose wouldn't survive alone.
Eventually, residents began contacting Dane County Humane Society's Wildlife Center for help.
"We received numerous calls from different neighborhood residents that were concerned with frigid temperatures coming," the wildlife center wrote in a Facebook post. "This goose clearly had a whole community of support behind it!"
After wildlife experts rescued the goose, one resident put up a sign, alerting the public that their beloved friend was finally in good hands. And thank goodness, because a blizzard was coming.
In the warmth and safety of the wildlife center, the goose no longer needed to worry about surviving alone. But there was still a big question on everyone's minds — where was this goose's flock? And why had this goose been left behind?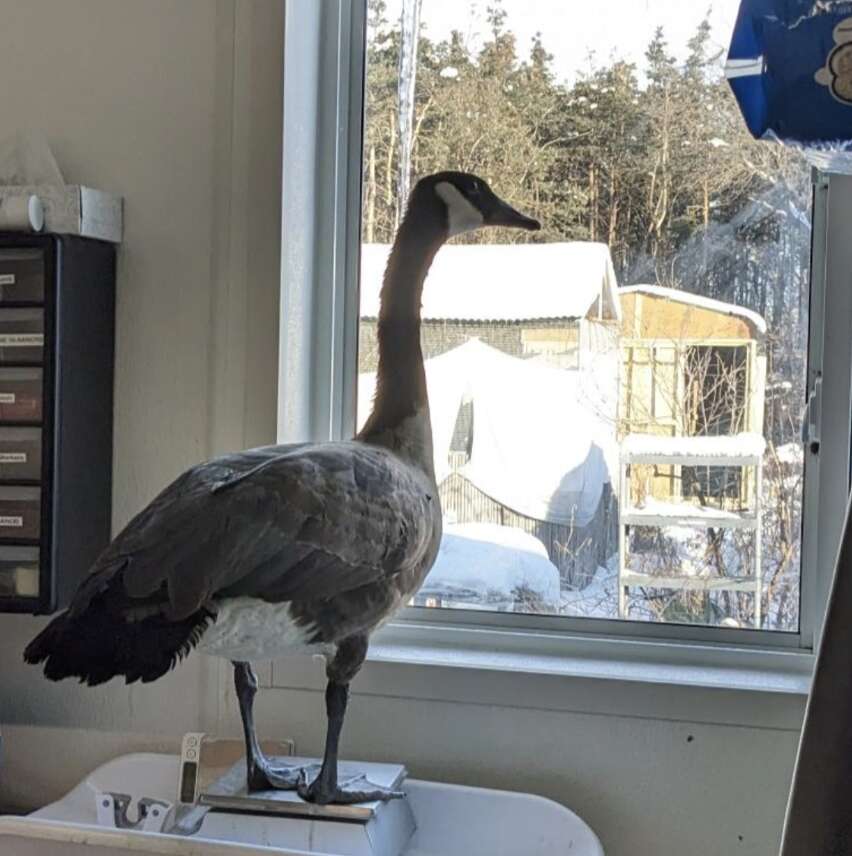 One thing rescuers knew for sure was that their newest patient had a big personality. It wasn't long before the mischievous goose earned a cheeky nickname.
"We quickly found out this goose was a sassy one, because of its unique choice of places to spend time in our waterfowl room," the center wrote in the post. "Even though we do not name our patients, it had earned a silly nickname … our staff have taken to calling them 'the garbage goose.'"
Rescuers got to work assessing the goose for injuries. After a thorough examination, they finally realized why their sassy friend had been bound to the field — the spirited bird had suffered a wing injury.
"Because there were no signs of obvious injury to this goose, this goose needed tests such as diagnostics and X-rays, that only experts such as wildlife rehabilitators could perform, to discover what was preventing it from flying," Sarah Karls, a senior rehabilitator at the center, told The Dodo. "X-rays showed a piece of the humerus bone on the right wing — a portion called the deltoid crest — had been fractured."
Now that they know what's wrong, wildlife rehabilitators can give this goose all the care necessary to heal and eventually return to the wild.
"As soon as medically appropriate — and to limit stress and the length of stay in captivity — the goose will move to a species-specific outdoor enclosure to recondition and build up their muscles for flight," Karls said. "Our goal is to release healthy animals back to their natural habitats. We hope this goose can make a full recovery and be released this spring, depending on their health and our Wisconsin weather."
The goose's original flock may be far away. But clearly this goose has generated a new flock of supportive community members and wildlife experts — and that's made all the difference.
Help Your Senior Pup Get His Groove Back
We may earn a commission if you purchase from our links.