'Sad And Depressed' Shelter Cat Is Unrecognizable In His New Home
He's a whole new cat 😍
Some animals are able to hide their emotions, but Fishtopher isn't one of them. The 5-year-old rescue cat's mood is usually written all over his face. After being found as a stray in New Jersey, Fishtopher spent some time at Homeward Bound Pet Adoption Center, and his sullen expression directly reflected how he felt about being there.
Even though Fishtopher loved his caregivers at the shelter, what he really wanted was a family to call his own.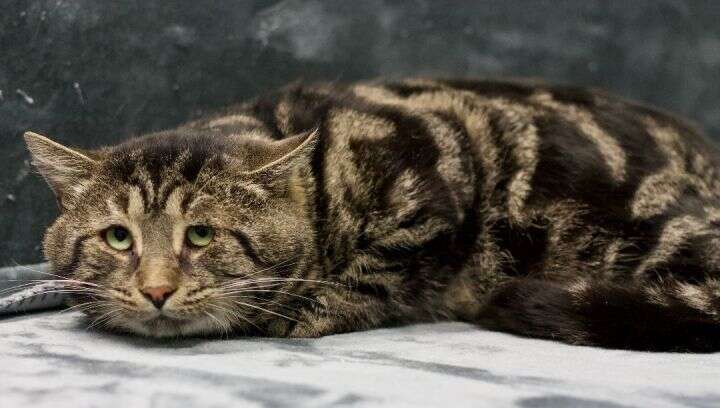 As soon as he got to the shelter, Fishtopher showed signs of loneliness. He would only eat when shelter staff would stop by his crate, and he craved one-on-one attention. Everyone at Homeward Bound fell in love with him, but they knew that he belonged in a forever home.
So, they created a Petfinder profile for him that would adequately describe how special he was.
"Friendly, affectionate, gentle, quiet, couch potato," his profile read. "He is a sweet, easy-going, laid-back boy. He loves cuddling up in arms, it seems to make him feel secure."
The profile ended with a description of what kind of home shelter staff thought Fishtopher would do best in and a call to action that would hopefully inspire the right family.
"We feel that Fishtopher would do best in a more quiet home," they wrote. "Please come rescue our big, loveable boy!"
Shortly after his profile went live, a Twitter user named Molly Clarke shared a screenshot of Fishtopher's description, along with a picture of his adorable, crestfallen face.
You can see that tweet here:
Clarke's tweet quickly went viral and, soon, Homeward Bound was flooded with adoption requests for Fishtopher.
"We literally had hundreds of inquiries from people who wanted to adopt," Homeward Bound wrote in a Facebook post. "People were waiting out front this morning in line!"
Laura Folts and Tanner Callahan, saw the viral tweet and knew instantly that Fishtopher was meant to be a part of their family. They drove two hours to the shelter and, soon, Fishtopher was officially theirs.
Fishtopher's friends at the shelter were going to miss spending time with him, but overall, they were overjoyed that he was going to the perfect home.
"We're super happy for him," the shelter wrote. "Fishtopher has left the building!"
As soon as Fishtopher was in the car with Folts and Callahan, he started warming up to them right away. The cat was shy, but he knew he was in loving hands.
"He is very shy, but once held, he likes to hide his face into the crook of your arm," Folts wrote in a tweet.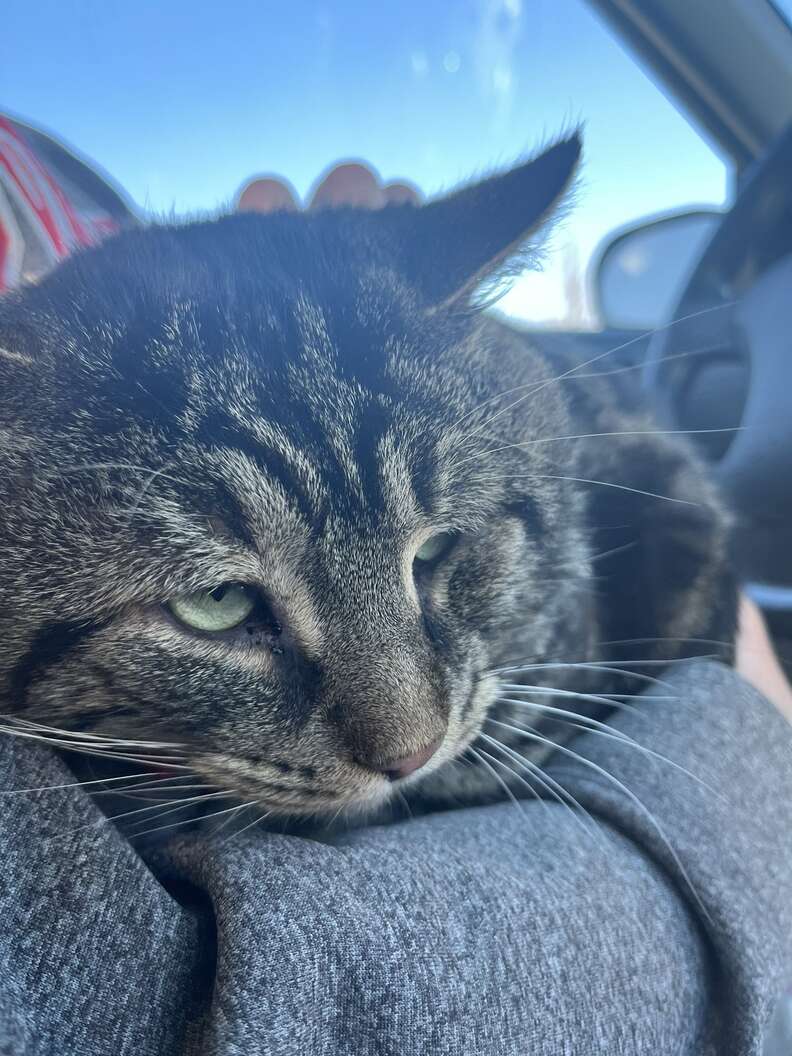 The happy couple showered Fishtopher with hugs and kisses for the entirety of their two-hour drive back home and immediately got to work learning all about Fishtopher as soon as they got home.
"His favorite things: the couch and puree tube treats!" Folts wrote. "He's mostly just happy to get some treats."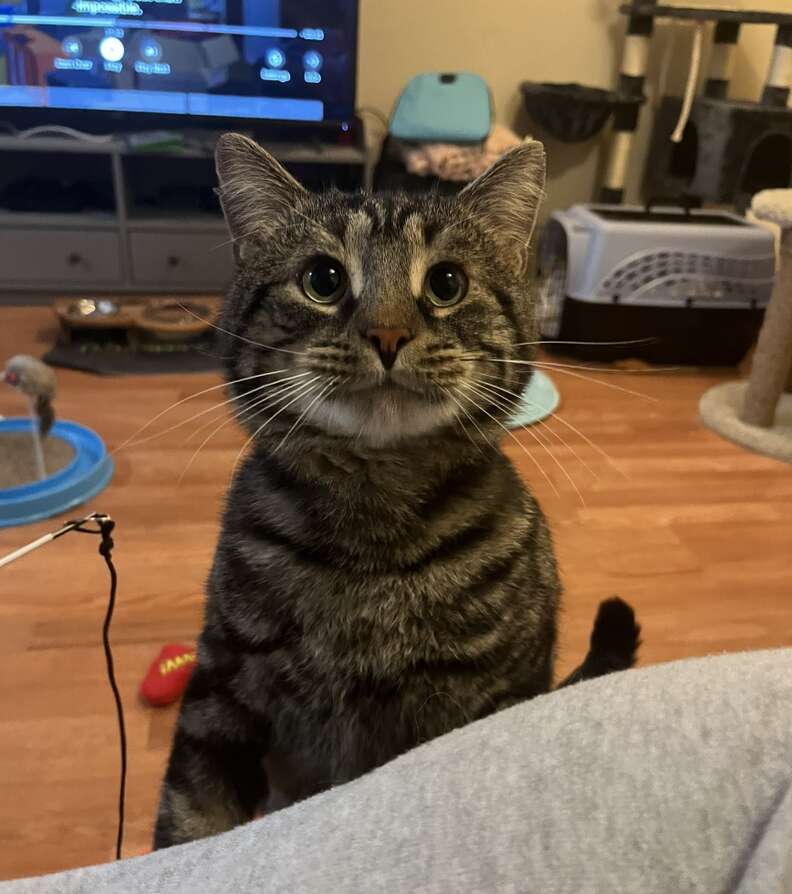 Almost instantly, Folts and Callahan saw a change in Fishtopher's demeanor.
The cat's once-droopy eyes suddenly opened wider, filling with curiosity. His ears, which at one pointed flattened, perked up as he started taking in all the new sounds: a treat bag opening, his parents' kisses and, for the first time, silence.
Fishtopher warmed up to his new life right away and is now enjoying every day by his loving parents' side. The couple is obsessed with the little guy and can't get enough of his adorable, happy face.
Finally, the former-shelter cat is living the life of his dreams.
"He's the goodest, bestest boy," Folts wrote.
Top-Rated Toys To Get Your Cat Moving
We may earn a commission if you purchase from our links.