Dog Barks For Help When He Finds Someone Fluffy Lost In The Grass
"He put up a very good fight not to be caught."
Alone and afraid, a young sheep named Cedric recently found himself dashing through a dog park in Victoria, Australia, looking for help.
When rescuers from Edgar's Mission got a call about Cedric's situation, the animal sanctuary staff assumed he'd escaped from a nearby slaughterhouse. They hoped to give the sweet sheep a safe home, but no matter how hard they tried, they couldn't quite catch him. Tricky Cedric kept outsmarting everyone, dashing off through the field at just the right moment.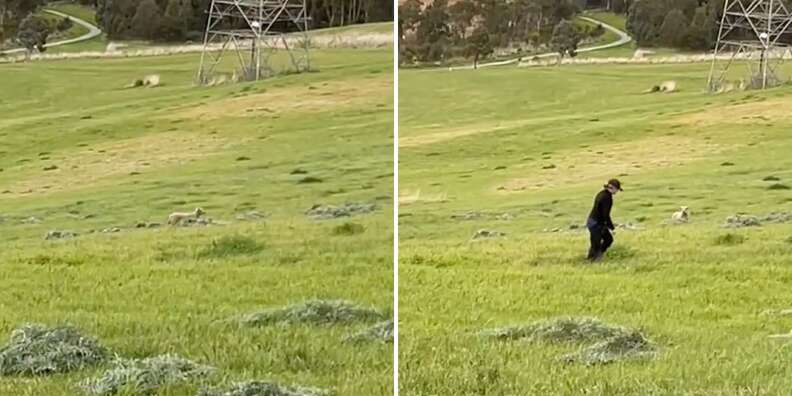 "He put up a very good fight not to be caught," Pam Ahern, founder of Edgar's Mission, said in a press release.
Finally, rescuers spotted Cedric among some tall grass when a dog started barking in his direction.
Tired and defeated, Cedric cautiously allowed Edgar's Mission staff closer and closer until they were able to pick him up.
Safe at the sanctuary, Cedric began to relax and enjoy his new life.
"He was very frightened when he first came back," Ahern said in the press release. "But within days, we can see that he is completely transformed."
Cedric especially enjoyed bonding with Pride, a fellow rescue sheep. These days, Cedric and his new friend spend their days relishing in the safety and comfort of their new home.
"He is feeding off Pride, he's now so relaxed and not tense," Ahern said in the press release. "The pair have become inseparable since he arrived."
Top-Rated Products For The Ultimate Dog Spa Day
We may earn a commission if you purchase from our links.