Rescuers Are Stunned When They Find Gray Seal Pup With Rare Skin Condition
She looks like she's covered in velvet 😍
Meet Liquorice — a rare gray seal pup who's making waves, and history, at the Cornish Seal Sanctuary in Gweek, England. Her rescue at 10 weeks old from a beach was harrowing in itself, but it's her unique coloring that's grabbing everyone's attention.
"It's not often we see melanistic pups, especially female ones, and even rarer to see them coming through our own doors," Tamara Cooper, the Cornish Seal Sancutary's curator, said in a press release.
Typically, these seals are covered in gray and brown fur with a pattern of spots and blotches. But Liquorice has black eyes, fur and nails — a condition known as melanism.
"Melanism is caused when too much of the pigment melanin is produced," Hazel King, the sanctuary's senior marketing manager, shared in the press release. "She's completely black from head to toe."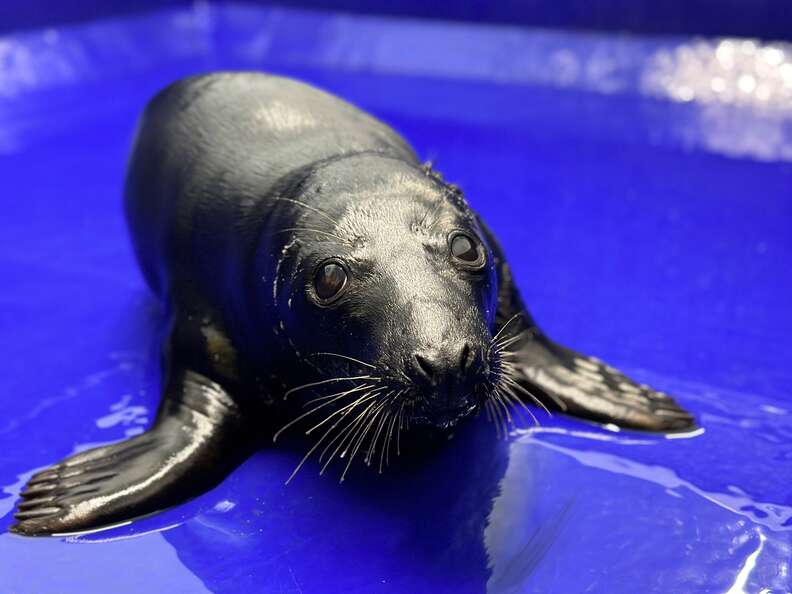 Liquorice has had a special place in her rescuers' hearts since they first got a call about an abandoned seal pup struggling to breathe on the beach. They'd responded right away, determined to give the young pup the love and care she needed to survive, and fell even more in love with her the minute they saw her.
"She's a beautiful pup," Cooper said. "We're pleased that she is now in the place where she can get the best care for what we hope will be a successful return to the wild."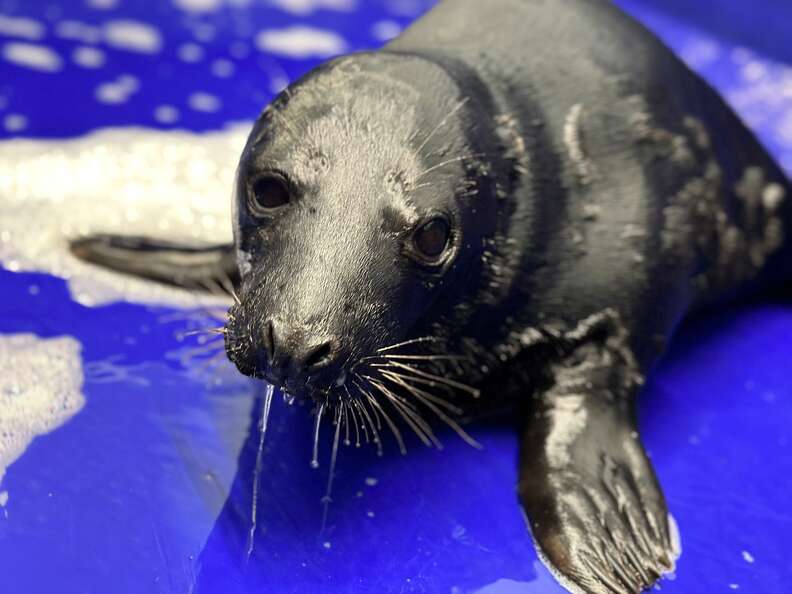 The Cornish Seal Sanctuary is used to rehabilitating seal pups who are sick or abandoned along the Cornish coastline. In their 20 years of operation, they've only rescued four melanistic seal pups, including Liquorice.
"Only one in 400 seals are melanistic," King shared. "The condition is even rarer in female seals, who are typically lighter in color than their male counterparts."
Liquorice has gotten a lot better since the Cornish Seal Sanctuary rescued her. She'll stay in the sanctuary for a little bit longer in order to get stronger, but the team is hopeful that she'll be ready to be released back into the wild soon.
Until then, Cornish Seal Sanctuary visitors can see Liquorice play and lounge in the nursery pools.
"It's perfect timing to come and meet Liquorice," Jana Sirova, the sanctuary's general manager, said in the press release. "With more than 40 pups already through our doors this winter, every visit makes a difference."
To help Liquorice and other rescued sea pups get the care they need,
make a donation
to the Cornish Seal Sanctuary.
You can find more information on how to visit Liquorice
here
.
Smart Buys From Companies That Help Save Animals
We may earn a commission if you purchase from our links.