Rescuers Are In Awe When They Meet Extremely Rare Orphaned Baby
"We were speechless."
Traveling home through the Murraylands of South Australia, a family was recently saddened to see a kangaroo on the side of the road who'd been hit by a car. The family stopped to check her pouch and found a tiny, snow white joey inside, who'd miraculously escaped harm. Worried for the little animal, the family quickly called a local kangaroo rescue for help.
When rescuers got the call, they initially figured the joey wasn't really white. Surely, they thought, the family was exaggerating. Rescuers figured the 'roo was light brown or slightly pink, but when they finally met the baby, they couldn't believe their eyes.
"We were speechless," Courtney White, of Adelaide Hills Kangaroo Rescue, told The Dodo. "We had seen the occasional albino kangaroo in the wild, but never had we heard of a wild albino joey coming into care. We have since learned that [albinism in kangaroos] is as uncommon as a 1 in 100,000 chance."
The little kangaroo, named Winnie, had no idea she was any different from the other rescue 'roos. She settled into life at the shelter without a problem.
"From the moment she came into care, she was full of love and seeking all of the cuddles and kisses," White said. "It was really strange! Almost like she knew she was safe."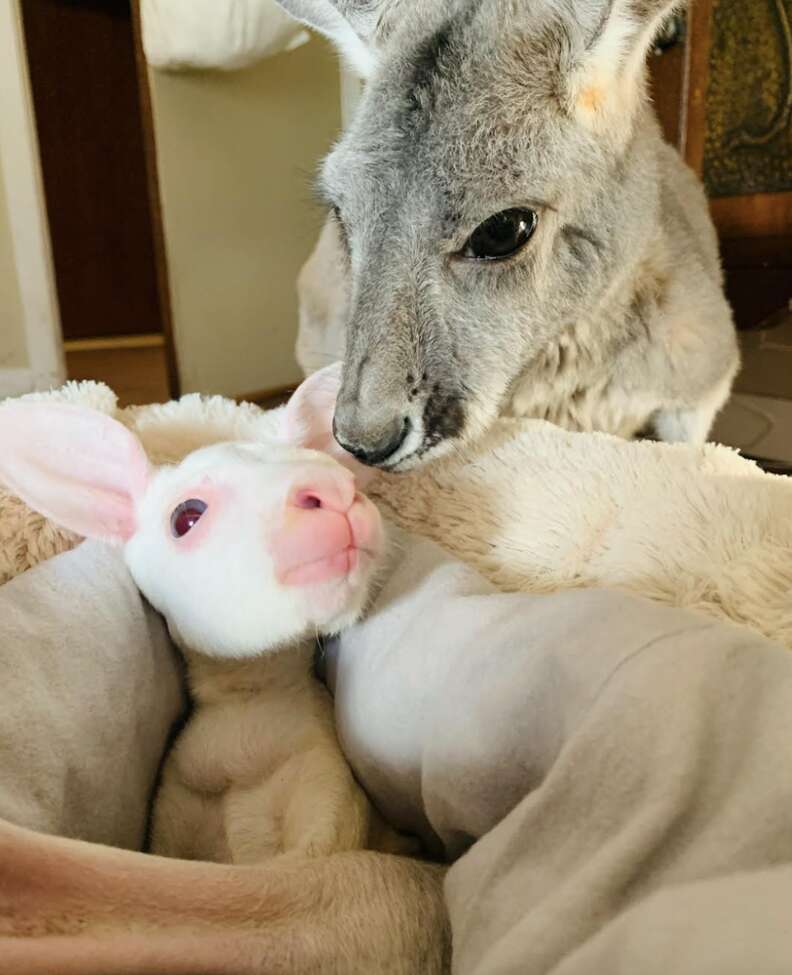 Though Winnie's story began in a sad place, the resilient kangaroo refused to let anything hold her back. Rescuers were routinely surprised by her tenacity.
"Usually joeys that come into care spend the first few weeks timid while they settle into the new lifestyle and new food," White said. "Winnie, however, never skipped a beat."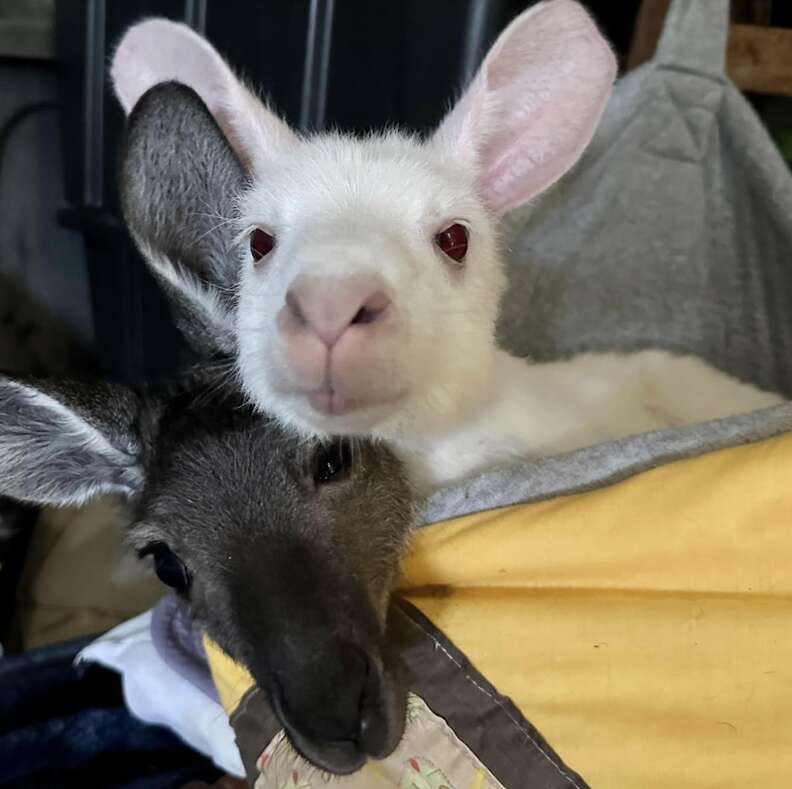 At first, Winnie had a hard time connecting with some of the other rescue kangaroos, who were wary of her bright-white fur. But, true to form, Winnie eventually won them over.
"The hardest part was with the older kangaroos," White said. "It must have been strange seeing something that looks and smells like you and your fellow kangaroos but is completely white. That never stopped [Winnie] from showing them she was just like one of them, and it didn't take long for her to find her place in the mob."
These days, Winnie is living at Kangaroo Pouch Animal Orphanage, where experts make sure she gets all the care she needs for her unique condition — including health monitoring and kangaroo-safe sunscreen.
White continues to be amazed by Winnie's joyful spirit and is so grateful to the 'roo for reminding her what rescue work is all about.
"She brings joy to everyone around her with her outgoing personality," White said. "She really is a light in a sometimes very dark place."
The Best Treats Your Dog Will Love
We may earn a commission if you purchase from our links.