Presented By

Rescue Dog Gets Away With Everything When He's At His Grandparents' House
"I was NOT raised this way" 😂
Presented By

When Myko's mom went to pick him up from his grandparents' house after one of his stays, she came to the realization that her parents had changed their style quite a bit from when she was a kid.
Not only was Myko allowed on the table after breakfast to give his grandparents some cuddles, but he then sat right down as if he was allowed up there all the time.
"I was NOT raised this way," Myko's mom, who prefers to stay anonymous, joked in a May Instagram caption. "Please explain why he is allowed to do whatever he wants?"
Like most grandparents, Myko's are always thinking of new ways to spoil their grand-dog. And because they love him so much, they have become Myko's favorite people.
"Myko is OBSESSED with his grandparents," his mom told The Dodo. "As soon as he hears their names, he starts wagging his tail and talking/chirping about going to see them."
Myko visits his grandparents three to four times a week while his mom works. "It's like his second home, but we call it his 'vacation home,'" she said. "They love having him, and he loves them so much."
Myko's connection with his grandparents started when he first left a high-kill shelter as a puppy in South Carolina.
"When we brought Myko home, they couldn't wait to come and meet him," Myko's mom said. "It was love at first sight for Myko and for them."
Being able to climb up on the table is just one of the things Myko can get away with when he's at his "vacation home." He also gets plenty of treats, praise, pets and cuddles throughout the day.
"[His grandparents] have all kinds of special routines they do with him," Myko's mom said. "For example, anytime they know he's coming to their house in the morning, his grandfather saves him some 'eggies' and his Grammy saves him part of her toast, which they call 'crusties.'"
Myko also has tea with them every morning he's there, and the three of them watch the birds outside.
In the afternoon, Myko "meditates" on his grandparents' bed, and then they all go for a walk at the local duck pond.
"He also sleeps in their bed and cuddles with them watching shows, and movies throughout the day," his mom said.
Myko's mom admits that he definitely gets treated just like a human grandchild.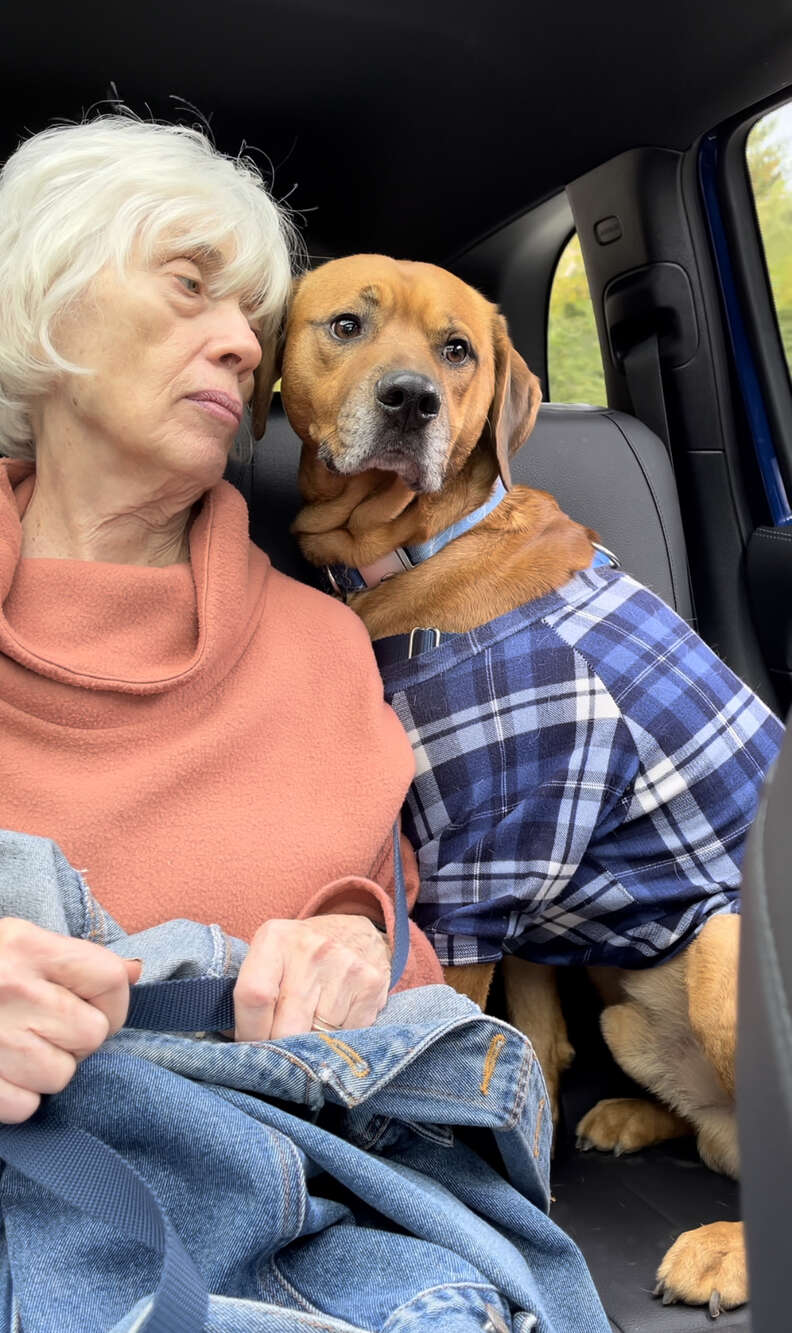 "Perhaps the funniest thing is that when Myko stays [overnight], his grandfather goes and sleeps in one of their guest bedrooms so that Myko can sleep next to and cuddle with his Grammy all night," she said. "This is particularly funny because, at home, Myko is crate-trained and does not sleep in bed with us."
He may not sleep in bed with his mom and dad, but Myko is definitely spoiled at home, too.
"Our whole life basically revolves around making sure he's happy," his mom said. "We fenced in our backyard so that he could run freely and have his doggy friends over to play. We regularly buy him steaks for dinner, and every night his dad makes him a fresh dinner of vegetables, fruits, eggs and meat. We go on lots of adventures and are constantly looking for new and fun activities to do with him."
He also loves getting wrapped up in his blue blankie, and he even has his own space to retreat to when loud noises like fireworks and thunder ruin his good mood.
And because he's highly sensitive and deals with anxiety, Myko's parents have shifted their lifestyle to better accommodate his needs.
"We've hired an in-home vet so that he's not overly stressed going into an office," his mom continued. "If his grandparents aren't around to watch him when we're away, we hire pet sitters to stay in our home with him."
"Myko has an ENORMOUS personality and a TON of feelings – I think this is what draws people to him," Myko's mom shared. "He's highly sensitive and appears to feel things in a way that you would expect humans to."
Despite his anxiety, Myko's mom said he's incredibly brave, smart, funny and responsive to the support he gets from his parents and grandparents.
"There are so many ways that Myko has made our lives better," his mom said. "He is absolutely our soulmate."