Pug Puppy Meets A Statue That Looks Just Like Her And Falls In Love
"She has a friend!"
There's nothing like spending time in your own company. Take it from a pug named Maggie, who's obsessed with hanging out with a statue that looks just like her.
Whenever Maggie isn't cuddling with her older siblings, Merlin and Willow, she can usually be found basking in the sun alongside her doppelganger.
"Maggie is a super special puppy," Kamerin Bazemore, Maggie's mom, told The Dodo. "I think my favorite thing about her is her personality. She's pretty hilarious."
When Maggie first joined the family as the youngest member of the pack, Bazemore hoped that she would bring some much-needed youthful energy to the group. Maggie's oldest brother, 14-year-old Merlin, was starting to experience health problems, and 10-year-old Willow showed signs of loneliness.
The pack was starting to slow down, and having Maggie by their side helped in more ways than one.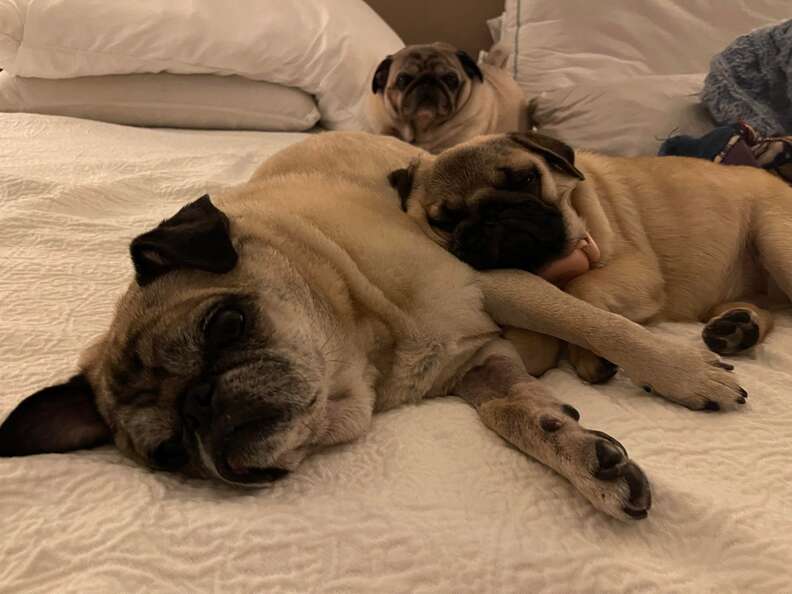 On top of bringing her parents nonstop laughs, Maggie quickly took on the role of keeping her siblings safe.
"Merlin is 100% blind," Bazemore said, "so Maggie has taken to making sure he doesn't hit the fence outside. Once, he fell into the pool, and she stayed right there with him the whole time."
She also loves to hang out with her sister, Willow, especially whenever Merlin is away at the vet.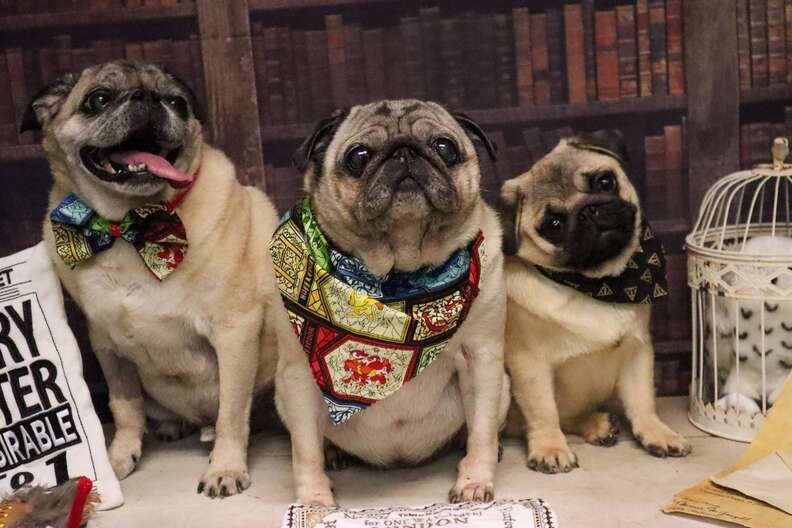 But sometimes Maggie just needs time to herself. So, she makes her way to the backyard and curls up alongside her beloved ceramic twin.
"I think she likes that spot in the yard because it gets the most sun until it sets," Bazemore said. "Plus, she has a friend!"
The statue even attended Maggie's first birthday party.
Maggie's quirks extend beyond her love for the pug statue. Since her first day home, she's been cracking her parents up with her personality, especially when they find her sitting like a human in her chair.
"It's truly how she prefers to sit!" Bazemore said.
The silly pup also likes to hide things under her parents' coffee tables or benches around the house. And she's not afraid to dish out some sass from time to time.
"She talks back whenever you ask her something," Bazemore said.
No matter what the Bazemores are going through, they know that they can count on Maggie to lift their spirits. She may have just recently joined the family, but for the Bazemores, it feels as though Maggie's always belonged.
"She's nothing like Merlin or Willow," Bazemore said. "She's her own special dog, and every day I'm grateful she was placed into our lives."
To keep up with Maggie, follow her on
TikTok
.
Help Your Senior Pup Get His Groove Back
We may earn a commission if you purchase from our links.