Woman Catches An Adorable Porch Thief Helping Himself To Her Grocery Delivery
"Nothing was salvaged, of course. But it was worth it, all for the laughs!"
To make mealtime a little easier, Gretchen Dust signed up to receive regular orders of preprepared food to her door. And, sure enough, it has made enjoying dinner much easier.
But not just for her and her family.
The other evening, one such box of food was delivered to Dust's porch. She decided to leave the box outside while she made some space in her fridge. Little could Dust have guessed that someone else would get to the food first.
Checking on the box, this is what she saw:
Smelling food apparently free for the taking, a wild possum passing by decided to stop and dig right in.
"Low and behold, the chubby buddy had broken into the box and was helping himself to our order," Dust told The Dodo. "It was a complete and total surprise."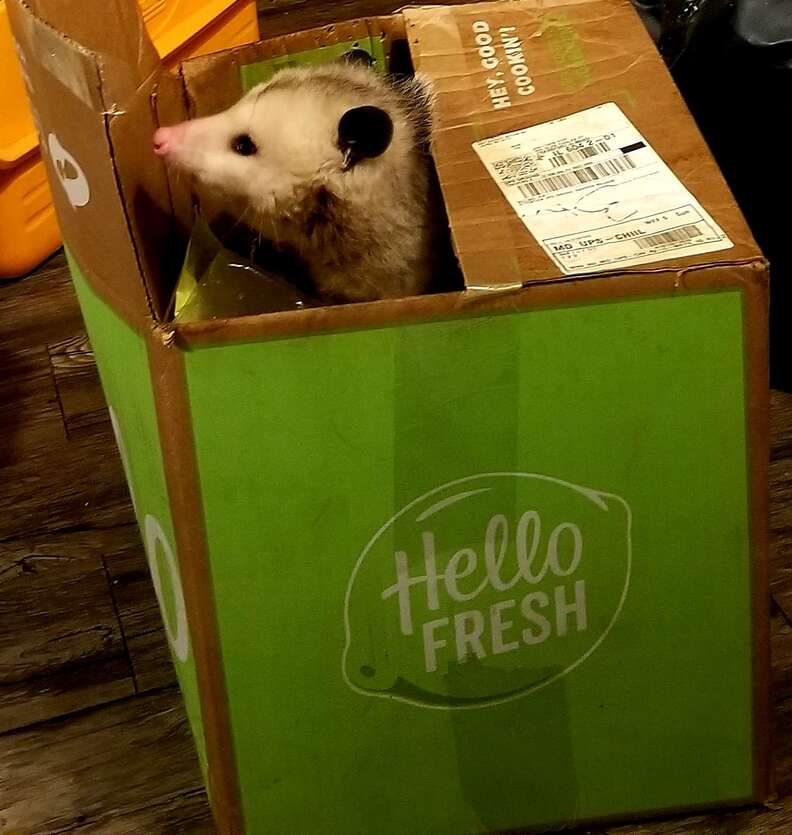 For Dust, having an order raided by an animal "porch pirate" was a first. As for the possum? Well, he seemed to know his way around a box full of unattended goodies.
"He obviously looked pretty well-fed, or extremely opportunistic!" Dust said. "He did eat as much as he could."
Having been busted by the food's rightful owner, the plump possum eventually decided to make a break for it.
"Luckily, I cracked the door open to snag a few shots before he took off," Dust said.
The possum had gotten his fill, while Dust and her family did not. But, being animal lovers, they have no hard feelings about being so adorably robbed.
"Nothing was salvaged, of course," Dust said. "But it was worth it, all for the laughs!"
The Best Gifts For Foodie Cats (And Their Parents)
Treats for everyone 🍕🍲🍦