Family Moves Out — And Leaves Cuddliest Pet Pig Behind
"All that he wants to do is get loved on and be told how adorable and wonderful he is."
When they were evicted, the tenants of this Texas apartment left nearly everything behind.
Their extra clothes were strewn about the rooms, and their furniture was left untouched. But among the discarded items was someone much more important.
The family's pet pig.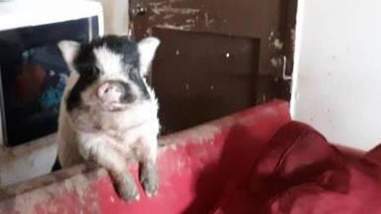 Harris County Constable Precinct 5
When deputies with the Harris County Constable's office entered the condemned home last week, they met eyes with a curious black and white pig peering up at them from behind the couch. The home was filthy, and his former owners had abandoned him there with little food or water.
While no one knows how long the pig was fending for himself in the disheveled apartment, he didn't seem to be starving — but he sure was excited to see people.
Harris County Constable Precinct 5
The kind officers knew just the place to bring him: Houston Mini Pig Rescue. The lonely little pig made himself at home right away, and he's so much happier now with plenty of food, space and affection. His rescuers named him Maverick.
"He is such a sweet boy and looks like a panda," Meagan Se, the rescue's founder and president, told The Dodo. "All that he wants to do is get loved on and be told how adorable and wonderful he is."
Houston Mini Pig Rescue
At the rescue, Maverick has settled into a group of male pigs and has been spending much of his time napping, lounging and getting cuddled. He loves human companionship, and Se considers him to be a wonderful match for a family who prefers to keep their pig indoors, considering how social Maverick is.
"He is living with a few other boys and is fitting in well," Se said. "They cuddle up together at bedtime in the hay pile. He would do well with a family that would have him as an inside, spoiled piggy."
Houston Mini Pig Rescue
Maverick will be neutered soon, and then he'll be on the search for his forever home. Se suggests both doing research and checking your town's zoning laws about keeping pigs as pets before adopting; while many folks may take them on, sadly countless pigs are neglected or abandoned each year due to the expert care they require.
Before long, Maverick will have a family to call his own — and he'll never know again what it's like to be unloved.
Houston Mini Pig Rescue
"He will make such a fantastic part of the right family," Se said. "He's definitely a special soul."