Photographer Captures Incredible Shot Of Someone Sneaky Hiding In The Sand
"I've been a photographer for over 10 years ... This has been my most successful photo to date."
Marisa Ishimatsu is a photographer and herpetologist who spends her vacations traveling all over the world trying to photograph as many reptiles and amphibians as possible. Recently, she and some of her other herpetologist photographer friends traveled to Nambia hoping to capture shots of the six species of vipers who live there, including the Peringuey's adder.
Peringuey's adders are some of the smallest vipers in the world. They live in the desert and bury themselves in the sand to avoid predators, their coloring helping them to blend in with their sandy surroundings. The group of friends hired a tour company called The Naturalist Collection to help them find all the vipers they were looking for, and their guide, Dayne Braine, knew exactly where to find the elusive reptile.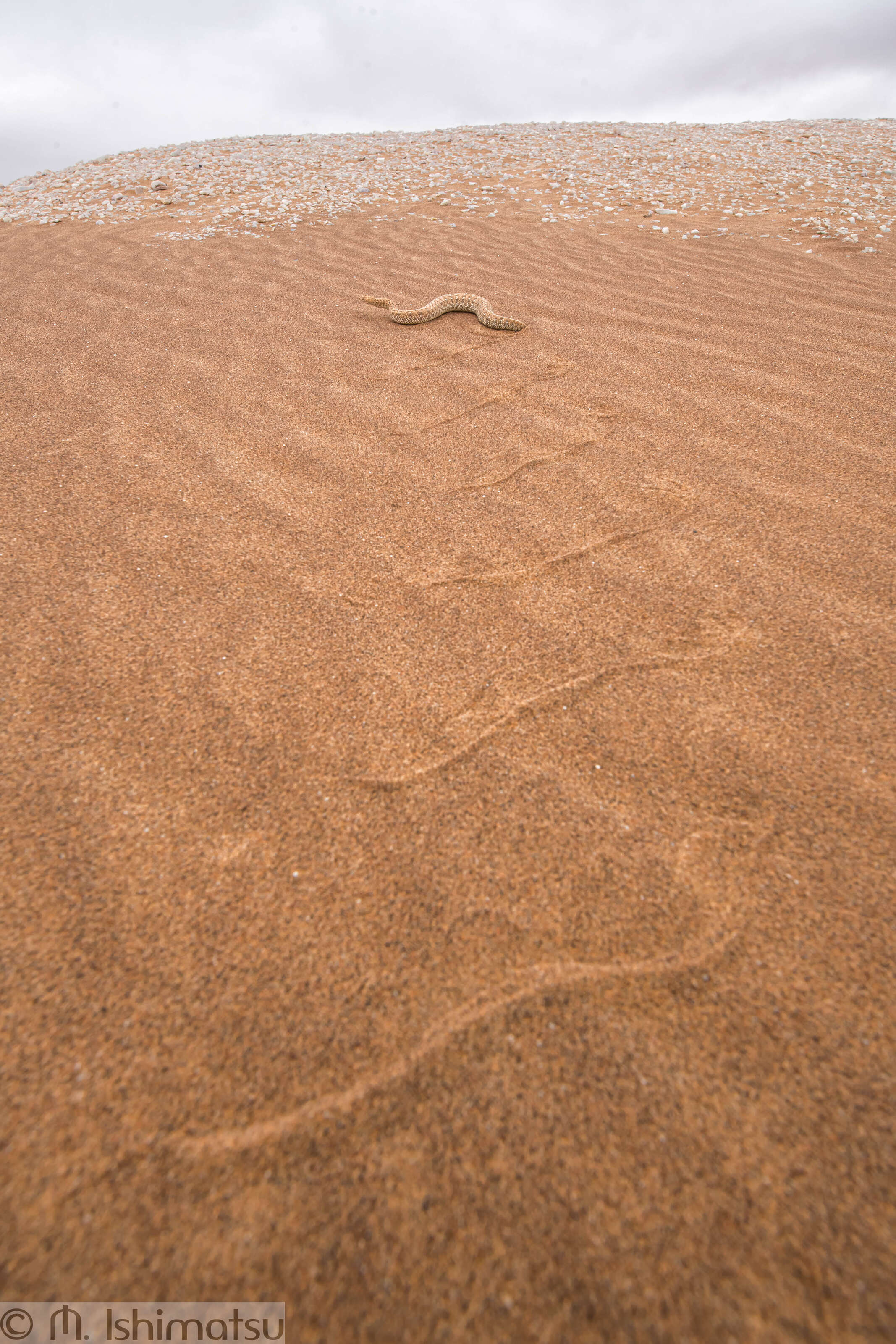 "As the sand is so soft, you can often see tracks showing where the snakes have traversed from one bush to another overnight," Ishimatsu told The Dodo. "If you're very good at tracking (like Dayne is), you can follow the tracks and find the snake at the end of them. It sounds simple, but the sands move so much that the tracks are blown away soon after they're made."
Ishimatsu and her friends care deeply about snakes and always strive to make sure they photograph them without disturbing them or causing them stress. After their guide helped them locate a sneaky Peringuey's adder, Ishimatsu began snapping away — and was shocked and thrilled by one of the photos she managed to capture.
"This has been my most successful photo to date," Ishimatsu said. "I've been a photographer for over 10 years, largely of reptiles and amphibians. I have photographed hundreds of snakes from all over the world … There's something about this shot that inspires a strong reaction. I think it's like one of those Magic Eye puzzles — it takes a minute for you to see the snake's eyes, and then when you do see them, it's startling to realize it's staring right at you."
At first glance, it takes a minute or two to comprehend what the photo is actually of. After all, the Peringuey's adder is an expert at blending in. Once you spot him, though, you can't unsee him.
After taking some photos, the group made sure the snake was OK and watched him slither off into a shady burrow. They were able to photograph all six of the vipers they'd set out to find on that trip, but the Peringuey's adder was by far their most successful find.
A lot of people are scared of snakes, but Ishimatsu has always found beauty and wonder in them, and she hopes her photos will help other people see them that way, too.
"I hope that this photo helps people appreciate how special snakes are," Ishimatsu said. "Peringuey's adders are perfectly adapted to their environment, and they, like all snakes, are worth protecting. I hope people can see the beauty in snakes, even if they find them frightening. With a little respect and understanding, we can coexist."
Perfect Picks For Lizards And More
We may earn a commission if you purchase from our links.