People Spot Unusual Spikes In Dirt — Then Realize It's An Animal In Need
"[She] just looked tired and defeated."
Recently, the owners of a rural property in South Australia were taking a walk along their land when they noticed something strange — there was a pile of spikes poking out from a patch of dirt.
As they approached, the pair realized that the spikes belonged to an echidna who'd gotten trapped in a piece of netting and was now hopelessly stuck. The property owners quickly contacted Southern Koala and Echidna Rescue. for help. Soon, rescuers Mary and Dave Williams were on the scene, ready to assist.
"Netty was sensitive to touch but remained very calm and very relaxed, which allowed us to cut all of the netting off," Mish Simpson, the director and founder of Southern Koala and Echidna Rescue, told The Dodo.
Finally free, Netty was taken to a rehabilitation center, where veterinarians assessed her for injuries.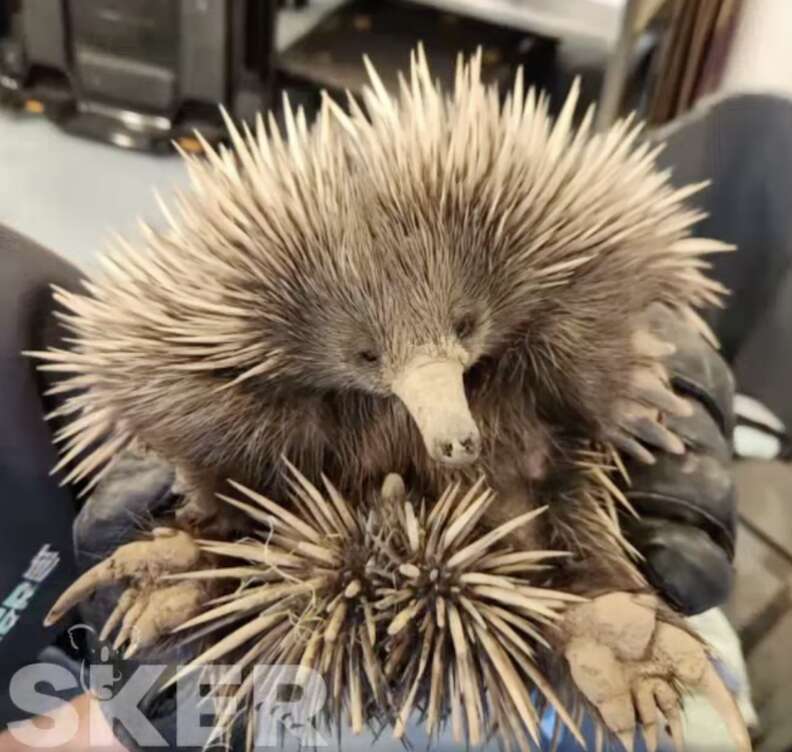 Rescue staff were heartbroken to notice Netty seemed a bit blue.
"On arrival, Netty just looked tired and defeated," Simpson said. "We had never seen this from an echidna before — they are normally such stoic animals."
Echidnas, sometimes referred to as spiny anteaters, are mammals native to Australia, Tasmania and New Guinea. According to Britannica, these animals are generally solitary and are typically only seen in groups during breeding season. Along with the platypus, echidnas are some of the only mammals that lay eggs.
After a few days of rest and relaxation, Netty's injuries began to improve, and her personality brightened. She slowly became more mobile and developed a healthy appetite. Back to her old self, Netty was ready to return to the wild. The echidna was soon released on the banks of a nearby creek, where she happily settled back into her grassy home.
Simpson hopes that Netty's story can help raise awareness of the dangers of certain nettings.
"Netting is not ideal for any species, as its flexible nature makes it easy to become tangled," Simpson said. "When netting is used, it needs to be kept tight and have smaller holes to prevent entanglement. We highly recommend people utilize alternate options to netting in situations when it is accessible to wildlife because most aren't as lucky as Netty."
Luckily, in this case, thanks to the help of so many animal lovers, netting didn't stop little Netty from living the life she deserves.
Help Your Senior Pup Get His Groove Back
We may earn a commission if you purchase from our links.