Workers Hear Cries Coming From Cardboard Compressor And Find Mom And Baby Inside
"They could so easily have been crushed ..."
Recently, employees at a wholesale company in Liverpool called Makro heard an unusual sound coming from their cardboard compressor. Deep inside a recycling container, tiny meows pleaded for help. Immediately, the staff knew something was wrong.
The company quickly contacted the RSPCA, who rushed over to help. After some investigating, RSPCA inspector Vicki Brooks found a tiny hole at one end of the shipping container — with a mama cat's face peeking out. She could hear the mom's kitten crying out for help somewhere behind her. It seemed that the mama cat had gone into the container to give birth and ended up trapped as more cardboard was piled in. They had likely been trapped there for days without food or water.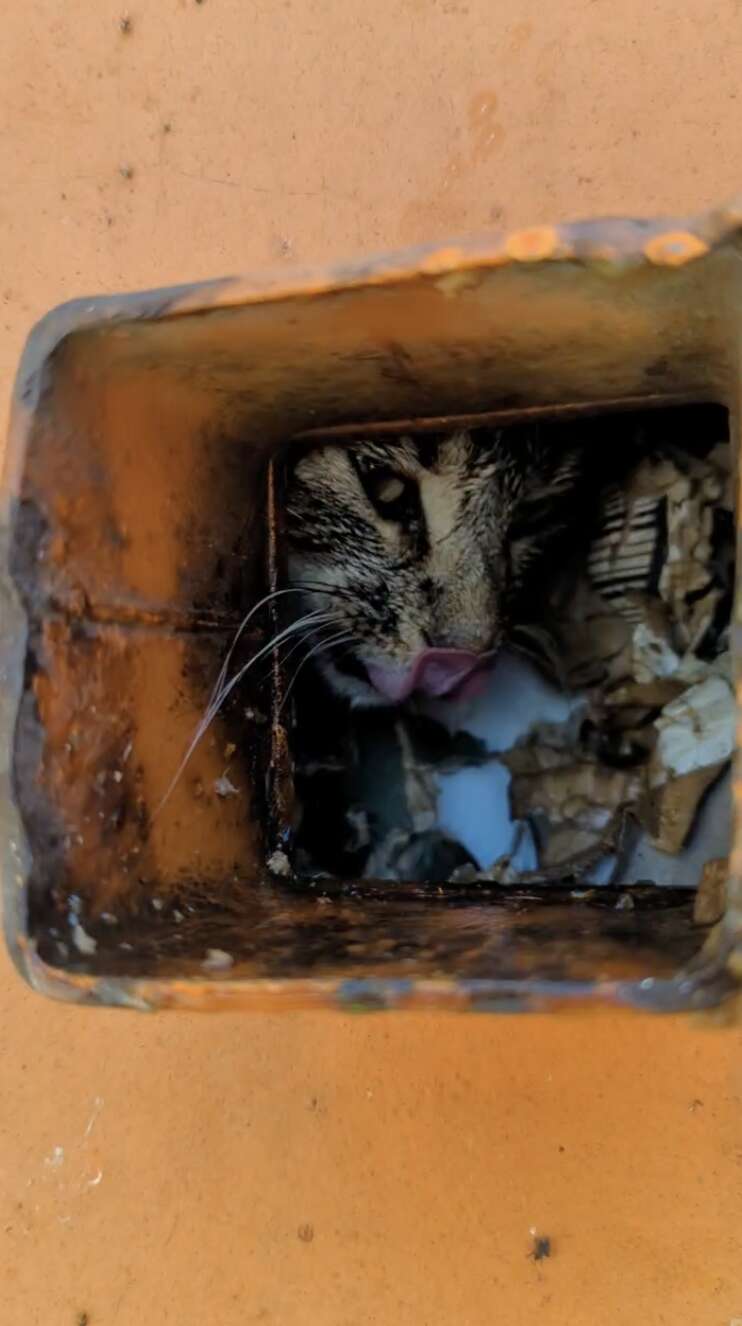 In order to free the mama cat and her kitten, company employees took apart the machine, then Brooks joined them, and together they sifted through cardboard for hours, looking for the trapped duo.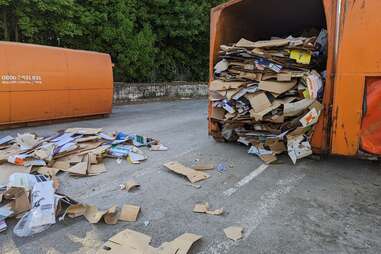 "It was the most extraordinary rescue I have taken part in in 21 years with the RSPCA," Brooks said in a press release. "I don't know how the cats managed to survive. There was tons of cardboard packed tightly up to the ceiling of the container and no room for them to move. It was incredibly hot, and there would have been limited air. Mum had obviously not eaten for at least a couple of days, and all the while she was trying to feed and care for her newborn kitten. They could so easily have been crushed by falling cardboard or succumbed to the heat."
The odds were clearly stacked against the mother-son duo, but their rescuers never gave up. They were able to offer the mama cat food through the tiny hole in the container while they worked to try and reach her. They worked all day long and into the night, and ended up having to stop and come back the next morning. When they did, they realized the mama cat had managed to free herself with the progress they'd made and gotten away, but her kitten was still trapped inside.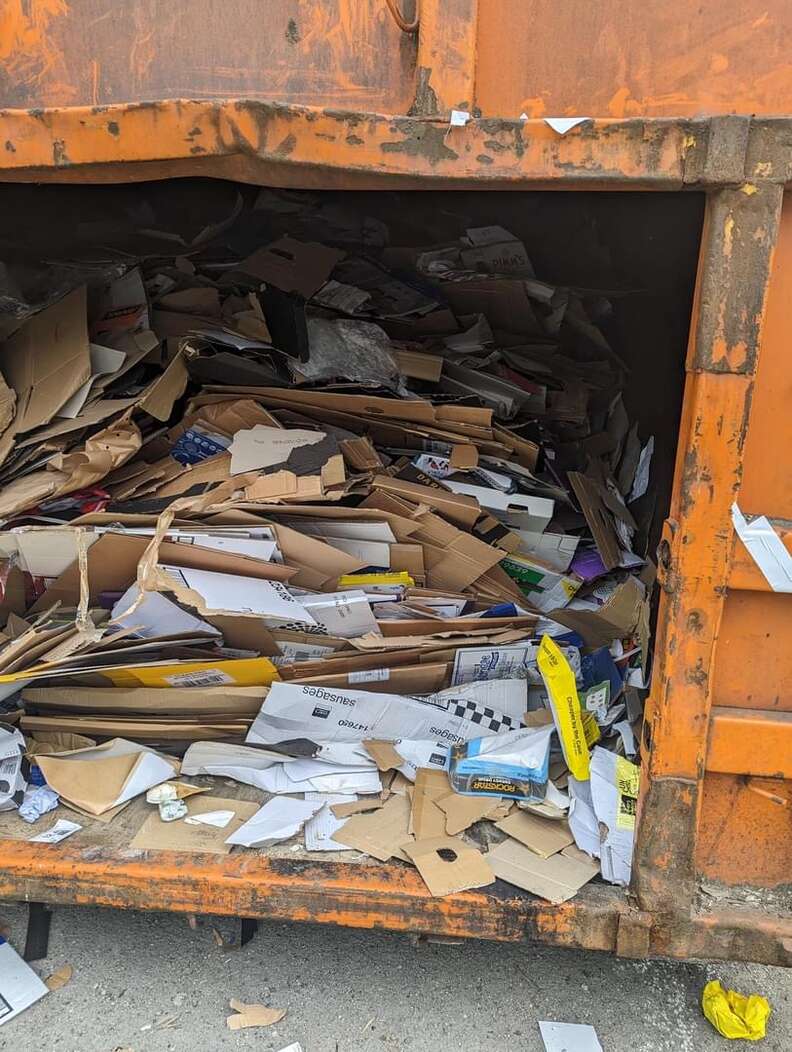 It took a while longer and lots of careful maneuvering, but finally rescuers were able to reach the kitten, later named Biff, and bring him to safety. By then, his mom was nowhere to be found, but rescuers with the RSPCA haven't given up looking for her.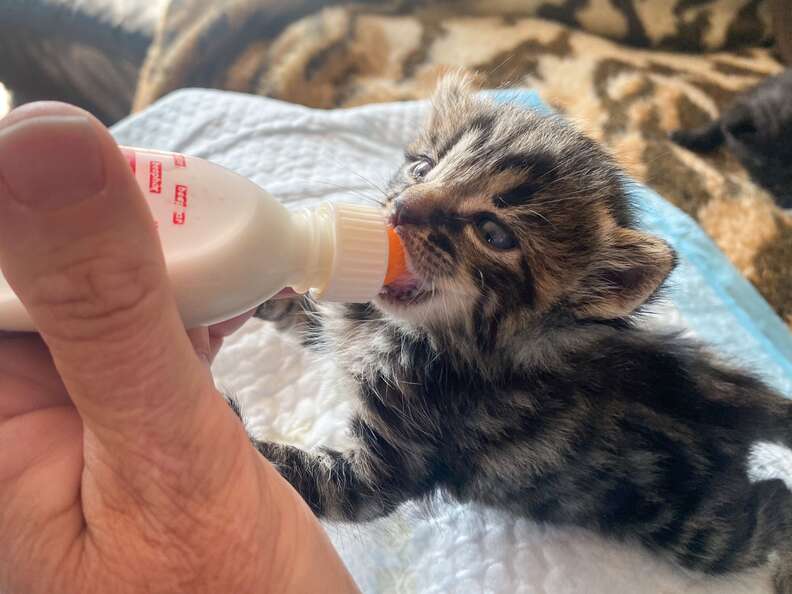 "We're obviously concerned about his mum, and we'll be working with another charity to try and trap her," Joanne Macdonald, an inspector with the RSPCA who helped out with the rescue on day two, said in a press release.
Biff is now safe and sound and being cared for along with two other orphaned kittens, Chip and Kipper. He's been through a lot and almost didn't make it, but he never stopped meowing for help, and now he has all the love and support he could ever ask for.
If you'd like to help care for Biff and his friends, you can donate to the
RSPCA
.
The Best Covered Cat Litter Boxes For Minimal Mess
We may earn a commission if you purchase from our links.