New 'Kitten Lounge' Pop-Up Is Any Cat Lover's Dream
Yes please 😻
Now it's easier than ever to help orphaned kittens — all over a cup of coffee.
The Kitten Lounge, a new pop-up cat café and shelter in Washington, D.C., is hoping people will not only adopt a cat, but also help socialize adorable kittens who are looking for home, all while sipping coffee and relaxing.
Kitten Lounge
"We like to joke that we have cage-free, organic cat and kittens," Kanchan Singh, CEO of the company, told The Dodo. "They are free roam and our space is intentionally designed to help kittens feel like they're at home. That includes human-sized cat beds where people can lounge out with the cats, get to know them and fall in love with just the right cat for their family."
Since all the cats are up for adoption, if you fall in love, you can even take one home with you after being accepted as an adopter.
First-time cat adopters are encouraged to come by; because Singh and her team work directly with Homeward Trails Animal Rescue, they are more than happy to put their matchmaking skills to the test. Food and drink service is also available for people who really want to relax and make an afternoon of it.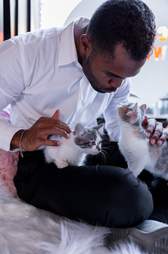 Kitten Lounge
"Our team knows everything about each kitten, straight down to their zodiac signs," Singh said. "We'll ask you a bit about who you'd look for, we'll introduce you and then you'll have time to really get to know them. You can come and visit them as often as you'd like, too, while our rescue partner reviews applications and does a phone interview with you."
Even if folks aren't necessarily looking to adopt a kitten, Singh fully encourages people to visit with them anyway. It not only helps socialize the kittens, but also allows people to learn more about the importance of fostering, spaying and neutering and, when the time is right, adopting.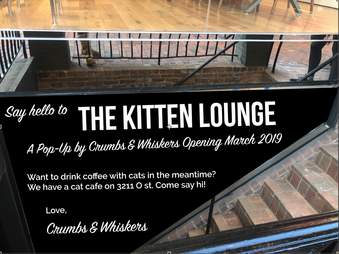 Kitten Lounge
Singh was inspired to help cats after she learned the harsh realities of shelter life at a young age, when she volunteered at her local animal rescue as a teen.
"There was one cat there who was always in a cage in the back, and everyone just walked by her because she was so shut-down," Singh said. "But she was the cat I looked forward to seeing the most. I would spend my time with this cat at the shelter rather than doing my homework because I knew she needed love. She was the cat I looked forward to seeing the most. Then I went in one day and she wasn't in her cage anymore. I thought she got adopted, but she had really been put down. I remember thinking to myself, 'This is so wrong, and when I'm older I'm going to do something to change it.'"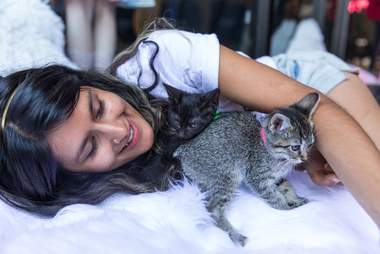 Singh with a rescue kitten

| Kitten Lounge
According to the ASPCA, about 860,000 cats are put down in the U.S. every year — but Singh is working to change that statistic, one tiny kitten at a time.
The Kitten Lounge is expected to host hundreds of cats, all aged 3 to 6 months. With the nation's influx of cat births in the springtime, the D.C. pop-up shelter will provide crucial warm shelters for needy kittens during a time in the Northeast where outdoor temperatures haven't risen yet.
The lounge will be open March through June, and is expected to help nearly 500 kittens find forever homes. That will be the greatest reward, Singh said — in addition to being able to snuggle with kittens all day in a cozy, comfortable space.
Kitten Lounge
"For most animal lovers, because we're heart-based people, seeing animals in cages at the shelter makes us feel guilty because we can't take all of them home," Singh said. "We wanted to create a place where people can still adopt but connect with these animals in a place where both they and the animal feels comfortable. In a genuine way, the animals are healthy and happy — and that's how you form magic and love."