Neighborhood Works To Help Confused Kangaroo — And Ends Up Saving 2 Lives
She was scared, and she was hiding someone …
Recently, a man named Erwin noticed an unlikely visitor wandering his hometown of Thornbury, a suburb of Melbourne, Australia.
The unexpected guest was a wayward kangaroo, nervously hopping among the houses, unable to figure out where to go. Erwin quickly called local wildlife specialists, then got to work making sure no one tried to approach the scared animal.
Soon, local police, members of Wildlife Victoria, members of Wildlife Rescuers Inc. and members of Vets for Compassion were banding together — prepared to spend all day working to capture the distressed kangaroo.
Rescuers split up and scoured the streets. Occasionally, they spotted the 'roo in backyards, looking out of place among patio furniture and playsets.
Finally, after hours of searching, rescuers located the kangaroo and were able to safely sedate her so that she didn't run away. Everyone was thrilled that the timid kangaroo wouldn't have to feel out of place for much longer.
"It was really sheer good luck that she was found, as there are so many places to hide, especially in the front yards of the hundreds of homes in the area," Dr. Elaine Ong, CEO of Vets For Compassion, told The Dodo. "We were elated when we found her, as her chances of surviving uninjured would be slim as time went on."
As rescuers examined the kangaroo, they realized something shocking. It turns out, the animal hadn't been traveling alone — she was a mom, and she'd been carrying a joey in her pouch the whole time.
"We felt that we had saved two lives," Dr. Ong said.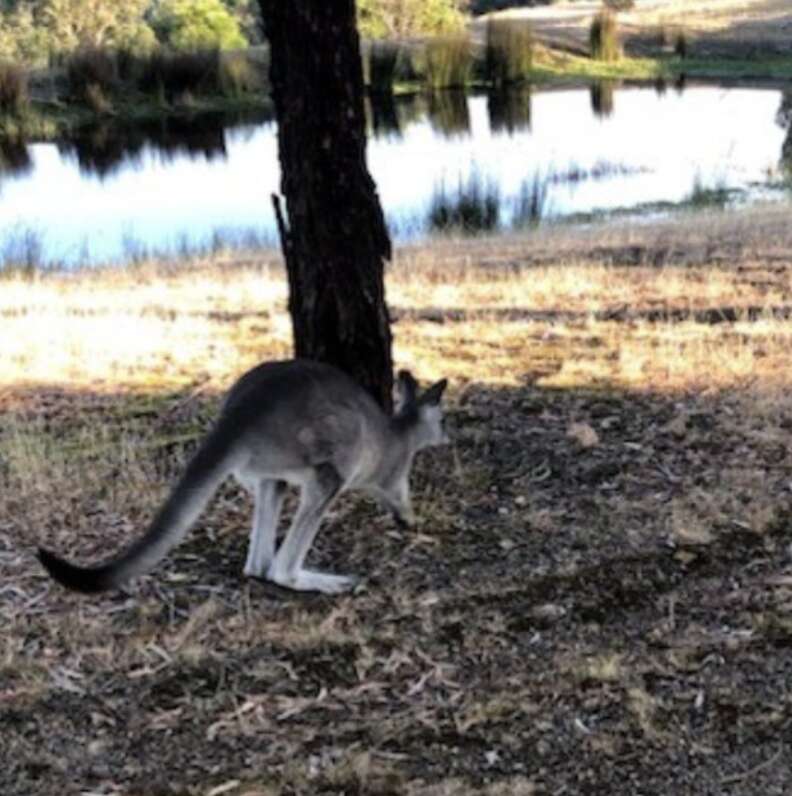 The kangaroo, named Helen, and her Joey, Troy, were taken to a macropod shelter, where they're now free to roam over the 100-acre property. Already, the little family is adjusting well and making friends with other kangaroos living on or near the property. Helen, in particular, has enjoyed hanging with other adult females.
"The carer often sees the mums having a get-together, like a mothers club!" Dr. Ong said.
Safe at the sanctuary, Helen and Troy will eventually join a mob of other friendly kangaroos and be free to live their lives comfortably and safely.
Vets For Compassion is thrilled at the outcome of this rescue and inspired by how many came together to make sure these kangaroos were safe.
"This was an epic rescue," the organization wrote in a Facebook post. "It is also proof that collaboration is always the key to success."
Cozy Dog Hats You'll Obsess Over
We may earn a commission if you purchase from our links.
Cozy Dog Hats You'll Obsess Over
We may earn a commission if you purchase from our links.