Neighborhood Cat Won't Stop Stealing Every Pair Of Nike Shoes He Sees
His mom gets messages about his crimes all the time 😂
When Karate Chop first learned how to use a doggy door, he would spend his time outside sunbathing on the patio or watching over things from the fence. One day, he started going on little adventures around the cul-de-sac where he and his family live — and that's when the real mischief began.
Karate Chop started bringing home random treasures from his adventures: a mop head, a bucket hat, hand towels, gloves, plastic flowers — you name it, Karate Chop has probably brought it home. His family was always very entertained and mystified by his gifts. Where was he finding all of these things? Then, out of the blue, he switched to shoes.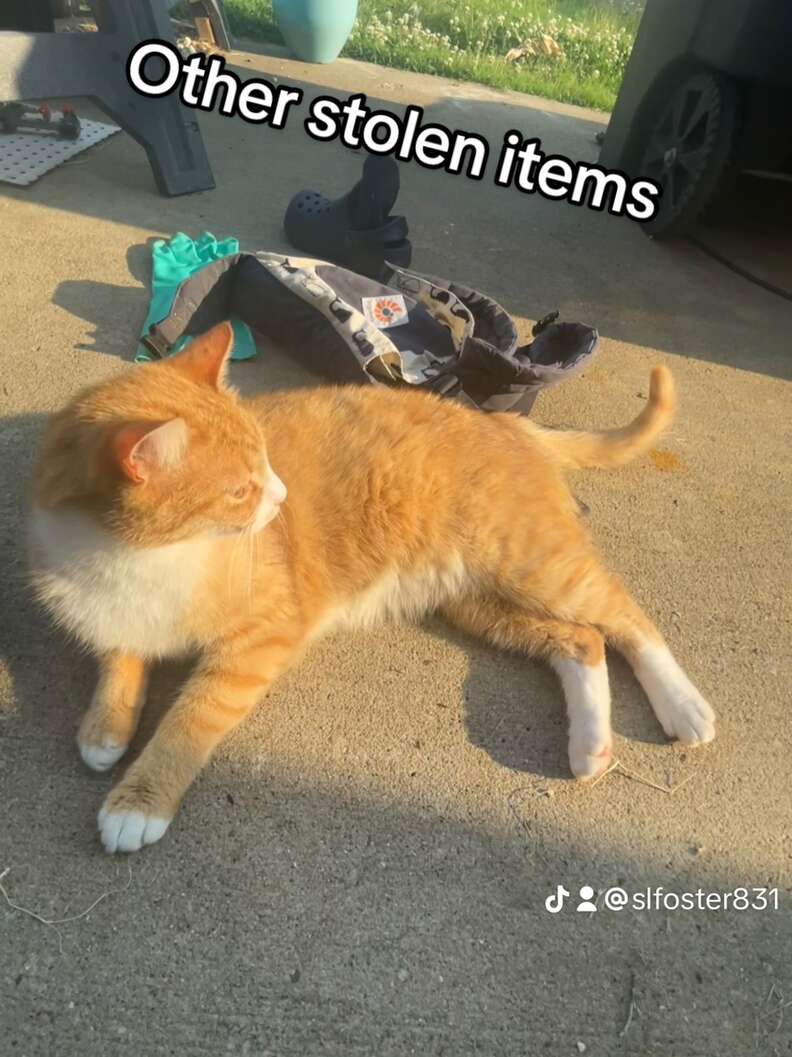 "He has been bringing home odd 'treasures' for about a year now, but shoes became a favorite in the last six months, and apparently he really likes Nike," Samantha Foster, Karate Chop's mom, told The Dodo. "It was when he brought one all the way up to my bedroom that he really got my attention. It was a toddler-sized tennis shoe. All I kept thinking about was that poor mom somewhere thinking to herself that she is losing her mind looking for this missing shoe. I even wrote a Facebook post to see if anyone in the neighborhood claimed it."
Word of Karate Chop's thievery quickly spread around the neighborhood, so when someone realized they were missing a shoe, they knew exactly where to look for it.
"Thankfully, I share the cul-de-sac with some great people, because after so many times of me asking, 'My cat brought this home — is it yours?' I received a message ASKING if I happened to come across their missing shoe," Foster said. "Not only did I in fact find the missing shoe in my backyard, Karate Chop had the AUDACITY to follow me, meowing along the way, as we returned his first Nike."
Now, Foster and all of her neighbors have been working together using Facebook and word of mouth to return the stolen shoes to their rightful owners, much to Karate Chop's continued dismay.
"It was not long after our initial walk of shame to return a Nike that there was a post [on] our neighborhood Facebook page from someone who had left their shoes out to dry overnight and woke up to one missing," Foster said. "Knowing firsthand who it might be, Karate Chop's first victim gave me the tip, and I just could not believe it. There it was. In my backyard."
Despite being caught, Karate Chop seems to have no plans to stop stealing shoes, Nikes in particular, anytime soon. He enjoys his hunting sprees and loves bringing his prizes home to show his mom, even if she doesn't appreciate his gifts the way he thinks she should.
"It is clear that the walk of shame is offensive, and [he] curses me the entire time," Foster said.
Top-Rated Toys To Get Your Cat Moving
We may earn a commission if you purchase from our links.