Museum Forms 'Kitty Committee' To Hire A Very Important Staff Member
His name is Sir Indiana Bones 🐱🦴️
One day, a group of employees at Skeletons Museum of Osteology decided they wanted an office pet. With all the bones lying around, they figured a cat would be a better fit than a dog, so they formed the Kitty Committee and quickly convinced management to let them welcome a cat into their work family.
As the committee headed to the Moore Animal Shelter to adopt their new friend, they debated over whom they should be looking for. A cat? A kitten? What type of feline would best fit the museum? Little did they know, Sir Indiana Bones was about to make their decision for them.
"Once we were in the cattery, we just couldn't make our minds up," Brenna Glover, one of the Kitty Committee members, told The Dodo. "But Indy had. Indy made sure to get and keep our attention. He would grab Kristin (a Kitty Committee member) with his paw, slink around us and give everyone the most adorable snuggles. We knew Indy was the one. He chose us."
Once Indy had made it clear he was going with them, the shelter decided to waive his adoption fee and sent him off with everything he'd need to thrive in his new home. Even the Kitty Committee members were a little unsure of how Indy would settle into his new museum and office home, but, luckily, he made himself at comfortable almost right away — which is how he ended up with the "Sir" part of his name.
"In the beginning, he would test his limits specifically climbing on the skulls hanging on the wall," Glover said. "When we would find him being a bit naughty, we would say, 'SIR, NO!' And that is how the Sir came about."
Now, Indy knows his boundaries, and he basically runs things in the office and museum. He has a lot of favorite spots he likes to frequent, and where you'll find him heavily depends on his mood and what's going on around him.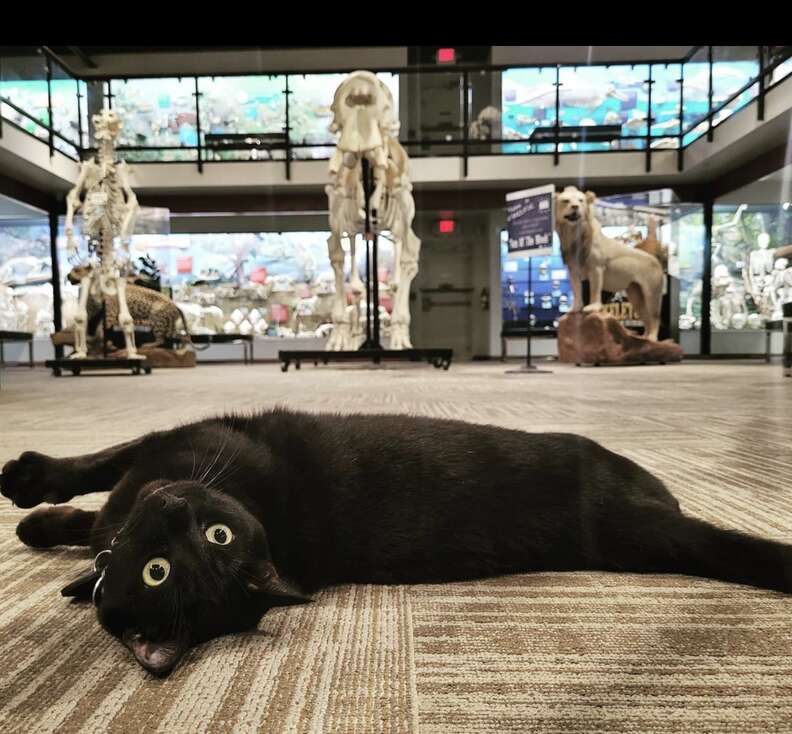 "He loves to snuggle up under the elephant skull on the floor," Glover said. "If it is a Skele-Zen (yoga) event, he likes to be up front, leading the class or stretching with the guests. If there is an art class or Skullairum event, he likes to be in the classroom. If it's a sunny day, he likes the sunny spot in the gift shop. If he's feeling extra social, he likes the ticket counter. And if he's feeling antisocial, he likes to curl up on his laptop in the back office area."
Indy spends a lot of time behind the scenes in the back office areas, but on the weekends when the offices are closed, he gets free rein of the museum — unless one of the committee members decides to take him home for the weekend. Indy is a valued member of the team, so they always make sure to pay attention to what he wants and needs.
"His reaction to guests is normally a friendly one," Glover said. "He really loves attention. He will ham it up if he knows it will result in belly rubs. We don't pressure him to be social if he isn't in the mood. He's an independent man who does what he wants."
Everyone who comes to the museum absolutely loves meeting Indy. He was adopted to help boost office morale and ended up becoming a well-known mascot who brings joy to everyone he sees.
You can follow Sir Indiana Bones on
Instagram
.
These Are The Cutest Catnip Toys Ever
We may earn a commission if you purchase from our links.