Major City Just Banned Keeping Dolphins In Tanks
Now these animals need to go to sanctuaries — here's how you can help.
In a landmark victory for captive marine mammals, Mexico City has become the first city in Mexico to ban keeping dolphins in aquariums.
Announced May 4, the decision means aquariums holding dolphins captive must relocate them within the next six months or face hefty fines. This follows last year's decision by Mexico City to ban dolphin performances and programs that allow visitors to swim with dolphins. 
Sea lions are also included in the legislation — like dolphins, they are often forced to perform tricks for crowds of noisy fans every day.
A dolphin show at Six Flags Mexico in 2015

| Youtube/Fernando Perez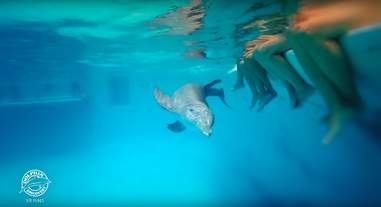 A dolphin swimming at Six Flags Mexico as visitors dangle their legs into the tank in 2013

| Youtube/Dolphin Discovery
While this attraction will no longer house dolphins at all, there are still many facilities across Mexico and the Caribbean — and the U.S., that profit from swim with dolphin programs — which are notoriously bad for the animals. 
"Not only are these dolphins likely to be stressed and therefore immunocompromised, they're also being exposed to a much larger amount of bacteria [than wild dolphins are] because they're being exposed to people who haven't washed their hands," Heather Rally, a marine mammal veterinarian with PETA, told The Dodo back in 2015, after several SeaWorld dolphins were spotted with what appeared to be infectious lesions on their skin.
Rally said at the time that the vast majority of dolphins featured in SeaWorld Orlando's dolphin lagoon, which allows visitors to put their hands in the water to pet the dolphins, showed signs of the skin lesions, which appeared to be caused by some sort of infectious disease.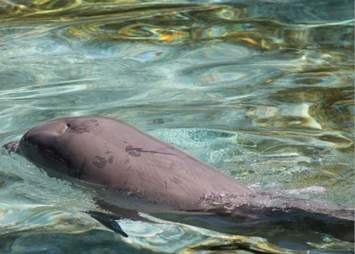 A dolphin at SeaWorld Orlando with skin lesions

| PETA
Fortunately, Mexico City is joining a growing number of governments across the globe who are freeing cetaceans from tanks. Chile, Costa Rica and Croatia all have bans on keeping cetaceans in captivity — and animal advocates are hopeful the capital's move could lead to a nationwide ban in the future.
Until then, there's a chance the dolphins and sea lions at Six Flags Mexico could just be moved to another dolphinarium, where they'll continue to be forced into cruel shows. Luckily, plans are underway to create the world's first cetacean sanctuary, organized by a group of experts including several former SeaWorld trainers who have spoken out against the park, which would be the best happy ending for these captive dolphins. 
"There is no doubt that the public's attitude has turned against keeping animals in captivity, and this ban recognizes that the needs of intelligent, sensitive, far-ranging dolphins simply can't be met in captivity," Catie Cryar, senior media liaison for PETA, told The Dodo. "[We] will continue to encourage other jurisdictions to adopt similar legislation, marking the beginning of the end for dolphin captivity."