Man On Jet Ski Spots Someone Huge Struggling At The Bottom Of Cliff
Do you see him? 🔍
Near a river in Tocumwal, Australia, a large animal gazed up at the cliff face above him, unsure what to do next. The elderly animal had fallen down the rocky slope and was now trapped between the cliff and the water. His brown coat blended in nearly perfectly with the mud and dust, making him very difficult to spot from a distance.
Luckily, a passerby on a Jet Ski saw the struggling animal, called his wife and told her the news — there was a kangaroo near the river, and he needed help. Soon, rescuers from Dutch Thunder Wildlife Shelter were on their way.
Rescuers quickly deduced why this kangaroo had likely ended up in a sticky spot.
"Due to recent flooding in the area, animals have been pushed out of their normal home ranges," Kylee Donkers, Dutch Thunder Wildlife Shelter co-owner, told The Dodo. "They are finding themselves in unfamiliar territory."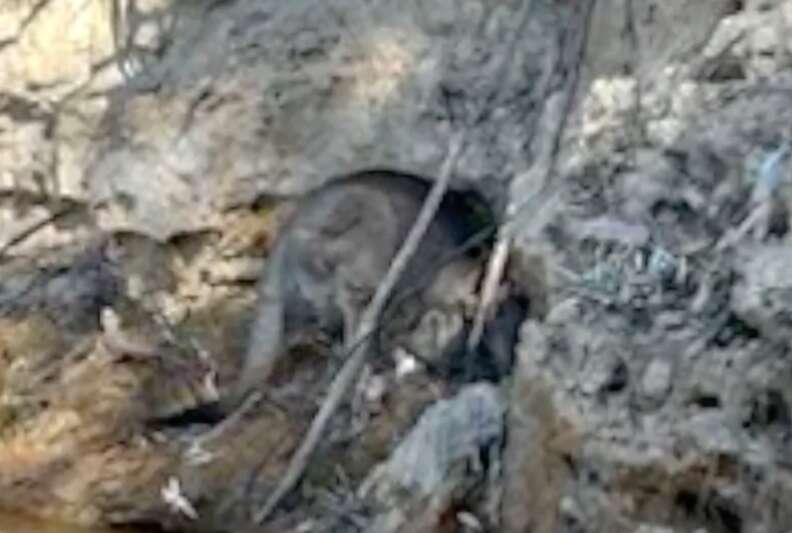 Donkers, along with Dutch Thunder co-owner James Leonard and volunteer rescuers Emma and Josh Lewis, headed to the scene. They scoped out a safe place to climb down the cliff — a particularly difficult task due to the flooding. Then they got to work sedating the kangaroo so that they could transport him to safety.
"Once he was sedated, we didn't want him to fall into the water," Donkers said. "I stayed down there with him the whole time."
Rescuers moved the heavy kangaroo to a transport bag and loaded him into a boat. Eventually, the kangaroo made his way to Dutch Thunder's shelter, where he was treated for a head injury sustained during his fall.
The kangaroo slowly made a full recovery. Rescuers were thrilled that the senior kangaroo would be able to return to life in the wild.
"He is a beautiful old boy," Donkers said. "At one stage, [he] was more than likely the alpha male."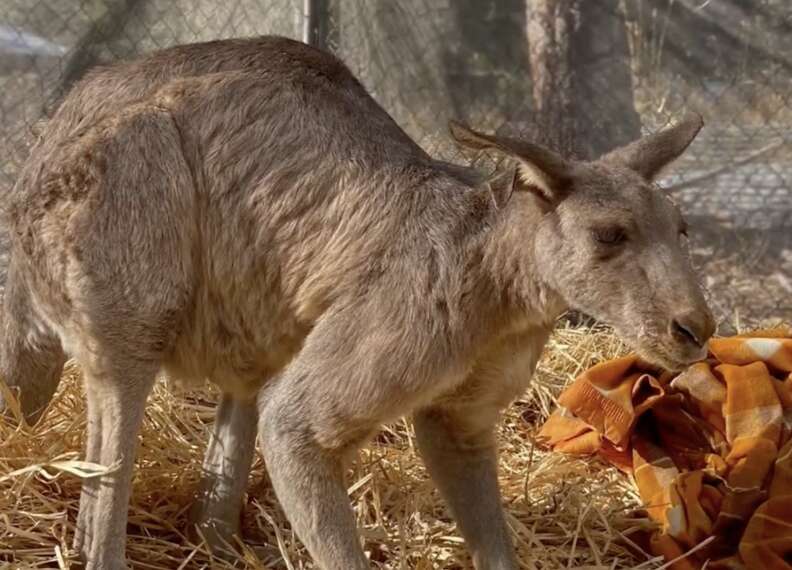 After a short stay with Dutch Thunder, the kangaroo was released into a safe area where he could be with other wild kangaroos.
The grateful kangaroo took one last look at his rescuers and then hopped away, off to live out his golden years in the wild, where he belongs.
To keep up with Dutch Thunder Wildlife Shelter
you can follow them on Facebook
. If you'd like to make a donation to Dutch Thunder, call BSB: 633-000 or ACC: ‪151069515‬.
Cozy Dog Hats You'll Obsess Over
We may earn a commission if you purchase from our links.
Cozy Dog Hats You'll Obsess Over
We may earn a commission if you purchase from our links.