Man Bursts Into Tears After Roommate Surprises Him With An Adorable Kitten
He couldn't be more in love ❤️
Sometimes, a furry little bundle of joy is all it takes to make a grown man cry. Just ask Peter Goicouria.
People who know Goicouria best have known that he's a fan of cats, and that he'd been looking into adopting a black kitten in particular. So, when a friend of Goicouria's roommate found a litter of black kittens who needed a home, the roommate hatched a plan.
He picked out one of the kittens for Goicouria, and surprised him with her as an early birthday present.
And, as you'll see, she was the greatest gift of all:
Meeting the kitten for the first time felt "overwhelming and genuine," Goicouria told The Dodo.
He named her Monday.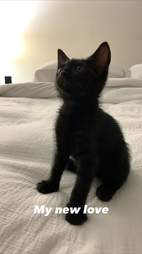 Peter Goicouria
It's clear from Goicouria's reaction that he has plenty of love to give his new pet — and Monday deserves nothing less.
"[She's] living a happy life now," Goicouria said.