Loyal Dog Stays By Her Best Friend's Side Until The Very End
"She laid with her head on him, like she was hugging him goodbye" 💔
There's nothing that could keep Heart away from her best friend, Soul. After the two pups suddenly found themselves alone on the side of the highway, abandoned by their family, they stayed by each other's side for warmth and safety. When no one was there to love and care for them, they became a source of love and comfort for each other.
That's why, when Soul was injured in an accident one day, Heart refused to leave his side even after help arrived.
"She was barking at people and being protective," Donna Lochmann, Stray Rescue of St. Louis' chief lifesaving officer, told The Dodo. "She wasn't being aggressive, but she was letting people know that that was her friend, he was hurt and she was keeping an eye on him."
Lochmann happened to come across the accident on her way to the shelter, and she immediately jumped in to help.
"First, I got Heart on a leash, put her in the front seat and secured her," Lochmann said.
The rescuer then grabbed a blanket and gently placed Soul on top. She carried the injured pup to her Jeep and carefully loaded him into the back.
Even though she was strapped in the front, Heart wouldn't take her eyes off Soul the entire time they were in the car.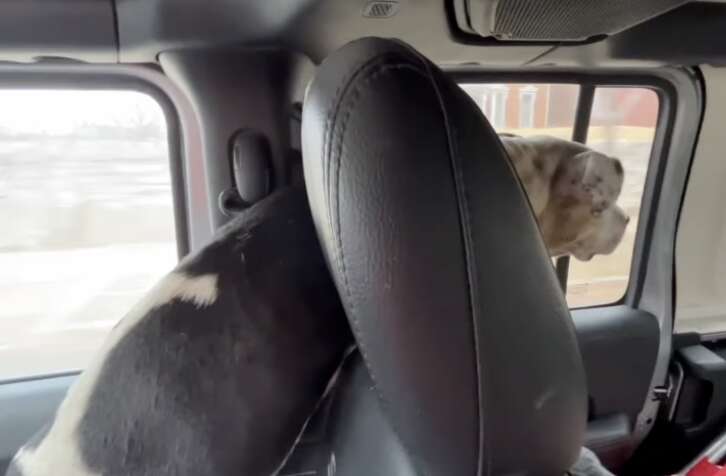 And when they got to the shelter, she remained her best friend's faithful lookout.
"She watched and would kind of keep an eye on the vet," Lochmann said.
Soon after they got to the shelter, X-rays revealed that Soul's injuries were more severe than his rescuers had originally thought. Unfortunately, there was nothing they could do to help him.
The shelter staff brought Heart back into the room with Soul to spend their final moments together.
"She laid with her head on him, like she was hugging him goodbye," Lochmann said. "As he went peacefully, she was right there."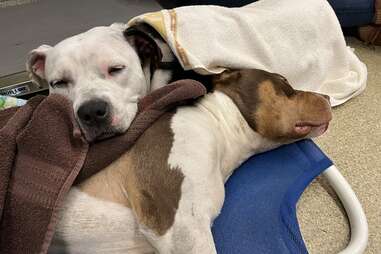 Heart stayed by Soul's side until the very end. Her sadness was shared by everyone looking after them.
"It was breaking all of our hearts," Lochmann said.
When it was time to separate the bonded pair, the staff knew that Heart would need extra love and attention to get through her grief. Heart received a much-needed bath, and a quiet room in the shelter where she could get some rest. Then, the shelter staff started planning a way to reunite the pup with her soulmate.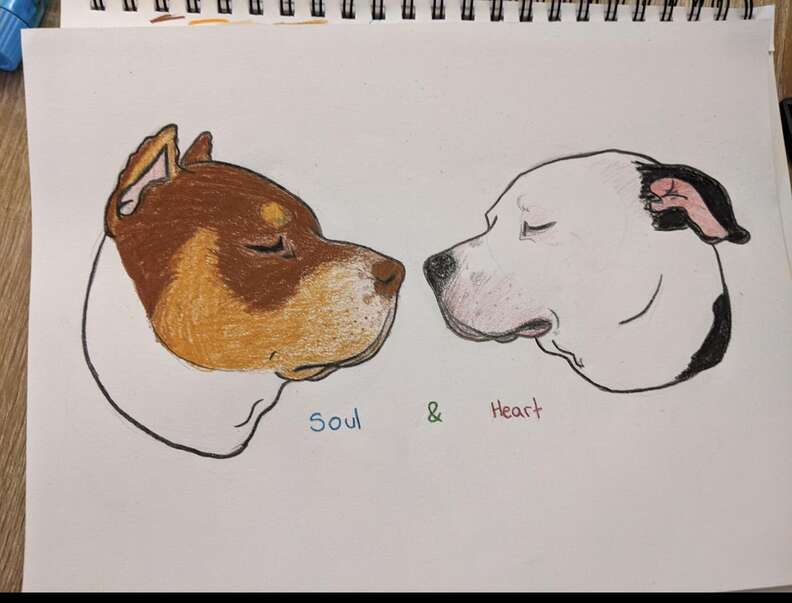 "We knew that we wanted him to be with her, so we got a little charm that you can open up and put ashes in," Lochmann said. "We put some of his ashes in that and attached it to her collar."
The pendant also comes with a little golden wing, which represents Soul's presence in Heart's life.
"He's with her all the time now," Lochmann said.
Heart only spent a few days at the shelter before going into a foster home. Her friends at the shelter miss showering her with cuddles every day, but they're happy to know that she's finally getting the home life she deserves.
"She's doing well and enjoying being with the people in her foster home," Lochmann said. "She's getting plenty of love."
Heart's still on the hunt for a forever home, but no matter where she goes, her friends at Stray Rescue of St. Louis will make sure to send Soul with her.
"The little charm we got her only holds a few ashes," Lochmann said. "We'll make sure that the rest of his ashes go with her as well."
Soul's pawprint will also go to his best friend's forever home, where he'll be remembered fondly by Heart and her family. Although the two had to say goodbye, they're sure to remain together forever.
Top-Rated Items To Help Keep Anxious Dogs Calm
We may earn a commission if you purchase from our links.