Lazy Police Pup Sleeps Through His Entire Swearing-In Ceremony
"When he's not playing, he's sleeping, which is kind of tough because he sleeps a lot" 😂❤🐕💤
Monday was a big day for the Bristol Police Department's new K-9 comfort dog Brody. The 12-week-old puppy woke up early for his swearing-in ceremony — then managed to sleep through the whole thing.
"He plays really hard and he sleeps really hard," Officer Keith Medeiros, Brody's handler, told The Dodo. "When he's not playing, he's sleeping, which is kind of tough because he sleeps a lot."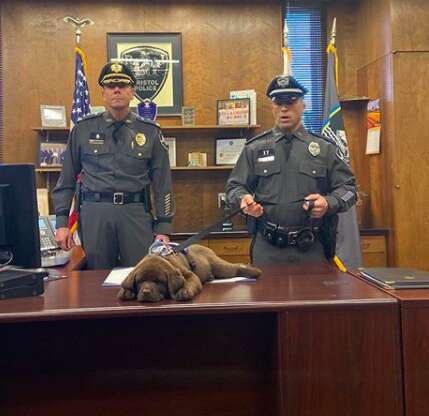 At first, the police department was thinking of bringing on a narcotics or bomb-sniffing dog when Medeiros, the school resource officer, suggested adding a therapy dog to the force.
Brody joined Officer Medeiros in mid-March and, at first, it seemed timing was not on their side. "You want him to be exposed to as many people as possible," Medeiros said. "And I try to do that while practicing social distancing."
But as it turned out, Brody arrived just when he was needed most. "People are really stressed, especially in law enforcement," Medeiros said. "Just by walking in the police department with Brody, people immediately smile, they immediately get into a better place. They want to pet him, want to hug him and it's just a really good thing."
Brody doesn't even have to keep his eyes open for it to be a job well done.
On the day of his swearing-in ceremony, Brody showed just how comfy he was around his new colleagues: "We put him down on the desk and he was just so comfortable that he lay down and fell asleep," Medeiros said.
You can watch the adorable video here:
The police department posted a clip of the ceremony on Facebook, and it has since been viewed 63,000 times, proving that Brody's already doing a stellar job of cheering people up.
While Medeiros acknowledges that it probably would have been better if Brody was awake, he didn't mind taking the oath for the tired pup. It was a swearing-in ceremony for Medeiros, but it was a sleeping-in ceremony for Brody.