'Hyena-Looking Animal' Rescued From Side Of The Road Is Unrecognizable Now
She's so fluffy 😍
Prue Barber was driving through Bali, Indonesia, when she spotted an interesting-looking creature on the side of the road. What at first looked like a "hyena-looking animal" with tufted, scraggly fur along her back, was actually a dog, later named Hilary.
"We were driving through the back streets, returning from our building project and spotted Hilary Swank'y on the side of the road," Barber, the founder of the Bali-based dog rescue organization Mission Paws'ible, told The Dodo. "She was hairless and emaciated."
"We stopped and asked several people about the dog," Barber added. "No one claimed her or knew where she lived. We made the decision to help her, and we rescued her."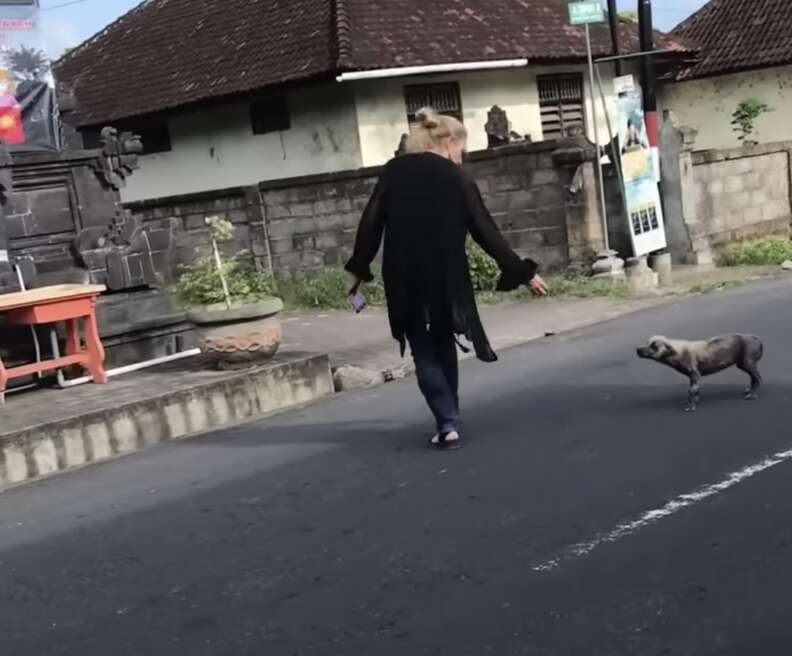 Out of over 500 stray dogs Barber has rescued through Mission Paws'ible, Hilary was in a lot better condition than some of the other pups she's seen.
"Hilary was in fairly good condition for a stray dog of Bali," Barber said. "She had the usual skin conditions and was a little underfed."
To soothe Hilary's skin and encourage her coat to grow in, Barber gave her several healing oil massages and washed her skin with special shampoo to get rid of pests.
Barber also fed Hilary a healthy raw-food diet to build her immune system before her vaccinations and spay surgery.
"Hilary was a joy from the very first moment she was rescued," Barber said, describing Hilary as a nonstop talker and a "party girl."
"[She's] everyone's best friend," Barber said. "She is that girl at the party that wants to know everything about you, [and] is super positive and excited about anything you say."
"She is sunshine, all day, every day," Barber added. "I absolutely adored her, and so did all the other dogs."
After about two months of specialized care, Hilary's coat began to grow back. She was then adopted by her mom, Jancis O'Mara, from British Columbia, Canada, and her full mane continued to grow thereafter.
Watch Hilary's journey here:
O'Mara, who renamed the dog Tilly, had been looking for a rescue pup after she lost her dog during the COVID-19 lockdown to cancer. "I searched and searched for a new dog every day for a few months, as the only way for me to recover [from] my grief was to have another little fellow to care for," O'Mara told The Dodo.
She learned about Mission Paws'ible through a friend of her daughter's and began talking with Barber about potentially adopting Hilary, "who was pretty funny looking, but who seemed very sweet," O'Mara said.
On October 31, Tilly finally found her forever home.
"Being in a cooler climate (Canada), her true winter coat flourished," Barber said. "She fell on all four paws with her mum, Jancis, who sends me updates regularly, which fills my heart with so much love and happiness."
Tilly now lives with her sister, a calico kitten named Kabuki, whom O'Mara described as "quite a strong character, a calico female with a mind of her own."
"For the first few months, it was pandemonium around here as the two young animals chased each other, leaping over furniture and me most of the time," O'Mara said. "The two still play and chase each other in the morning, but have learned to keep it at a slow burn. Now, it is peaceful, and I think they are fond of each other."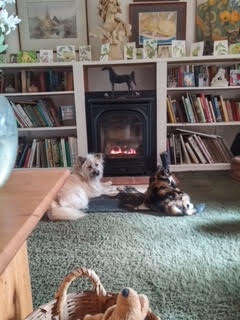 And when she's not hanging out with Kabuki, Tilly goes for long walks with her mom, is spoiled with treats and comfortably runs the household. "We live an organized life, and she is fully informed about when things should take place," O'Mara said. "That is why I call her 'the boss.'"
"She is a very good girl and has made a tremendous difference in my life," O'Mara said. "She is also very beautiful, with hair that is about 5 inches long!"
Tilly is a completely different dog from the one Barber first found, and she is now living the comfortable, healthy and happy life she deserves.
16 Products For The Ultimate Dog Spa Day
We may earn a commission if you purchase from our links.