Homeowner Goes To Do Laundry And Finds Someone Living In The Basket
"We're not sure how he ended up there …"
The other day, a homeowner in Kirkwood, Missouri, grabbed a laundry basket from their basement, hoping to get ahead of their chores.
They sifted through the linens in the basket and nearly jumped when they found someone small sleeping peacefully at the bottom.
The chipmunk, who appeared to be a young pup, was all alone.
The Good Samaritan could see that the chipmunk was unwell, so they reached out to the Missouri Wildlife Rescue Center (MWRC) for help.
"We're not sure how he ended up there, but he was thin, cold and dehydrated upon his intake," MWRC wrote on Facebook.
They weren't sure about his origin story, but MWRC's volunteers knew just what the chipmunk needed to feel better again.
Thanks to their care, the little guy was feeling better in no time.
"He perked right up once he was warmed and given proper fluids," MWRC wrote.
The chipmunk was in a fragile state when he arrived, but his demeanor changed after getting some much-needed TLC.
Now, the resilient boy seemingly can't stop smiling.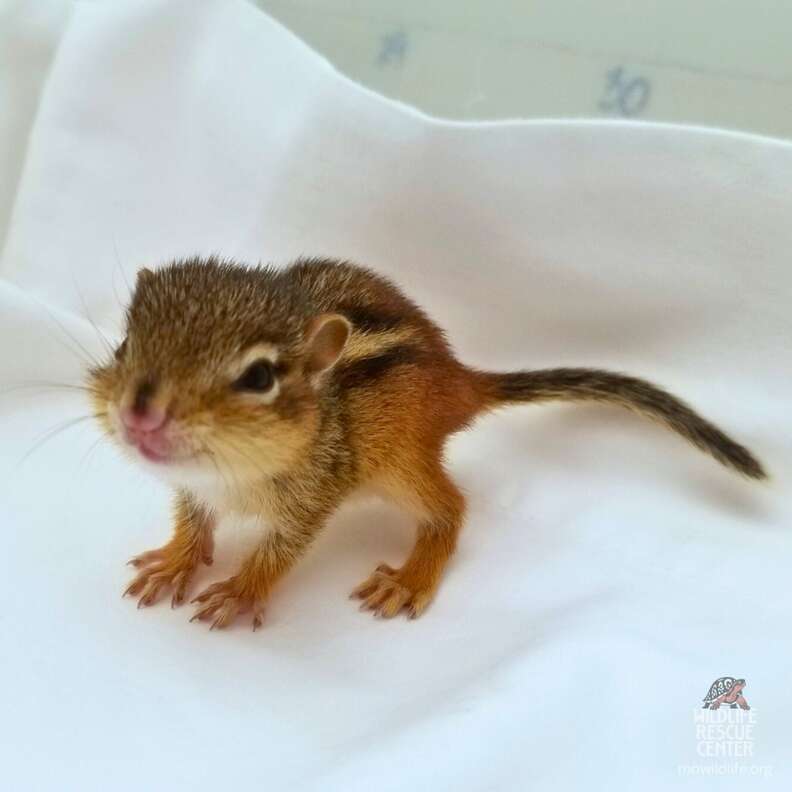 The chipmunk still has some growing to do before he can venture out into the world on his own, but he's made amazing progress so far.
MWRC's volunteers couldn't be happier about how far the chipmunk's come so far, and they know the best is yet to come.
"The little chippie is doing very well and quickly approaching his release date," MWRC wrote on Facebook. "We're looking forward to sending him back to his wild home very soon!"
To help animals like this chipmunk get the care they need, you can make a donation to Missouri Wildlife Rescue Center
here
.
Smart Buys From Companies That Help Save Animals
We may earn a commission if you purchase from our links.