Hikers See 'Speck Of Black' On Mountain And Know It's A Dog In Trouble
"The shape was unlike any natural feature of the mountain ..."
In early July 2023, the Alpine Rescue Team in Colorado received a 911 call from a frantic family. A 3-year-old dog named Zola had fallen off the east side of Torreys Peak during a hike, and her family was unsure if she'd survived.
"The family reported that Zola had fallen from the top of Torreys," Angela Widler, a member of the Alpine Rescue Team who assisted in the search, told The Dodo. "Shortly after she fell, they were able to see her head momentarily around 30 feet below them in the rocks before she fell further and out of sight."
Widler and 25 other members of the search and rescue team were dispatched to Torreys Peak, with seven people hiking to the summit to help Zola's family.
When the team first reached the family, the attitude was somber with the family fearing the worst. The rescue team immediately got to work, hoping to ease the family's pain. "Our initial action plan was to hike in to where we could survey the suspected fall area and see if we could locate Zola, and from there whether she could safely be accessed," Widler said.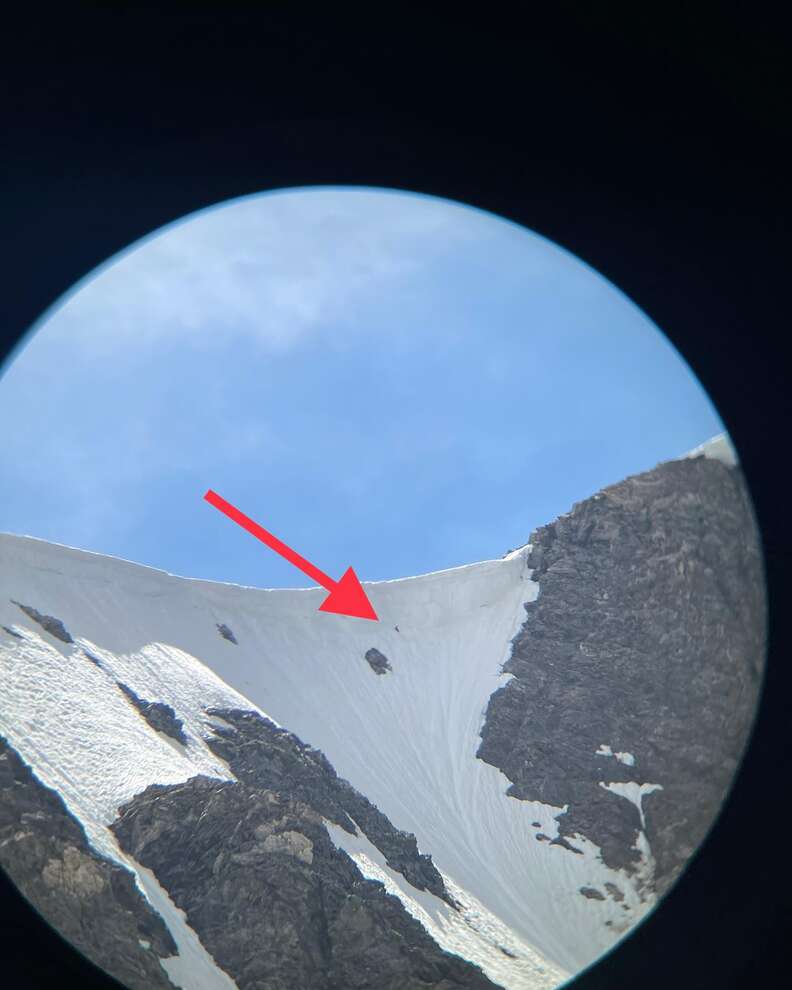 It took Widler and her fellow rescuers about an hour to hike to a location where they could finally see Zola, whom Widler described as "a speck of black that stood out on the top of a 2,000-foot snow couloir."
"We couldn't be sure it was her given the distance, but the shape was unlike any natural feature of the mountain, and several team members thought they saw movement," Widler said. "That was enough information for us to continue the hike to the top to see if it was her."
Their rescue efforts were rewarded at the sight of the grateful dog awaiting their arrival. "Imagine our surprise and absolute delight when we peeked over the edge and there she was, alive and wagging her tail," Widler said.
Widler said Zola, who fell close to 600 feet and had been waiting for help for about eight hours, was sitting at the top of a steep snow field just below a 15-foot wall of snow, abutted by a rock face.
"After assessing the situation and discussing how to mitigate risk, our field teams built a series of anchors and lowered me with a rope off the rocks and into the couloir," she said. "I then traversed across the snow around 40 to 50 feet until Zola was within my reach."
Widler then placed Zola in a bag so she could be carried safely down the mountain.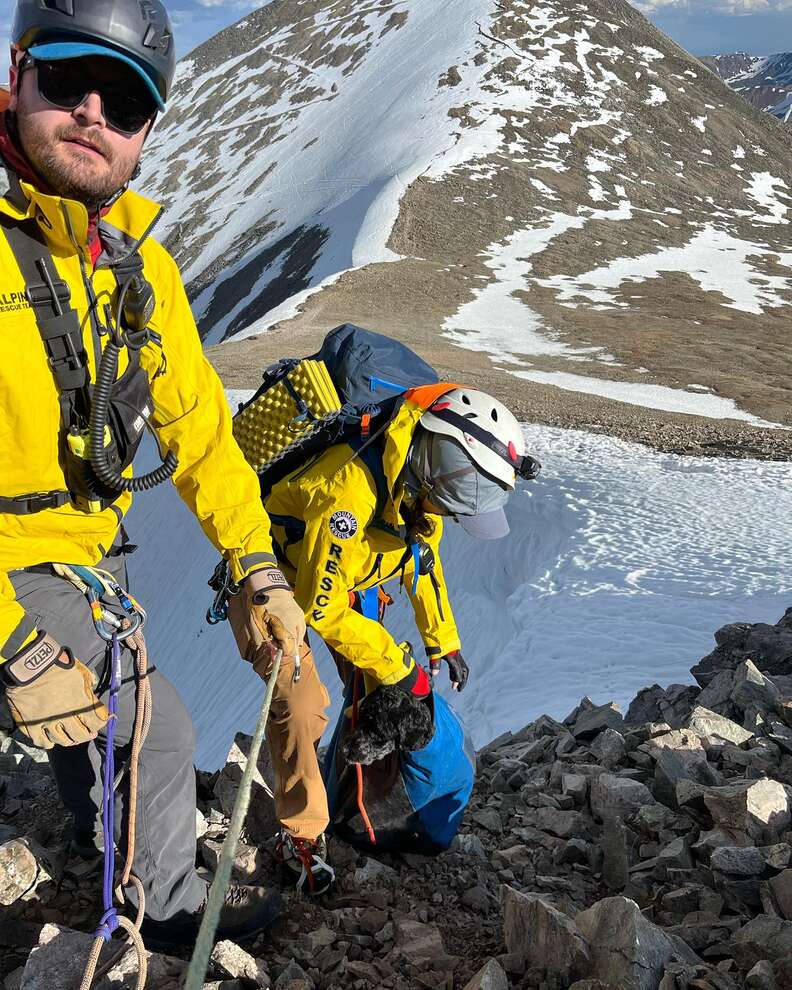 "When I first got to her, she was distressed, crying and shaking," Widler said. "She grunted at me several times as I tried to load her into the bag, seeming to question whether I knew what I was doing!"
"Though she was a bit resistant at first, she quickly calmed down and allowed me to carry her without protesting," she added.
Zola suffered some "significant abrasions" to her stomach, buttocks and hind legs, and wasn't able to put weight on one of them. So, when Widler climbed back to flat ground, Zola was loaded into another rescuer's backpack and hiked out of Torreys Peak.
"Once in the backpack, she was as cool as a cucumber and didn't make a peep for the remainder of the journey out," Widler said.
And when Zola's family reunited with their pup, they were overwhelmed with gratitude and relief.
For other dog parents who may take their pups for hikes on Torreys Peak or other hiking trails in their area, Widler said it's important to pay attention to your dog's limits.
"Know your pup's limits, know when to leave them home, consider using a leash in high-consequence terrain and if there are wild animals about, and if you do choose to take them on an adventure, have a low threshold to turn around if there are any signs their limits are being pushed or they are not feeling well," Widler said.
"Additionally, be prepared for unexpected illness and injury and pack the essentials you may need for yourself and your furry friends," Widler said.
Thanks to the bravery and quick thinking of the Alpine Rescue Team, Zola and her family can enjoy many more outdoor adventures in the future.