Heartbroken Shelter Dog Is Near Tears While Waiting For A Forever Home
"Those photos broke us" 🥺️
Samantha, a 4-year-old American bulldog mix, has always wondered what true love felt like. After wandering the streets of southern Florida, the sweet dog found her way to Miami-Dade Animal Services (MDAS). At the shelter, Samantha wore a heartbroken expression that moved her rescuers.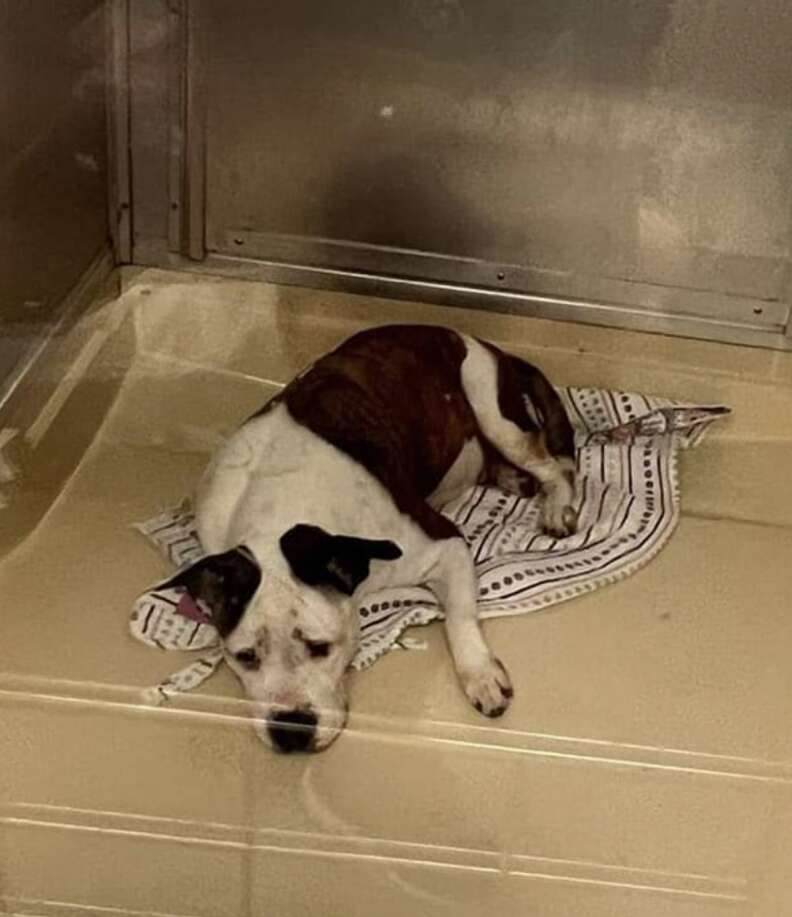 Volunteers from the shelter cleaned Samantha up and gave her the medical attention she needed. Soon, she was ready to find her forever home, so her new friends placed her on their adoptables list and started advertising her picture. Everyone at the shelter was smitten with Samantha and hoped that she'd find her family quickly, but, to their surprise, a year went by with no inquiries.
As the months passed, Samantha's frown grew deeper and deeper.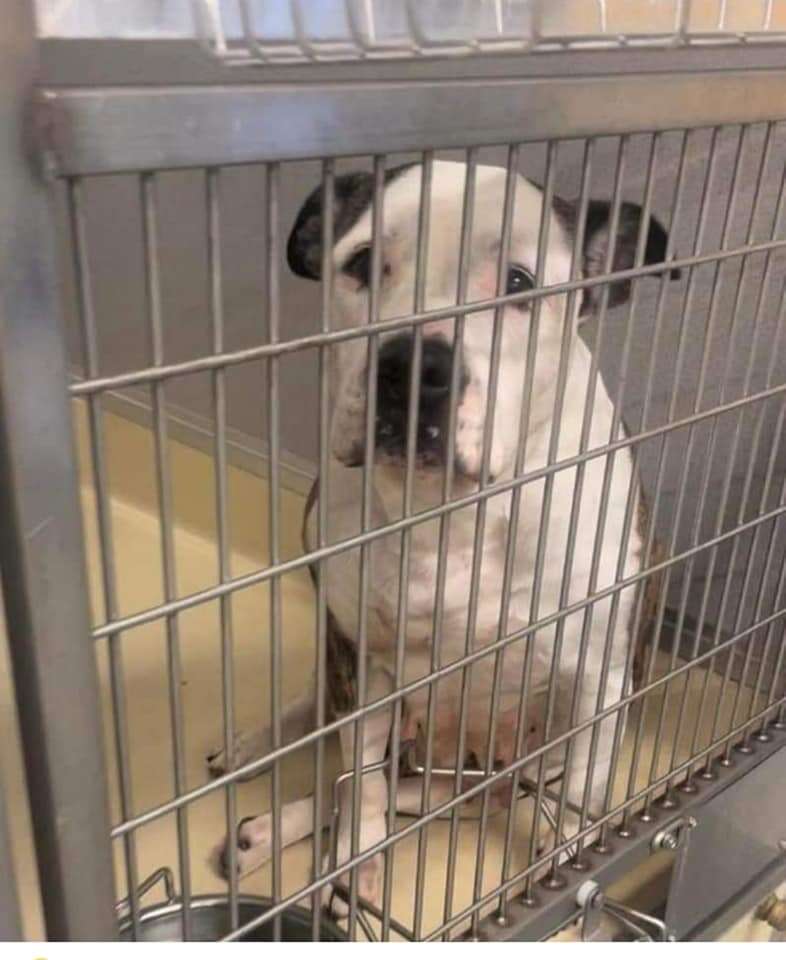 Over a year later, MDAS reached maximum capacity and could no longer hold Samantha. They contacted Humans and Animals United (HAU) to see if they could help find the loving dog a home and sent a few pictures of Samantha in her kennel as part of their plea.
"Those photos broke us," Rosa Fond, HAU's founder and president, told The Dodo. "We decided to pick her up, and then we'd figure out the rest."
Before long, a volunteer from HAU was outside MDAS's doors, ready to transport Samantha to her new temporary home. She loaded the dog into her car and started driving home when she noticed that Samantha was having a tough time with the change.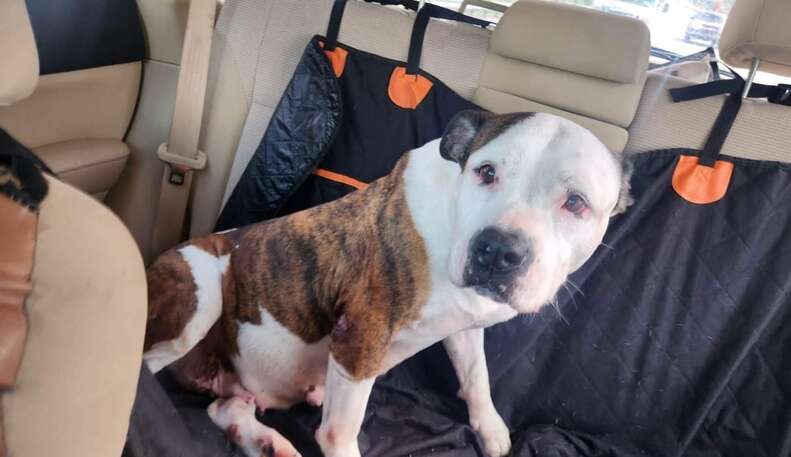 "Samantha wasn't really responding to the person who picked her up," Fond said. "She was too scared."
The volunteer tried to make Samantha feel comfortable in the car, but she soon realized that her efforts weren't working. So she pulled over and started talking to Samantha in a gentle, soothing voice.
"She stopped the car and just talked to her for, like, 10 minutes," Fond said. "That's when Samantha started opening up. She started smiling as the volunteer was talking to her."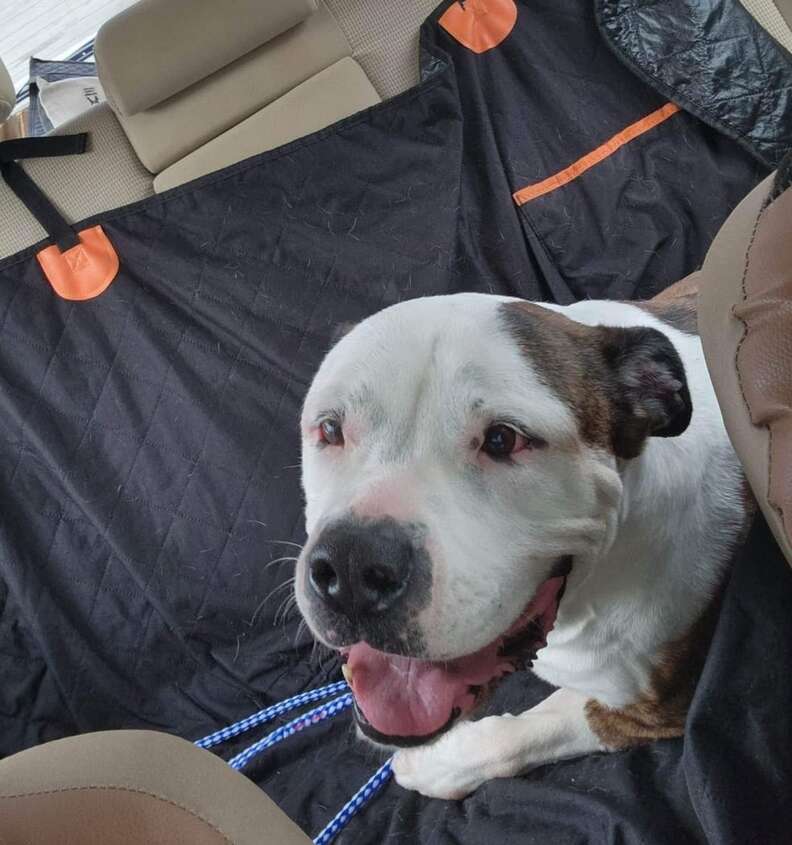 A few moments later, Samantha's unsure expression changed to an ear-to-ear grin. The once-lonely dog finally knew that she was seen and that soon she'd be loved.
The volunteer then dropped the pup off with a local trainer who'd offered to board and work with Samantha for 30 days. It wasn't yet a forever home, but Samantha immediately started to thrive in her new setting.
"She did wonderfully there," Fond said. "She's been doing so, so good."
After a month at the training facility, Samantha finally found a foster home. She's still on the hunt for a forever family, but in the meantime, she's enjoying getting to know what it feels like to have a home.
"She loves toys," Fond said. "She loves her bed, and she loves being with a human. All she wants to do is lay on someone and be petted."
Even though she can't talk, Fond can tell that Samantha understands the loving words her new rescuers say to her. The sweet dog has a natural ability to connect with people on an emotional level.
"When you talk to her, it's like she understands every word you're saying," Fond said. "Almost like she senses your emotions."
On top of this, Fond thinks Samantha should have an easier time finding a forever home because she can easily fit into any family dynamic.
"She likes cats — and she loves dogs," Fond said. "She's perfect, I don't see how she won't find a forever home."
For now, Samantha will keep soaking up the love she's getting from her new foster family. She's still waiting for her happily-ever-after, but, thankfully, the hardest part of her story is far behind her. From here on out, Samantha will only know love.
If you're interested in adopting Samantha, you can reach out to
Humans and Animals United
via phone, email or social media.
To help pets like Samantha get the care they need, you can make a donation to Humans and Animals United
here
.
What To Buy If You Just Adopted A Dog
We may earn a commission if you purchase from our links.