Heartbroken Mother Sloth Overjoyed To Hug Baby She Thought She Lost Forever
"It is always a very emotional moment to witness."
When staff members at Manzanillo National Park recently found a baby sloth crying alone on the forest floor, they knew they had to reunite the little animal with his mother. But how would they locate her in the sprawling canopy of trees? Concerned, they called Jaguar Rescue Center for help.
When rescuers arrived, they began to play the baby's cries over a loudspeaker.
"Each cry is different, and the mom will react to it," Jaguar Rescue Center community manager Noelia Ortiz told The Dodo.
Soon enough, rescuers spotted the sloth's mother ambling toward the sound as quickly as she could. They held up the baby and breathed a sigh of relief as the mama sloth turned around and recognized him.
Overwhelmed, the mother sloth reached toward her baby and enveloped him in her arms, rejoicing as he squeaked with glee.
"It is always a very emotional moment to witness," Ortiz said. "Seeing how the mom comes as fast as she can to be with her baby, and afterward [seeing] both the mom and baby happy to be back together."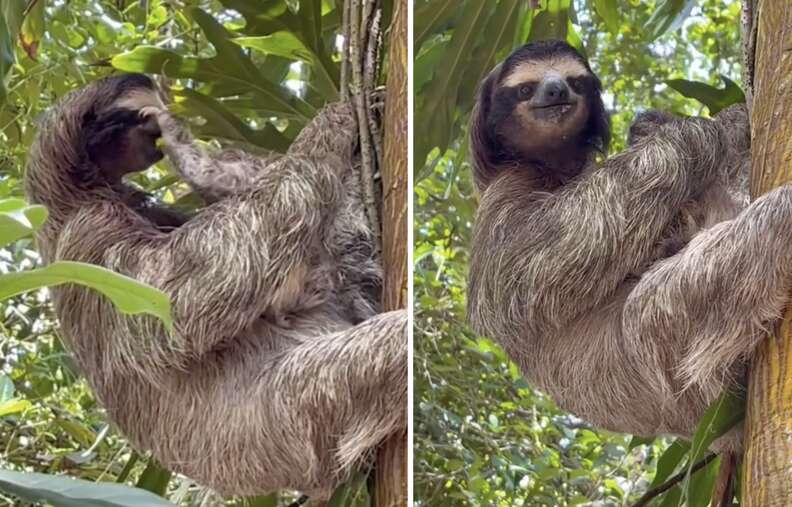 Together again, the mother and baby relaxed in the tree. For a moment, the mother sloth stared directly into the rescuer's camera, as if to say thank you.
Rescuers like to think the mother-baby pair are currently enjoying a thriving life in the wild.
"We hope they are still together until it is time for the baby to be on his own," Ortiz said.
Dog Crates That Will Actually Match Your Furniture
We may earn a commission if you purchase from our links.