Tiniest Hairless Puppy Shows Up At Shelter Begging For Love
She just wanted to snuggle 💗
The second Amanda Harris saw a picture of little Pippa, she rushed to the Atlanta Humane Society to pick her up to foster her.
Pippa had just arrived at the shelter with her mom, dad and brother — but the little 7-week-old puppy was the saddest of them all. She was completely hairless, sore and covered in scabs. The whole little dog family had mange, but she was in the worst condition.
Pippa's body looked so fragile — but all she wanted to do was cuddle. Harris took the little pup home with medicine and spent time with her around the clock to help her heal, and she was so surprised at the huge personality the tiny dog had.
"She loves burrowing in blankets and cuddling more than anything in the world," Harris told The Dodo. "There were moments where I'd peek in on her and wonder where she went, only to find her comfortably nestled under all her blankets. It's super adorable."
Even though Pippa's skin was so itchy and painful, she still loved snuggling. Harris' loving care made all the difference, and after only a few days, the puppy's skin was starting to heal. Weeks passed, and her irritated red skin was soothed and her light cream fur had become growing in nicely.
"Her care included weekly medicated baths, medication to heal her skin and proper nutrition," Harris said. "Once she began to get proper care, her skin started healing remarkably quickly."
And as she healed, Pippa's wonderful personality began to shine through even more. Like many Chihuahuas, Pippa proved to have quite a lion's heart despite her tiny stature.
Her foster mom has two large dogs, the largest being an 80-pound pit bull. But Pippa didn't seem to mind one bit that she was so much smaller than them.
"She loved chasing their tails, cuddling with them and trying to hold her own in a game of tug-o-war," Harris said. "Also, I took her to work with me every single day in a little sling purse designed for carrying around small animals — she loved it and was always a big hit!"
Pippa also became quite popular among people who followed her journey on social media — so much that she found her forever family in the process. Terri Dickson and her family adopted the little pup earlier this month, and she's already made such an impact in their lives.
"When I saw the pictures of her as she first arrived, I had to go see her," Dickson told The Dodo. "Once she was in my arms, it was all over for me. Best decision I have made in a long time. She is incredible."
Pippa went home with the family shortly after, and is settling in so well. She luckily has already found a playmate in another family dog, and will never know again what it's like to be uncomfortable.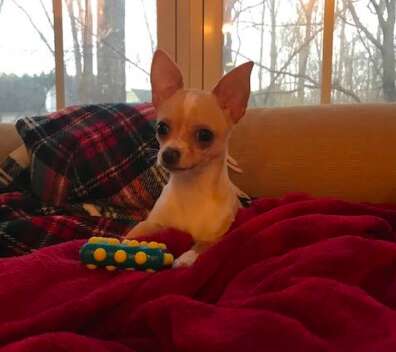 After all, she is already an expert snuggler.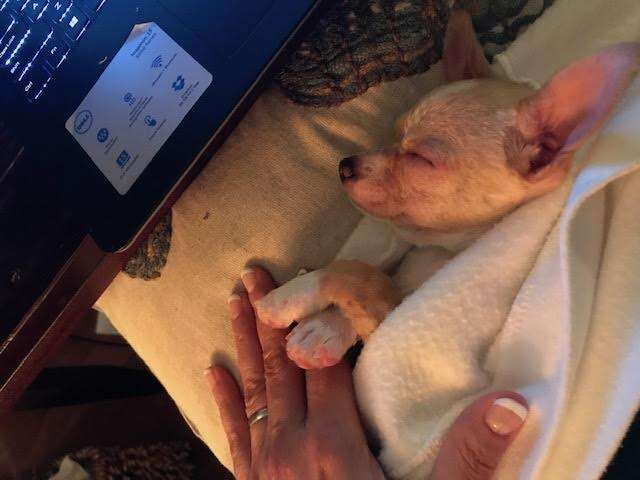 "She loves her family and we love her!" Dickson said.