Guy Sees Someone Fluffy And Scared On Highway Median And Calls For Help
"He wasn't making any noise ... he wasn't even moving."
As soon as John Debacker heard about a cat stranded on a highway in New York City, he knew he had to do everything he could to save him. The dedicated cat rescuer was over half an hour away, but he immediately rushed over to help.
"When I arrived, I actually missed him at first," Debacker told The Dodo. "I went slightly past him. Then I looked in my rearview mirror and saw him sitting along the divider."
Debacker pulled over just a few feet ahead of the cat, then walked up the left lane to get as close to him as possible.
"I didn't want to have to go around twice and risk the cat running away," Debacker said. "Cars were coming at me pretty quickly, but I was kind of waving them to move over."
As cars sped past him, Debacker knew the cat must've been even more scared than he was. Soon, the cat was right in front of him, and Debacker's suspicions proved to be true.
"He was pretty terrified," Debacker said. "He wasn't making any noise, and he wasn't even moving."
Debacker quickly ran back to his car to grab a net, but when he came back, the cat bolted.
"The cat was actually trying to run along the divider and tried to get into the sewer," Debacker said. "He didn't fit, fortunately, so I netted him right there."
Before the cat could get into any more precarious situations, Debacker caught him and carried him to safety in his trusty net. At first, the cat didn't want to go with Debacker, but eventually he realized that he was safe.
"When I first got him, he was hissing and everything," Debacker said. "But then I brought him to my apartment, and he turned out to be the sweetest cat."
Debacker checked local listings to see if anyone had reported a missing cat but found no trace of the cat's family. So he placed the cat in foster care while his close friends helped him find the cat a forever family.
"He went to my friend Kacia Caprariello's, who fostered him for a few weeks," Debacker said. "My other friend, Virginia Scudder, helped me find him a home."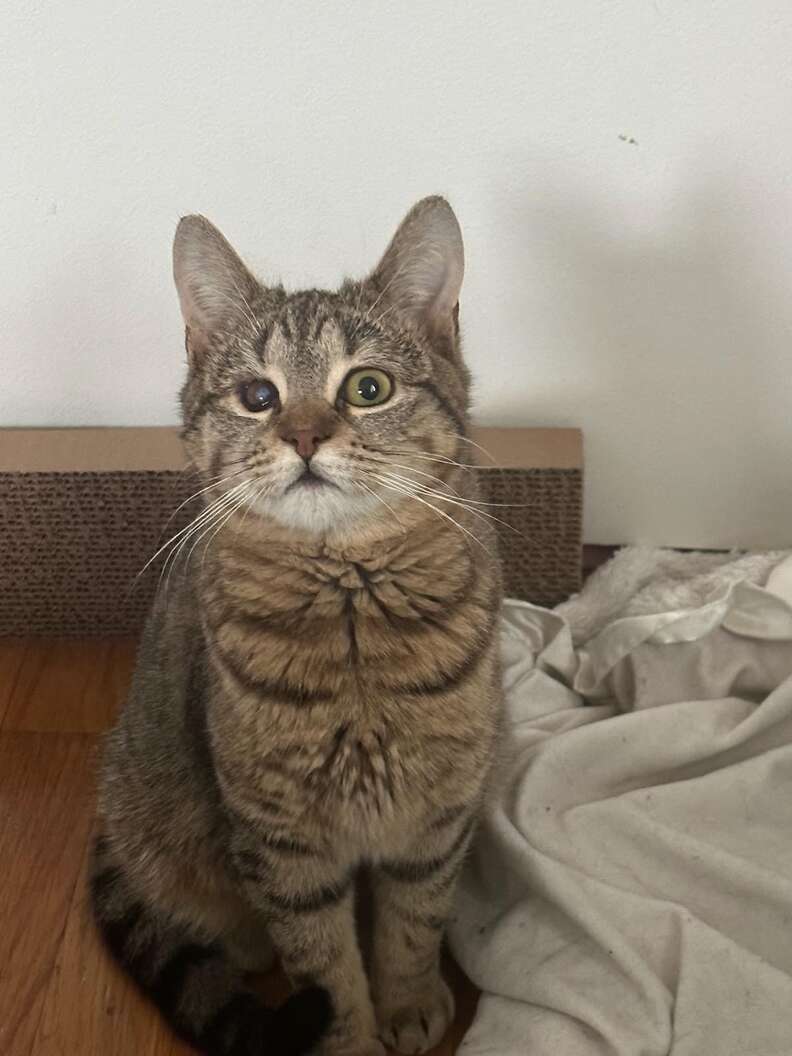 Eventually, the team found the cat, who was officially named Bell, the perfect forever home. Now, the cat is spayed, microchipped and healthy.
"He's living a wonderful life now, thankfully," Debacker said. "Had he not been rescued, the outcome would've definitely been different."
To help cats like Bell get rescued,
make a donation
to Debacker's organization, Long Island Cat/Kitten Solution, Inc.
Calming Products That Actually Work For Your Cat
We may earn a commission if you purchase from our links.