Goat Family At Nightmare Farm Always Hoped Help Would Come
The best people found them — just in time for a special surprise 💗
With a pen full of frozen mud and no food to eat, the goats stood huddled together for warmth.
It was only the start of winter — and the little family was already freezing cold and starving inside the run-down barn they were forced to call home.
HSUS
One of the skinny goats, a female named Junebell, was very pregnant and due to give birth any day. But little did she know, this would be the last time her family would ever need to wish that life would get better.
Help was on the way.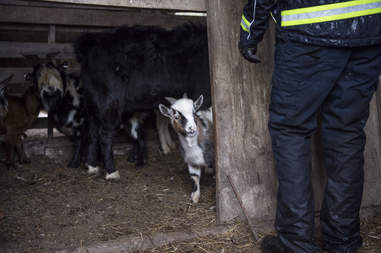 HSUS
In December, the Humane Society of the United States was alerted to the deplorable conditions the animals at this Maryland farm were living in, and the 10 goats, three sheep and four cows who had been languishing there were rescued.
Emaciated and suffering from a drove of respiratory problems, the animals were brought in to Cleveland Amory Black Beauty Ranch in Texas — where they were warmed up, fed and treated with love for the first time in a while.
HSUS
"These animals came from deplorable conditions and we are working hard to continue their rehabilitation and make sure that they are able to settle in to the quality of life they deserve," Noelle Almrud, director of the Cleveland Amory Black Beauty Ranch, told The Dodo. "They will never suffer again."
Things were finally looking up for these animals, and luckily, Junebell waited until she was safe at the sanctuary to deliver her kids.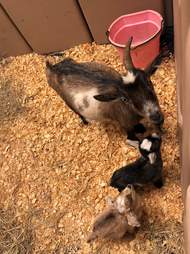 HSUS
Less than two weeks after being rescued, Junebell gave birth to two healthy babies named Honey Suckle and Sabastian.
The new babies are doing great — and there's no denying that they're adorable, too.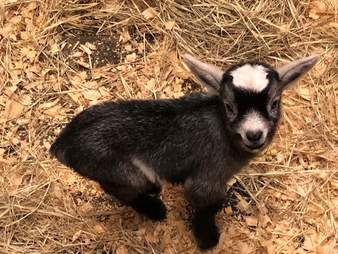 HSUS
After enduring such neglect during her pregnancy, Junebell is now settled in to the most comfortable maternity suite where she can nurse and snuggle with her kids and have plenty of food to eat.
HSUS
As the tiny kids grow older, they'll have plenty of room to run, jump and play with one another at the sanctuary — and once they're fully finished with their required health quarantine, the two babies and their mom will all join the rest of the rescue herd there.
With over 100 other farm animals at the sanctuary, this little family is in great company.
HSUS
"They will [be] here in spacious pastures with plenty of food to eat and warm places to sleep, and they will never suffer again," Almrud said. "The two newborn goats will never experience the horrors that their mama faced before coming here to safety."