Woman's Game Of Hide-And-Seek With Dog Doesn't Go As Planned
Someone else found her first.
The other day, while relaxing at home, Cloe Terare decided to engage her dog, Midas, in a light-hearted game of hide-and-seek. It's something they both enjoy playing from time to time.
What Terare did not expect, however, was that someone else would end up finding her first.
While Midas sat in another room, Terare set up a camera and found a hiding place beneath some blankets along a wall. Then, she called him in.
The game was on.
Turns out, at that same moment, another player inadvertently joined the hunt for Terare — her cat, Lucifer. With a casual leap upon the blanket beneath him, Lucifer found her.
Clearly, neither he nor Terare were expecting that.
"I don't think Lucifer realized I was hiding," Terare told The Dodo. "He actually landed on my throat with the first jump, then came down and hit my face. I was SO confused from under the blanket."
Midas, to his credit, was quick to check that everything was OK. After all, Terare had been left in tears.
"I was crying with laughter," she said.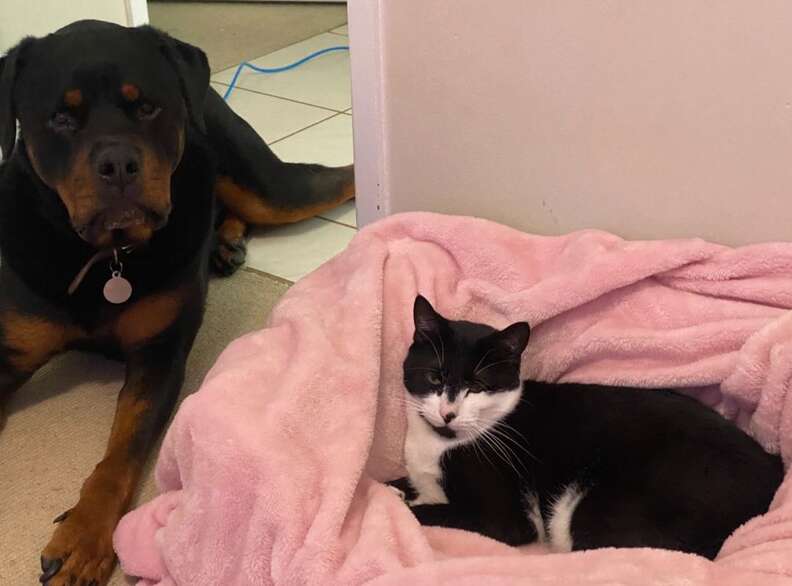 And with that, the game of hide-and-seek concluded — ending up more memorable than most. Despite the little scare for Lucifer and Midas, it was on to the next amusement before long.
Being accidentally body-slammed by a cat wasn't about to slow down Terare, either.
"They were bouncing around as normal after that," she said. "[We] always play together."
Top Picks to Spoil Your Cat
We may earn a commission if you purchase from our links.