Cat Forms The Most Magical Friendship With A Wild Deer
They visit each other every single day 💞
Lulu was rescued from a hoarding situation and taken in by Orphans of the Storm, who quickly found her a wonderful foster home. Lulu was very nervous when she first met her foster family. She'd never had a loving family before, and everyone knew it was going to take her some time to get used to things.
"She is very shy and gets scared easily," Jennifer Burke, Lulu's foster mom, told The Dodo. "So we are taking our time with her to properly socialize her and show her that humans can be kind and loving … With time, she has learned to really enjoy being pet and brushed. She even likes her belly to be rubbed! She is incredibly sweet and it has been such fun to see her start to blossom."
When Lulu first arrived in her foster home, she shared a room with her foster brother, Felix. The pair got along really well, but then Felix found his forever home. Burke was worried that Lulu was going to miss having a friend to play with — but it wasn't long until she met a new one.
About a month after Lulu settled into her foster home, a local deer started showing up in the family's yard quite frequently. The family is used to deer stopping by, but they don't usually hang out the way this one does. They decided to name her Dolly, and the entire family became very attached to her, especially Lulu.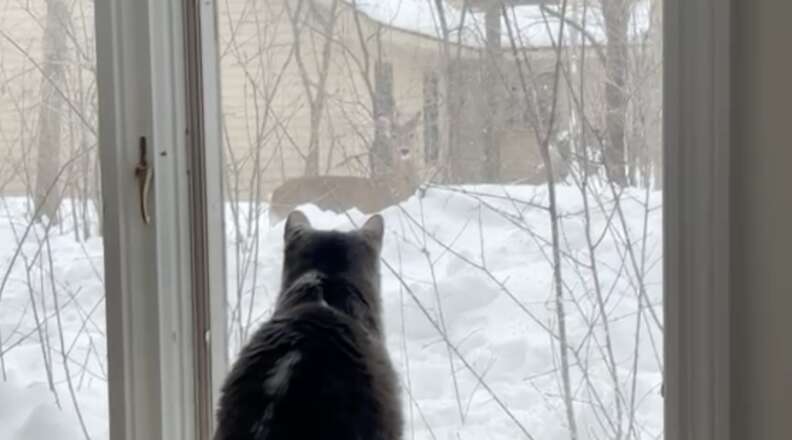 "I noticed Dolly outside and realized she was within view of our foster room, which is in our basement," Burke said. "So, I ran downstairs to see if Lulu was looking out the window. We have a cat tree placed in front of the window and Lulu was on the top perch watching Dolly. And Dolly was watching Lulu!"
Lulu and Dolly seemed fascinated by each other, and the more Dolly came to visit, the more the fascination grew. The pair started to become very comfortable hanging out near each other, and the sweetest friendship blossomed before everyone's eyes.
"Lulu was very curious about Dolly," Burke said. "She didn't seem scared at all. Initially, Dolly would watch Lulu from a distance. But it didn't take long for Dolly to come right up to the window and chew on the branches next to the house. Lulu was a bit hesitant the first time Dolly came up so close. But, now, it doesn't faze her one bit. She has even fallen asleep on the perch while Dolly is at the window."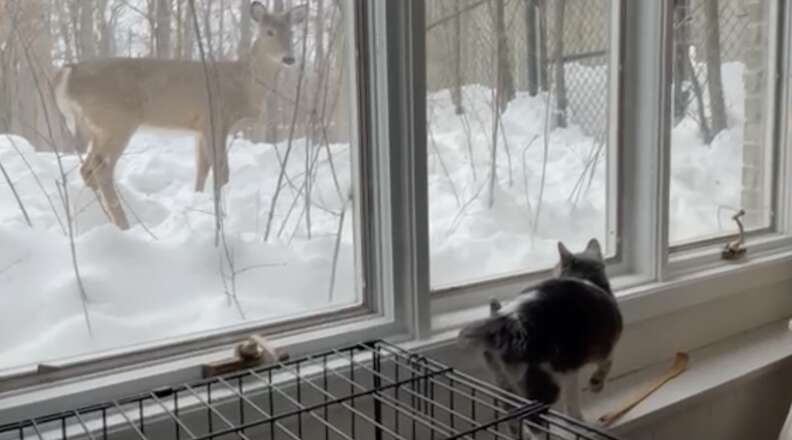 Dolly now stops by the yard several times a day, and the family can't help but assume it's because of Lulu. Dolly loves checking in with her cat friend, and seems very concerned about her and her well-being.
"Even if she isn't right near Lulu's window, she seems to check in with Lulu, glancing in her direction frequently," Burke said.
The other cats in the house are definitely a bit scared of Dolly, but not Lulu. She loves her best friend very much. Lulu's foster family love her so much, too, and although they want her to find a forever family, they're definitely going to miss her when she goes — and clearly, so will Dolly.
"Lulu truly deserves an amazing forever person who will be patient, and give Lulu the time needed to feel safe so she can be loved fully and spoiled rotten," Burke said. "But that adoptive home might need to have some deer neighbors!"
Everything You Need To Adopt A Cat