Missing Senior Dog Finally Relaxes When He Hugs His Mom Again
"[He] was instantly comfortable once he realized he was back in the arms of his family" ❤️️
When Miles first went missing, his family was beside themselves. He somehow managed to slip through an open door, and despite lots of searching, his family was unable to find him. Miles is a senior pup with limited vision, so after six weeks of being gone, his family unfortunately feared the worst.
Luckily, though, Miles was microchipped and ended up being found by some Good Samaritans who brought him to the Fulton County Animal Services shelter, which is managed by LifeLine Animal Project. The shelter scanned him for a microchip and then contacted his family, who truly couldn't believe the news. It was the call they'd been waiting for and were worried may never come, and they were so beyond thankful that it finally did.
"His owner broke down crying when she was told that Miles had been found and was at the shelter within 30 minutes," Lauren Ruiz, a PR specialist at LifeLine Animal Project, told The Dodo.
No one is sure how Miles managed to make it on his own for six weeks, but clearly, the little dog is incredibly resilient. He was dirty and in desperate need of a bath and some grooming — but none of that mattered when his mom arrived at the shelter to pick him up.
"She was elated and emotional when reunited with Miles," Ruiz said. "Though scared and shocked from his separation, Miles visibly relaxed and was instantly comfortable once he realized he was back in the arms of his family."
Miles had been confused and nervous when he arrived at the shelter, but once he was in the arms of his mom again, everything was OK. After six weeks of being gone, their bond was stronger than ever.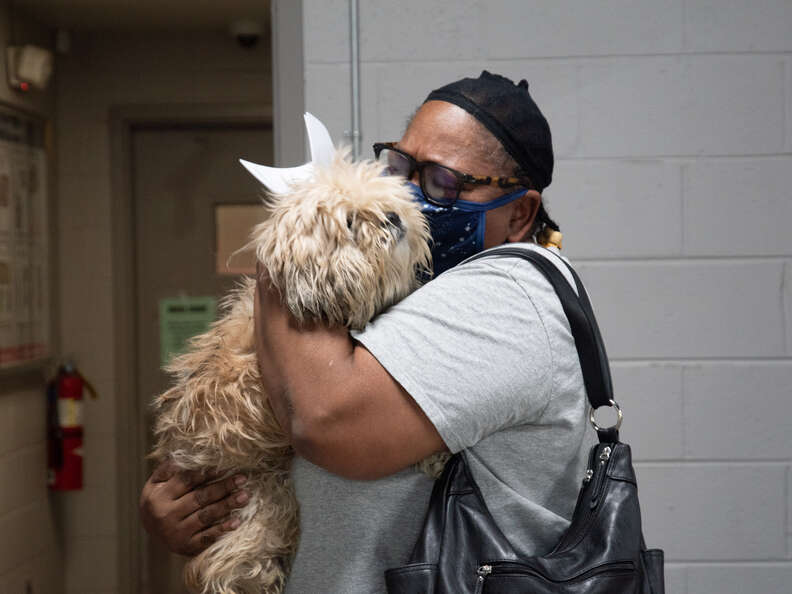 Thanks to an up-to-date microchip and the help of the community, Miles is now back home with his family where he belongs. He's been through quite the ordeal, but everyone is confident that with some rest, care and love, he'll be back to his old self in no time at all.
The Most Popular Items To Help Senior Dogs Feel Young Again