Woman Looks Out Her Window And Realizes There's A Random Pig In Her Yard
"He hopped right over the hose and came to say hello."
Hannah Browne was having breakfast with her daughter when she heard the family's security cameras going off. She had been working on gaining the trust of several stray dogs in the area in the hopes of eventually getting them rehabilitated and rehomed, and she assumed it was one of them.
"Much to my surprise, it was NOT," Browne told The Dodo. "It was this 45-pound pig waltzing up to my garage like he owned the place!"
Browne had to do a double take, but sure enough, a look out the window confirmed there was indeed a pig hanging out in the yard. She quickly threw on her boots and ran outside to investigate, unsure of what to expect.
"I opened the door, and called 'Heeeereee piggy pig!' And all of a sudden, those big brown eyes and massive ears popped around the corner," Browne said. "I did my best baby talk to him, and he hopped right over the hose and came to say hello. He was grunting, bright-eyed, and rubbing up against the door like a cat. I kept the door between us until I could watch and assess his behavior for a few minutes and then realized he had to be someone's lost pet."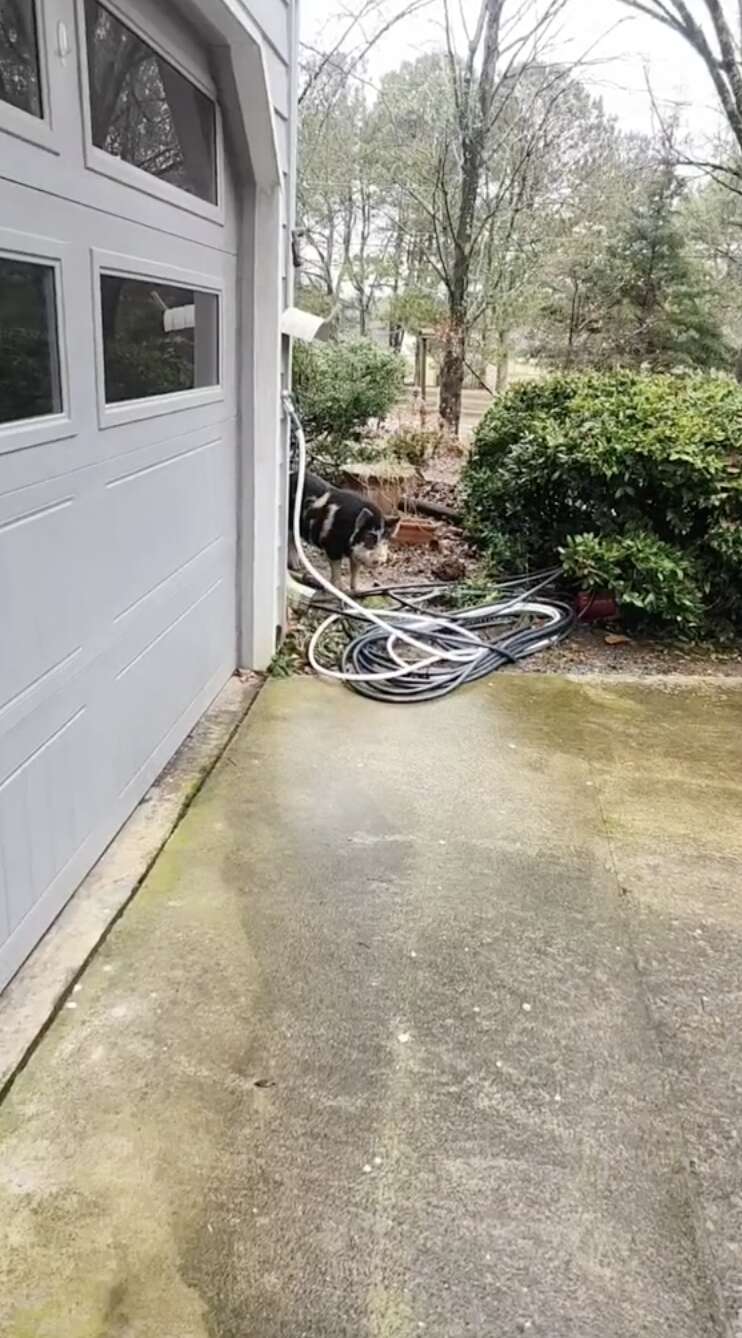 Animal rescue is a huge part of the family's life, and they had actually just decided to start fostering farm animals, so it seemed like fate that the pig had shown up at their doorstep. They decided to foster him for the week while they searched for his family, and quickly fell madly in love with him.
Browne drove all around asking all her neighbors if they knew the pig, later named BB (short for Bacon Bit), but no one had ever seen him before. He wasn't microchipped, but she posted on social media and even put up flyers, just in case. In the meantime, she and her family made sure they created a space where BB could thrive. Her husband, David, was adamant that the pig was not going to become a permanent member of the family, but it didn't take long for BB to change his mind.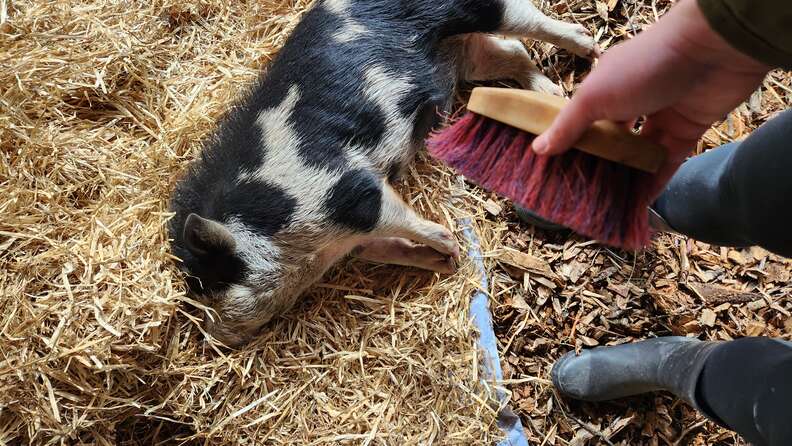 "By day five of his stray hold, David had built him an indoor/outdoor pen and we were spending all our time as a family down at the barn with our piggy friend," Browne said. "BB had officially won him over! Our family and friends came to our house regularly to socialize and play with him. It was a daily piggy party! Bacon Bit gets free roam of our four acres during the day and a massive pile of hay in his pen for bedtime."
After the family officially decided to adopt BB, they posted his story on TikTok — and his former family actually saw it. They said that they'd been about to rehome BB when he disappeared from his pen. Apparently, he wanted to pick his new family for himself, and he did a fantastic job.
Browne and her family are so in love with BB, and they can't wait to spoil him for the rest of his life.
Shop These Sustainable Picks
We may earn a commission if you purchase from our links.